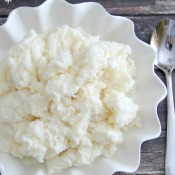 Got a lot of snow?? Might as well make some snow cream!!
1

Lg bowl of snow

approx 6-8 cups of packed snow

1

can sweetened condensed milk

1

tsp

vanilla extract

or if using cream - use ingredients below

1

cup

cream/evaporated milk/milk

any of these

1/2

cup

honey/sugar/agave

any of these

1

tsp

vanilla extract
If using the first list of ingredients, mix approx 1/2 of the can of sweetened condensed milk into the snow along with the vanilla. Stir and add more condensed milk to taste. (more, it will be sweeter and creamier, less it will be "icier" and less sweet)

-or-

If using the second (my favorite way) mix the cream and sugar in a small pan on the stove.

Heat slowly over medium heat to dissolve the sugar and cook down just a bit. Cool completely in the refrigerator.

Once cooled, add in the vanilla.

Slowly pour mixture into the snow a little bit at a time until it is the desired consistency.

Enjoy!