Best Buttermilk Biscuits Recipe (and the secret to them!)
Who's got the best buttermilk biscuits? That's subjective but I think these right here are the best ever!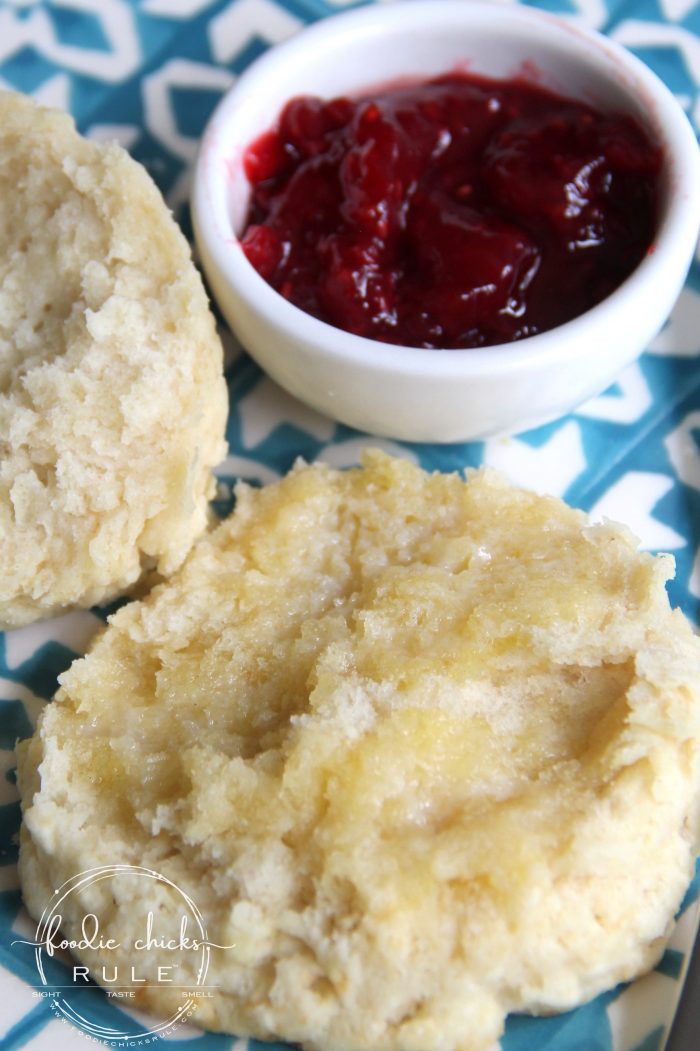 I mean just look at that? Don't those look like the best buttermilk biscuits ever?
Well, let me tell ya, they are. :)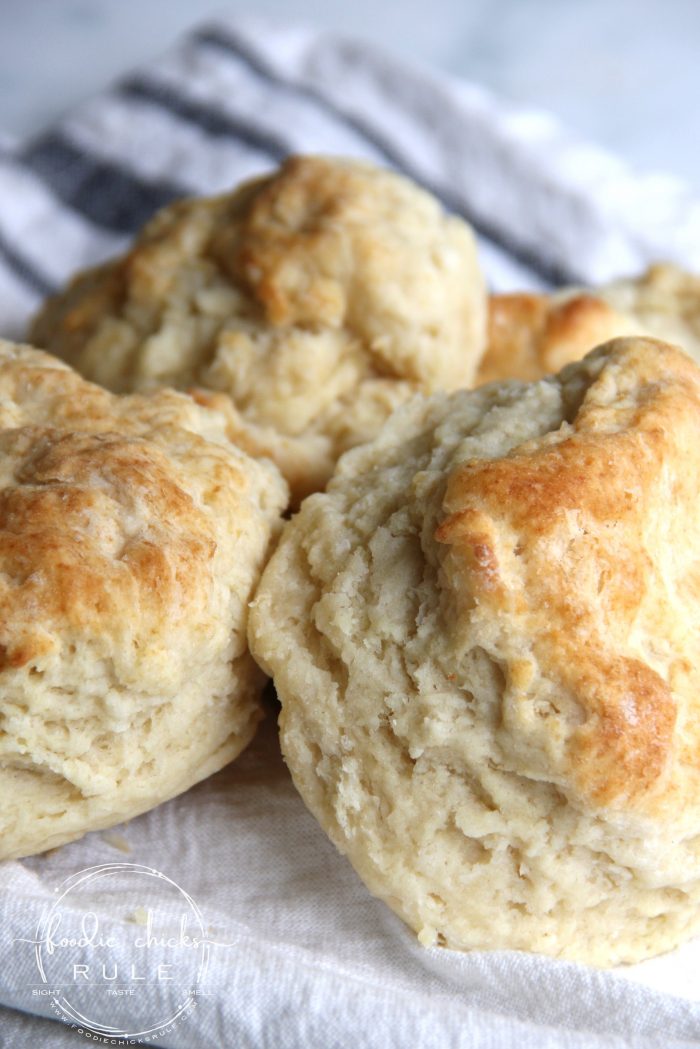 You can just see how beautifully they rose.
I like 'em just outta the oven…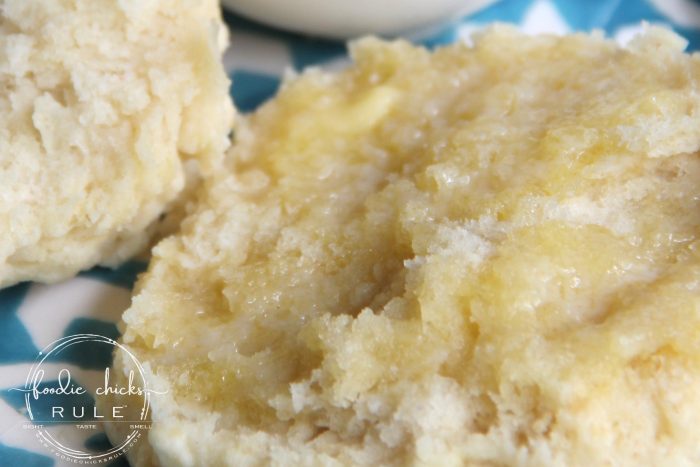 …and slathered in melted butter. Yum.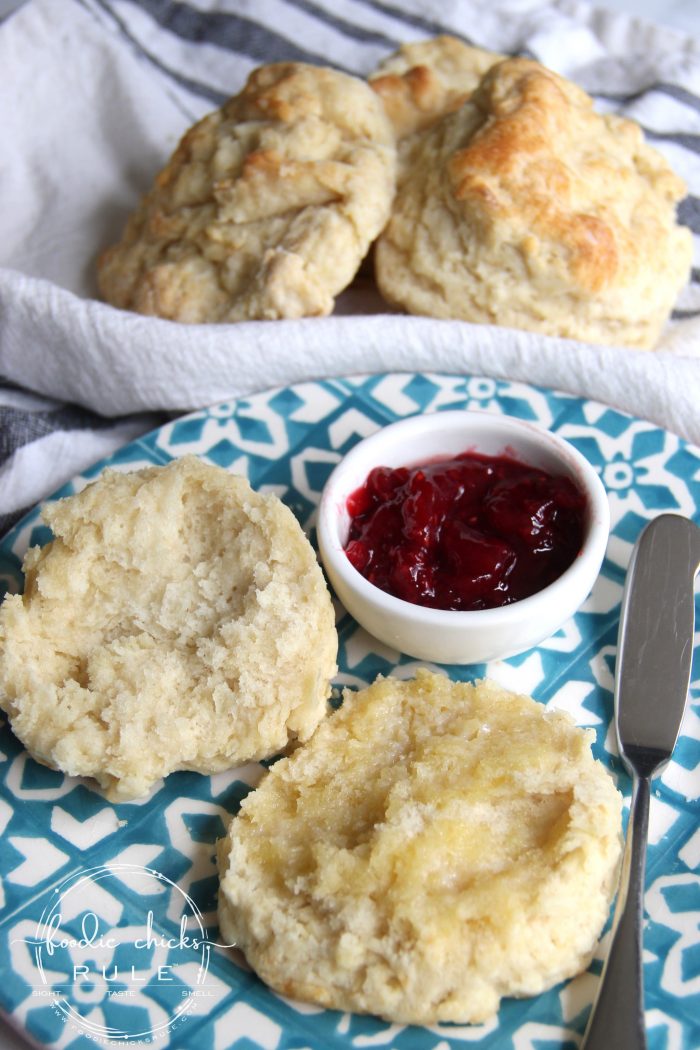 With jam/jelly, or not.
I'm going to share another way I love to use them next week. So stay tuned!!
This recipe is so simple. BUT it is simple to ruin as many biscuit recipes are.
My tip?
Don't over mix. Please, don't over mix.
Can I even tell you how many biscuits I've ruined over the years by over mixing? Even when I thought for sure I hadn't?
Yep, nothings worse than tough biscuits.
The key?
Make sure your butter and buttermilk are very chilled.  Very.
Mix all dry ingredients together. Cut in the butter quickly.
This little tool right here is what I use to cut the butter into the flour mixture.
It will be course looking, pour in your very chilled buttermilk and stir only enough to basically bring it together. (less than you probably think you should)
It will not be smooth like batter. It will be very sticky and lumpy looking.
Turn it out onto a floured board and gently pat out to about 1 inch and fold.
Repeat 2-3 more times.
You can now roll out the dough gently or pat it out with your hands.
I always just pat it out with my hands because I can better control the dough this way.
I like mine thick so only pat the dough out to about 1 inch or so.
Flour a biscuit cutter and cut into rounds.
You can also just cut them into squares which wastes nothing.
Again, very gently push the leftover pieces together and cut again.
I will usually just smoosh the remaining dough together and create free from biscuits.
The second go round with the dough will make for a little bit tougher biscuits as it's been handled more, etc.
How about dairy free?
Yep, you can do that. Well, milk free I should say.
I also make these with Ripple (milk substitute) and they're great.
Actually, that's what I use most of the time since I try to stay dairy free for health reasons.
Place the biscuits on a pan and bake at 425 for about 8-12 minutes. Be sure you don't over bake. That's just like overworking your dough…dry biscuits are just as bad as tough biscuits!
You can use some melted butter over the tops before baking, if you prefer.
And enjoy the best buttermilk biscuits ever!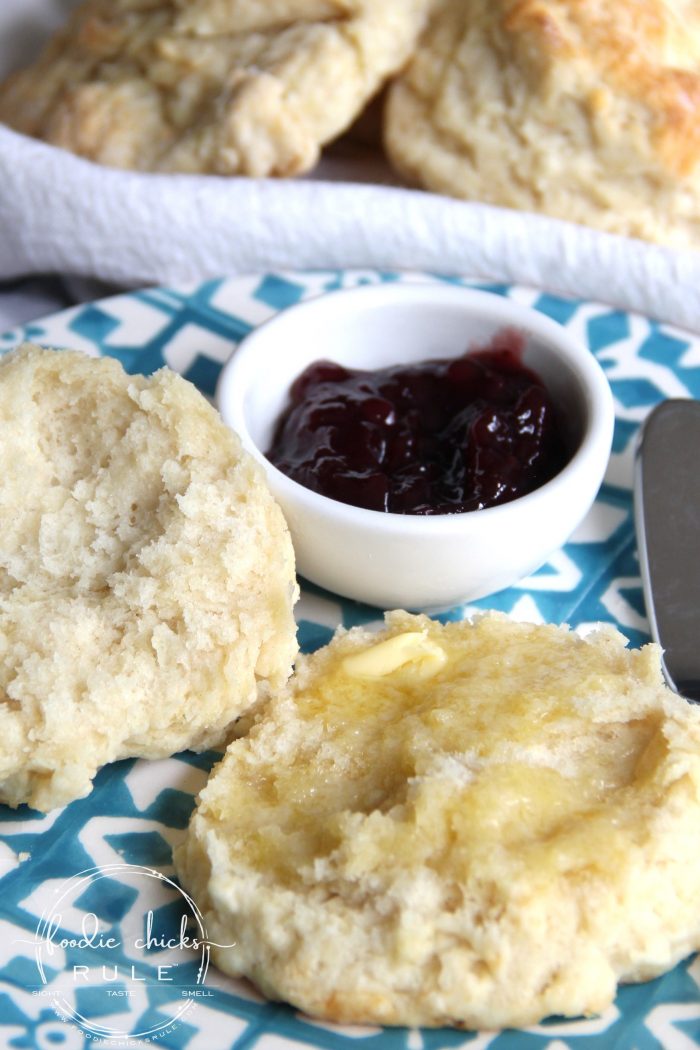 PIN it to save it!!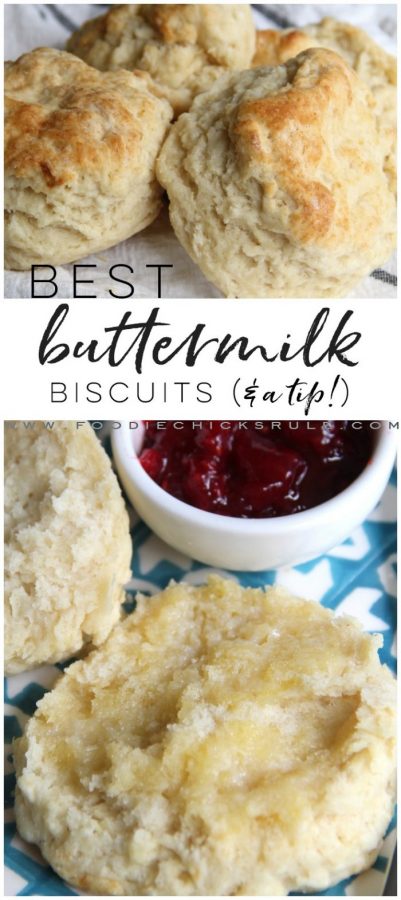 Hope you enjoy these as much as we do!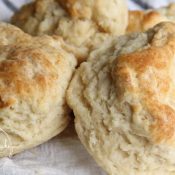 Best Buttermilk Biscuits
Ingredients
2

cups

flour

1

Tbsp

sugar

1

Tbsp

baking powder

1/4

tsp

baking soda

1

tsp

salt

6

Tbsp

butter

very cold

1

cup

buttermilk (or Ripple for milk free)

very cold

2

Tbsp

melted butter

to brush on tops before baking
Instructions
Combine all dry ingredients in a large mixing bowl.


Cut in the very cold butter with a pastry cutter. It will be coarse looking once all incorporated. Do this as quickly as you can to keep the butter chilled.


Make a well in the center of the flour/butter mixture and pour in the very cold buttermilk (or Ripple, for milk free version).


Stir gently with a wooden spoon until just mixed, no more. The batter will be sticky and lumpy looking. DON'T OVER MIX.


Turn it out onto a floured board and gently pat out to about 1 inch and fold the dough over. Repeat 2-3 more times...gently.


Pat the dough out to about 1 inch. You can use a roller but I would suggest using your hands so you can better control the pressure. Cut with a floured biscuit cutter or cut into squares.


Gently gather scraps and pat together to make more cuts with a biscuit cutter. I usually just pat them together and cut the remainder into squares. The more you work with the dough, the tougher the biscuits get.


Bake at 425 for approx 8-12 minutes. You can add the melted butter to the tops of the biscuits before baking, if desired.


DON'T OVER COOK. That's just like overworking the dough, you'll end up with dry biscuits which are just as bad as tough ones!
Enjoy warm straight from the oven!

You might also like this recipe: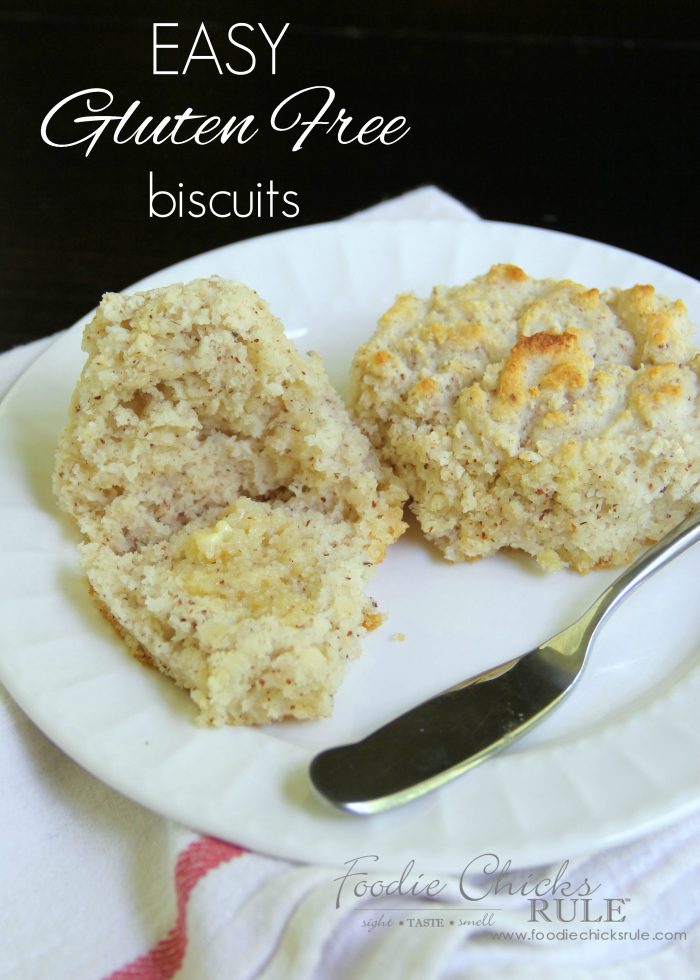 Need gluten-free? These are great! Recipe here >>> Easy Gluten Free Biscuits
Enjoy!!
xo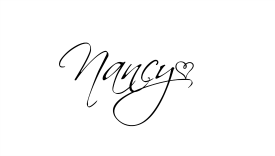 Related affiliate links you may like: