Chocolate Chip Cherry Pound Cake (as good as it sounds!)
What could be better than chocolate and cherries? A chocolate chip cherry pound cake, of course! ;) Perfect for Valentine's Day!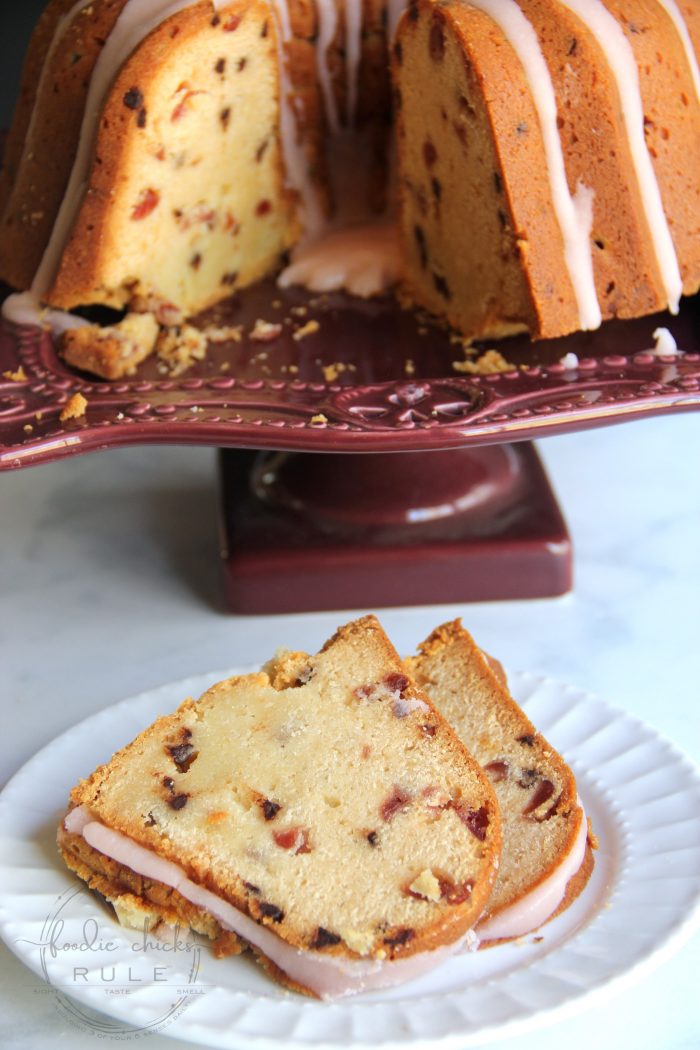 This Chocolate Chip Cherry Pound Cake is amazing.
Dense, buttery and flavorful!
The cherries add just the right flavor and the mini chocolate chips add just a hint of chocolate without being overwhelming.
It sort of ends up tasting like a decadent chocolate covered cherry. (but less sweet…and less chocolatey…and less cherryish ;), just a hint, which is perfect!)
Chop the cherries into quarters.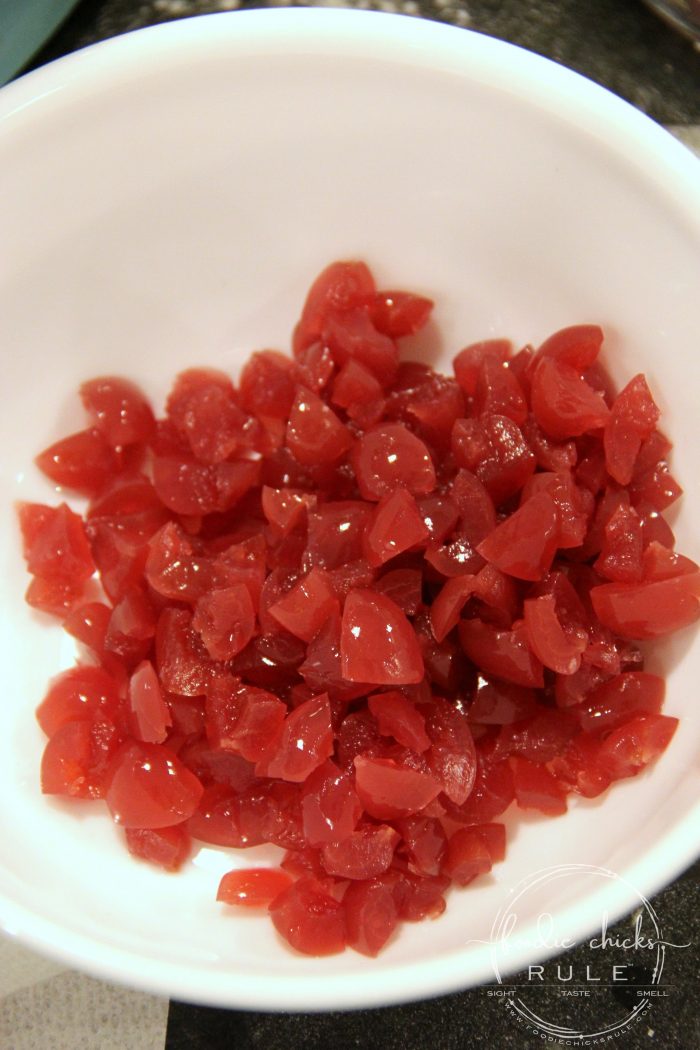 Then toss them with a bit of flour to coat them. This makes it easier to mix into your batter.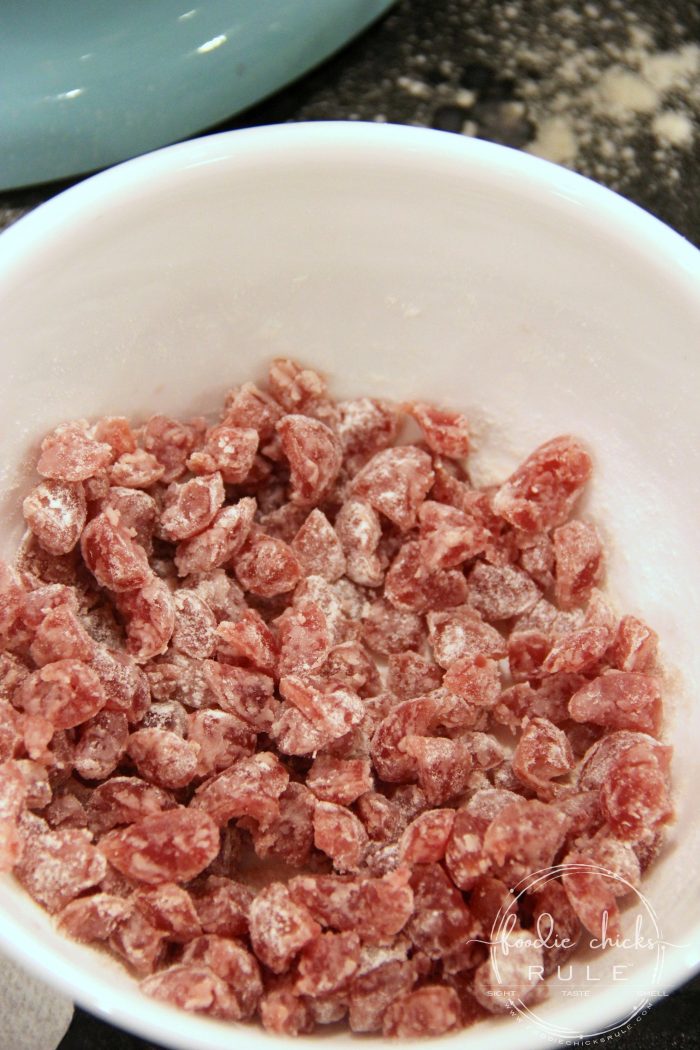 Then start mixing your butter, sugar, flour, etc.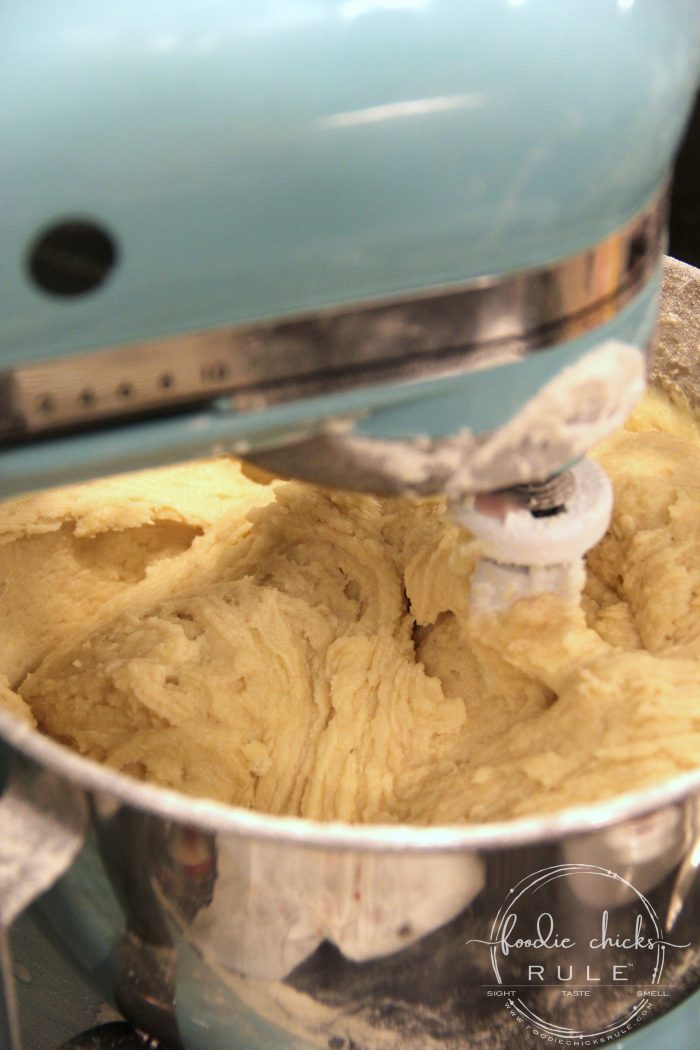 I use my KitchenAid mixer for things like this.
Then gently mix in the chocolate chips….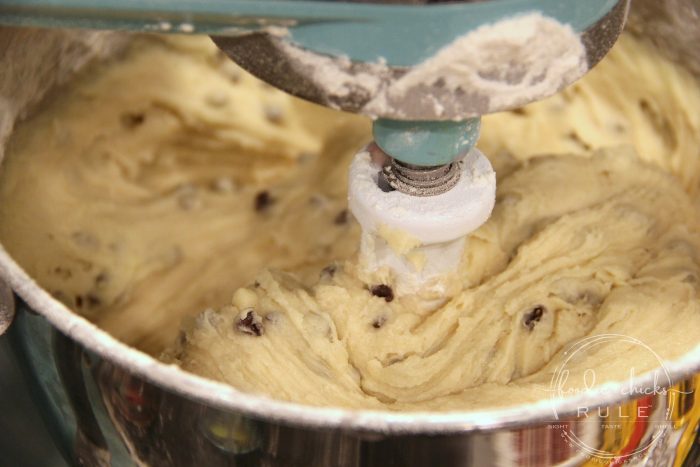 And finally, gently stir in (by hand) the cherries pieces.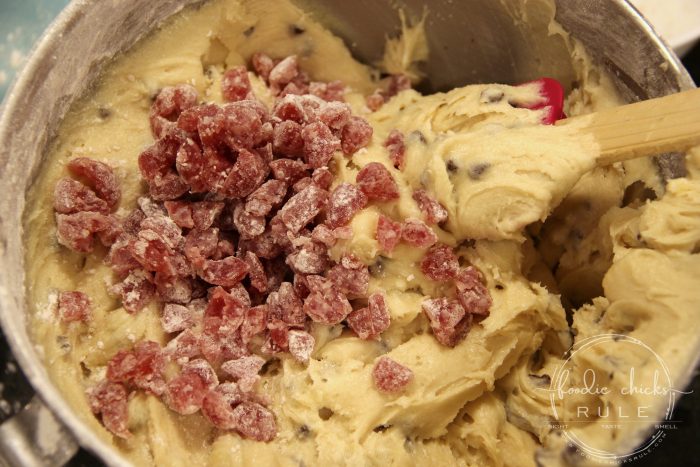 Pour into a bundt pan….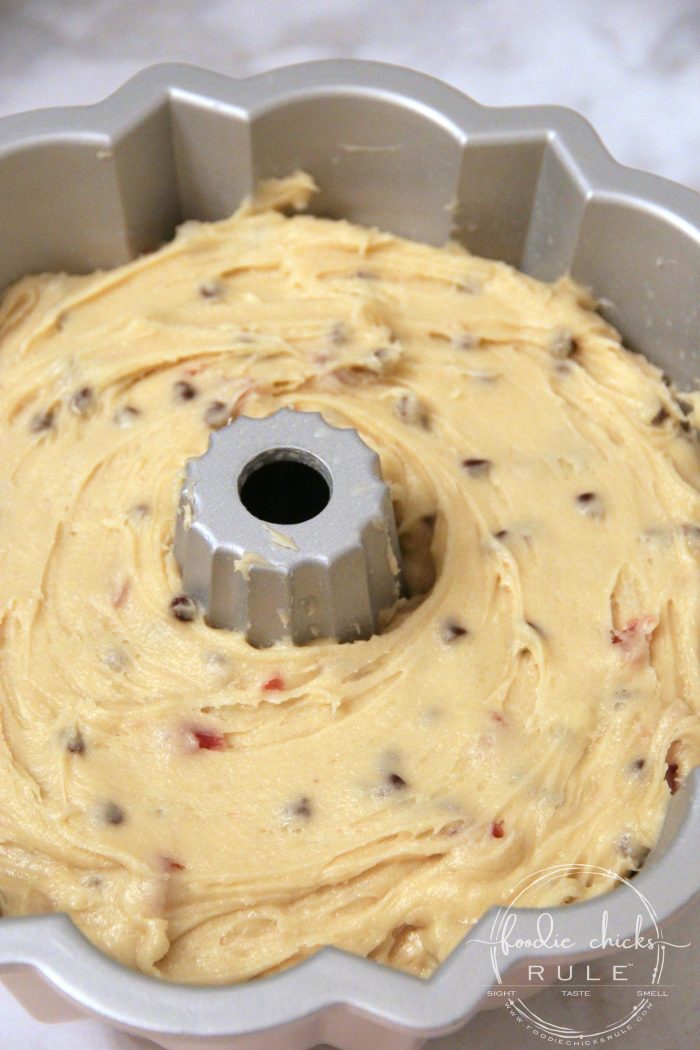 …..and smooth out the top. (doesn't that look yummy?)
And check out my brand new bundt pan!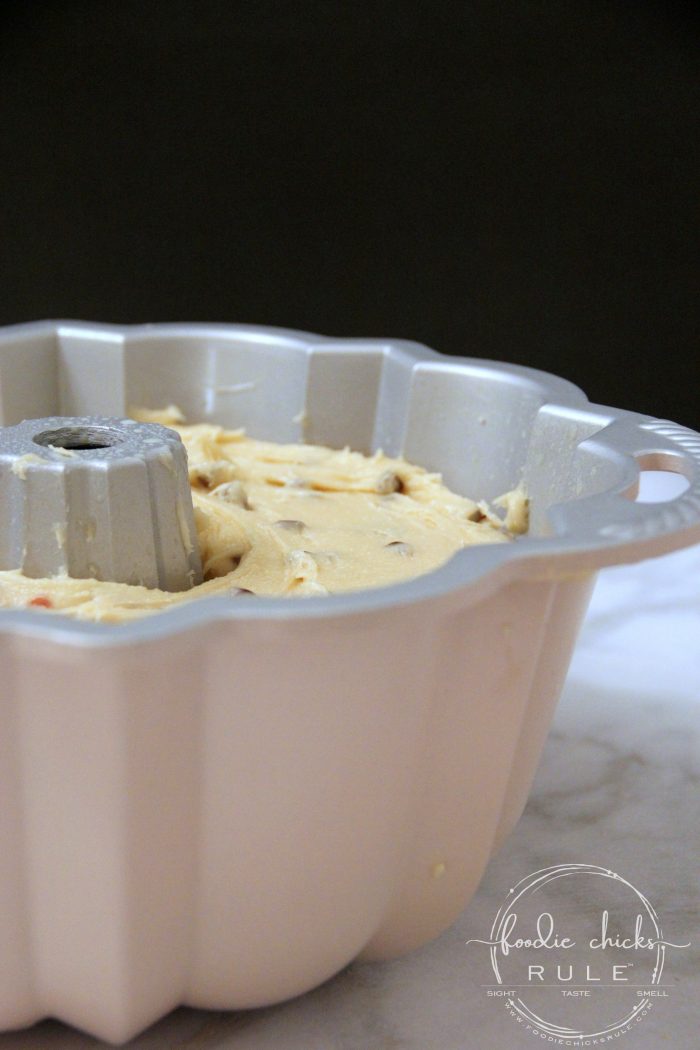 Blush Pink….so sweet. It's a very well made pan and so pretty. I just love it!
You can find it >>> here.
Bake and eat…..the whole thing!! Just kidding, be careful, you'll want to. ;)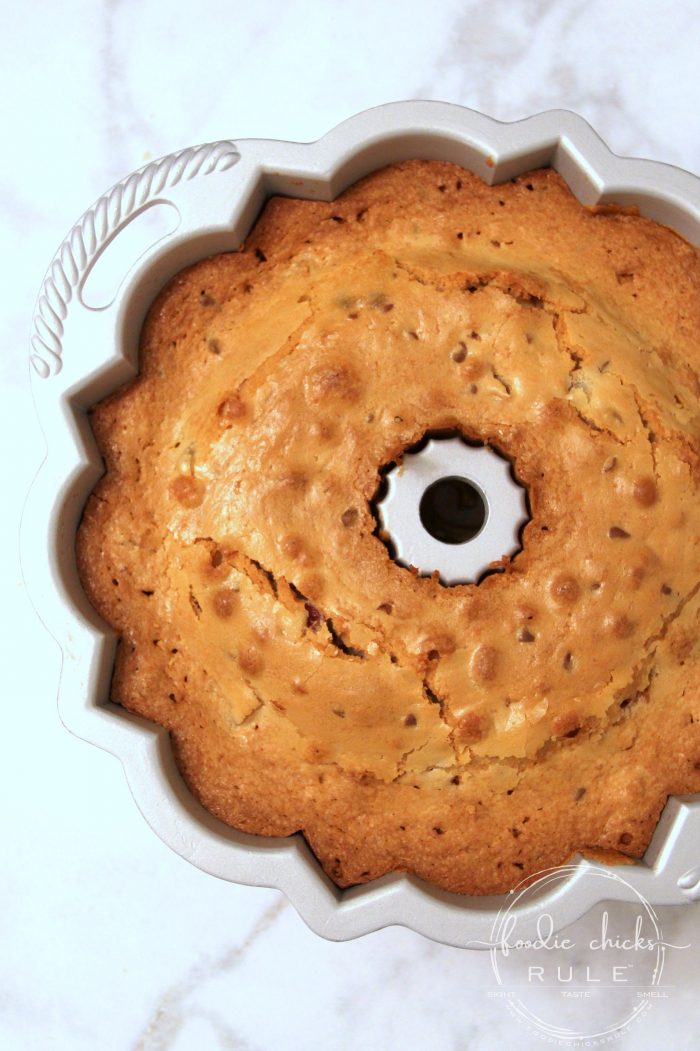 Isn't that pretty?
It came out of that bundt pan like a champ, too!
Want to know my favorite part of the chocolate chip cherry pound cake? Or any pound cake, for that matter.
The top!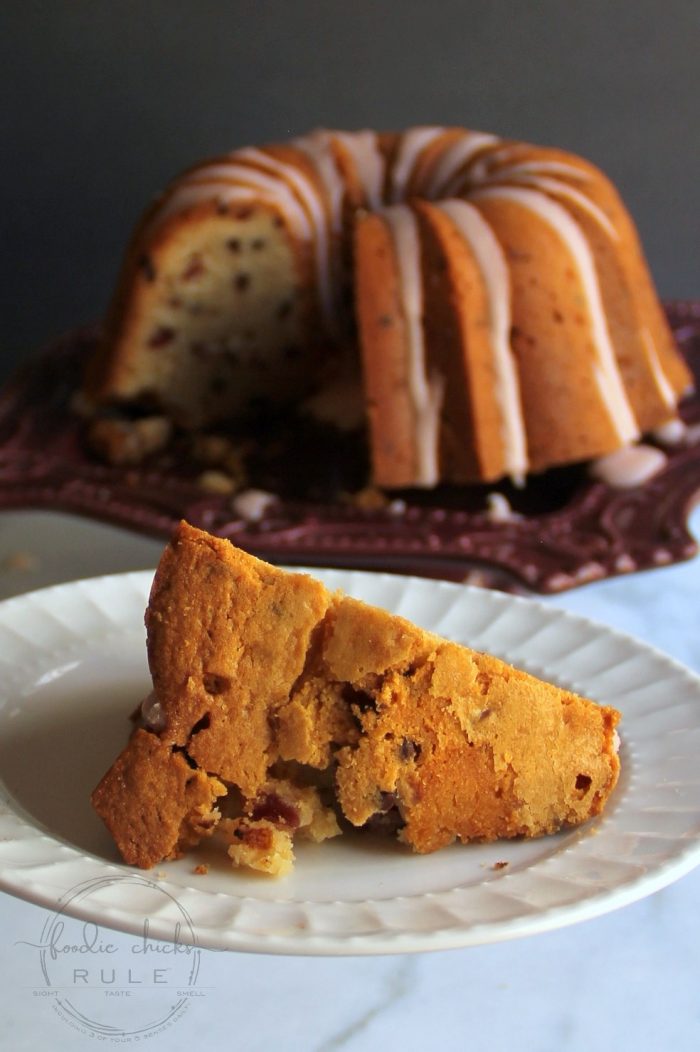 The top that's always hidden on the bottom.
I just adore that slight crunch and extra dense portion right below.
YUM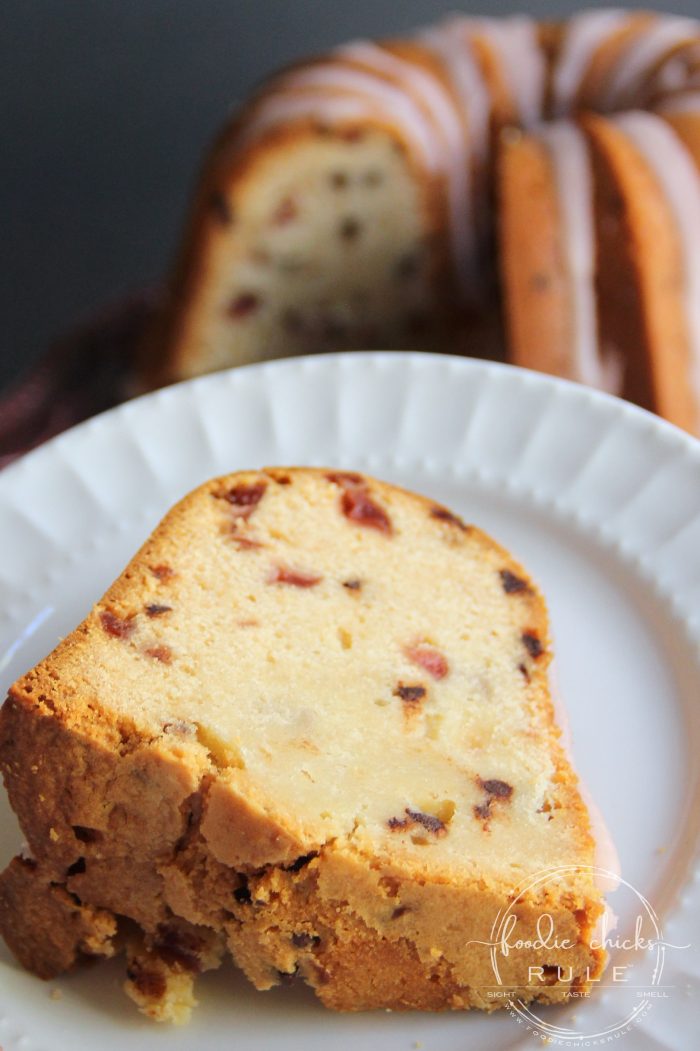 SO good.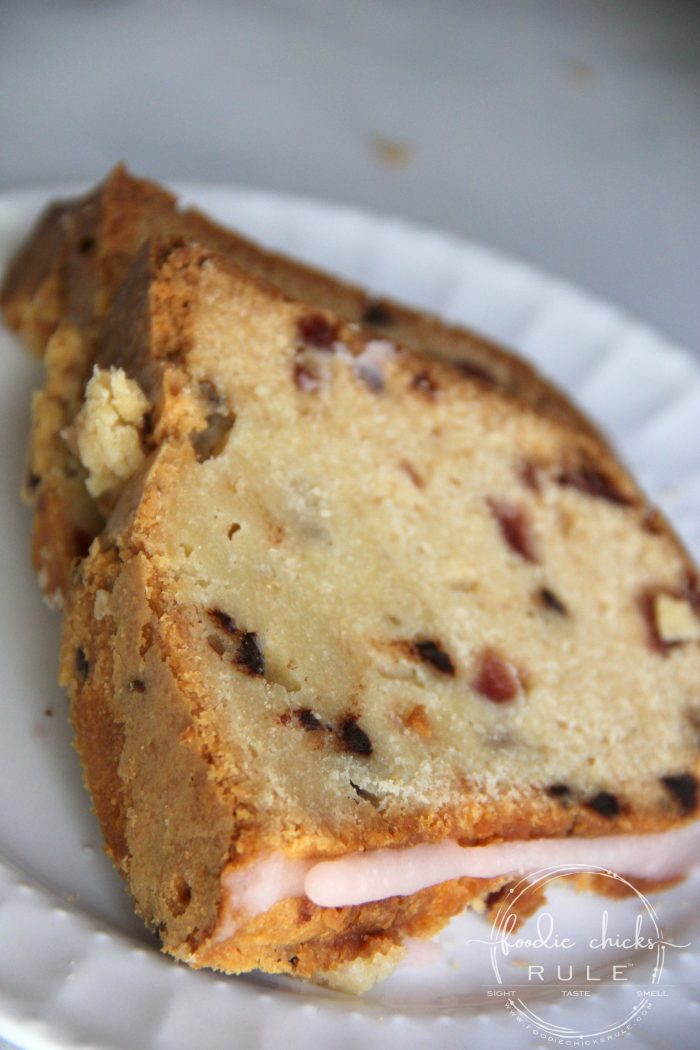 Like I said, it came out of the pan like a champ.
My old pan gave me issues so this was SO nice for a change!
I added a little buttermilk glaze to give the chocolate chip cherry pound cake another little pop of cherry flavor. (well, almond, which sort of tastes like cherry ;) )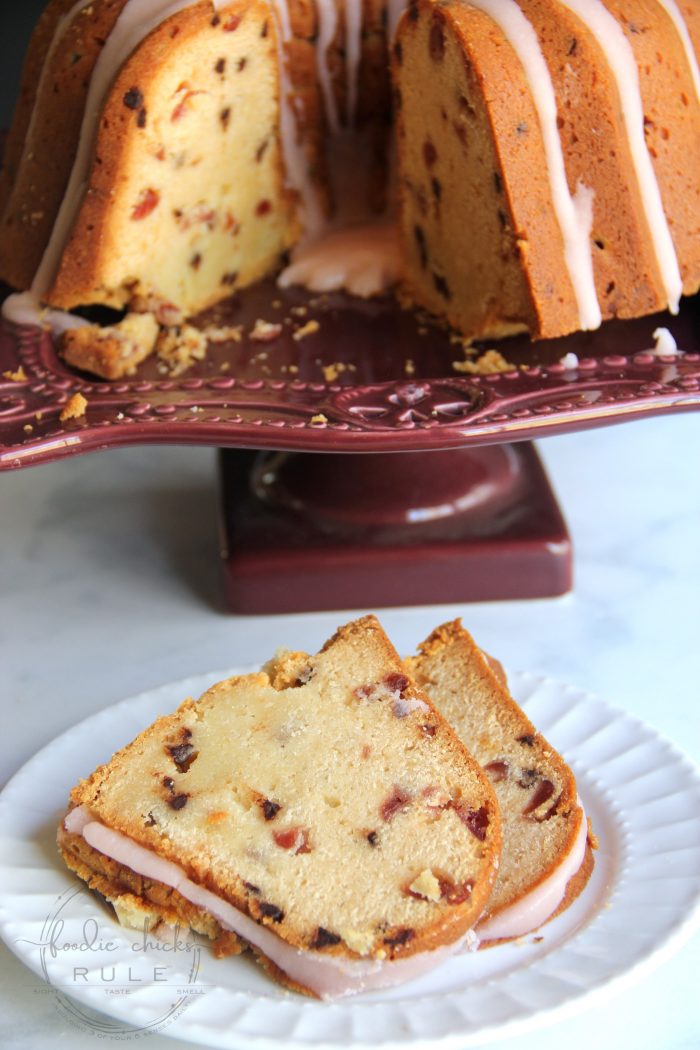 I could eat a slice or two at one sitting. ;)
Who am I kidding? I could eat more than that, but I try not to!
Nope, this one got cut into sections and given away or it'd been trouble around here. ;)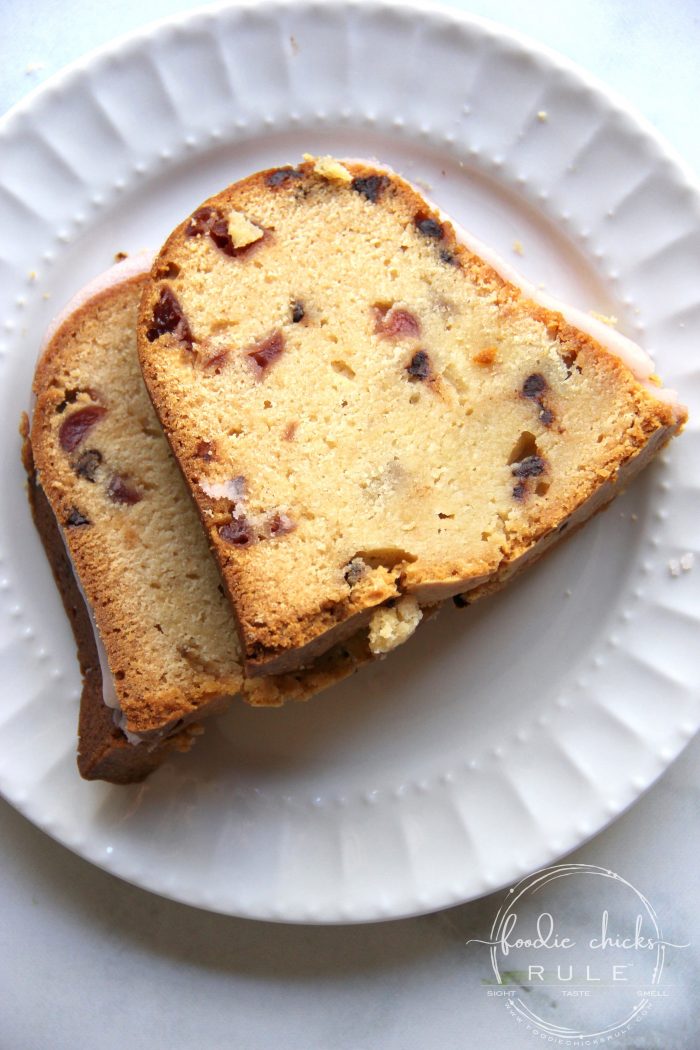 Hope you enjoy it as much as we do!
Maybe make it for your Valentine so he/she can enjoy it too!
PIN it to save it!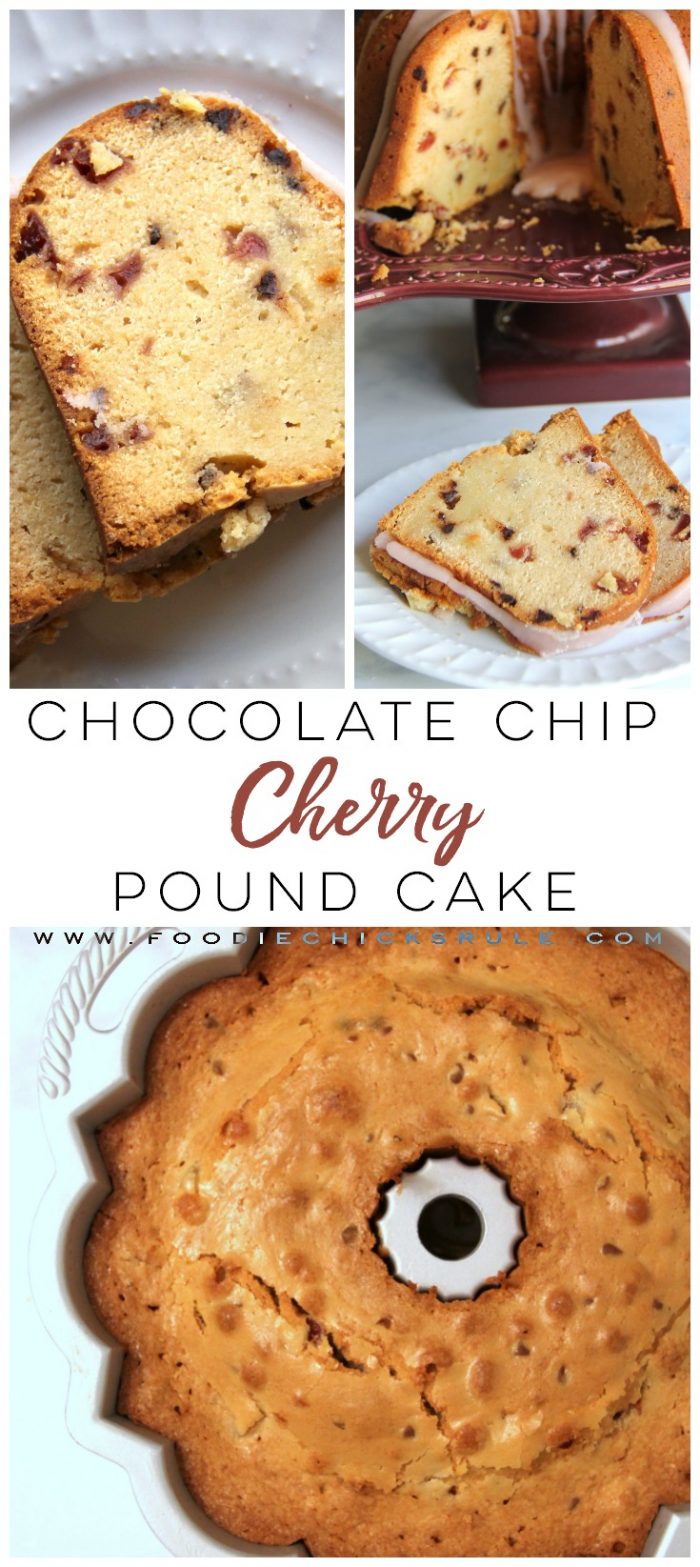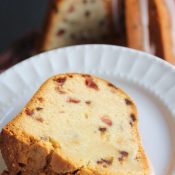 Chocolate Chip Cherry Pound Cake
Ingredients
1

lb

butter

3

cups

sugar

6

eggs

4

cups

flour

1/4

cup

cherry juice

1/2

cup

buttermilk

1-1/2

tsp

almond extract

1/4-1/2

cups

mini chocolate chips (semi-sweet)

2

8-oz

jars of marchino cherries, chopped
Instructions
Drain the cherry juice into a measuring cup. Reserve 1/2 cup.
Chop the cherries into quarters. Add flour and coat well. Set aside.


Cream the butter and sugar in a large mixer.


Add the eggs and almond extract. Mix.


Add the flour and juice/buttermilk alternately. Mixing well.


Stir in the mini chocolate chips and finally, the chopped cherries (gently).


Pour into a bundt pan and bake at 300 for approx. 1 hour and 45 minutes. Or until a knife inserted, comes out mostly clean. Cool for 15 minutes in the pan and then turn out onto a cake platter. Cool and then drizzle with buttermilk glaze.


Buttermilk glaze: Pour 2 T of the reserved cherry juice into a bowl along with 2 T buttermilk. Add 2 cups of confectioners sugar, 4 T of melted butter and 1/2 tsp almond extract. Mix well and pour over top of pound cake, once cooled.

Recipe Notes
You can add finely chopped cherry pieces to the glaze for a pretty presentation.
Mini chocolate chips can be sprinkled on top of the glaze for a different look.
You might also like this Valentine's special treat!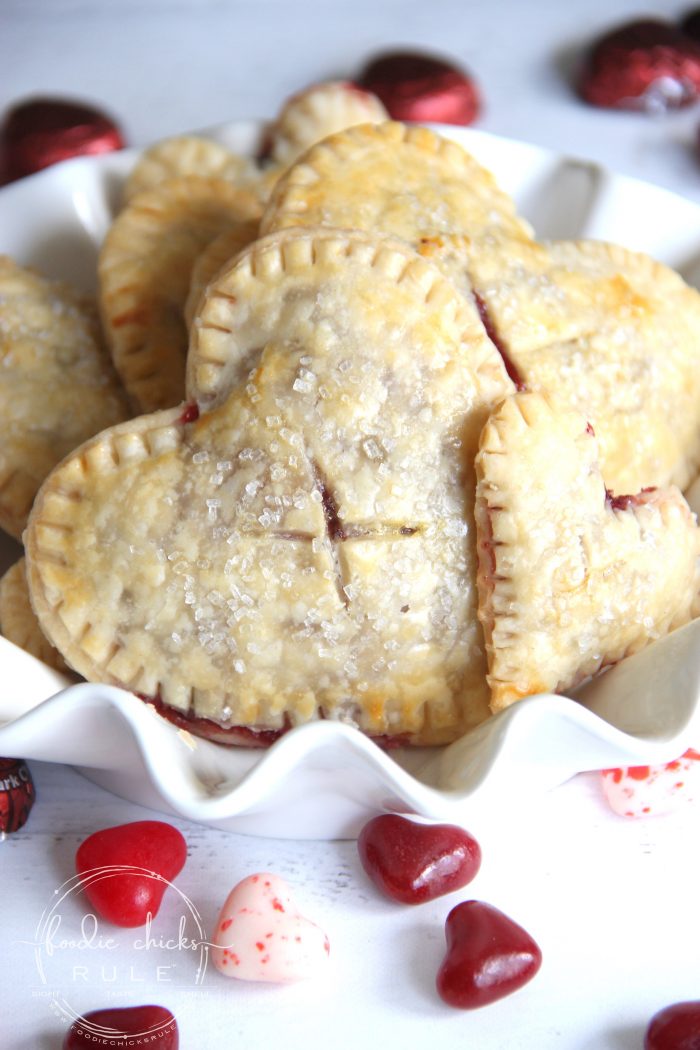 Recipe here >>> Chocolate Raspberry Mini Heart Pies
Enjoy!!
xo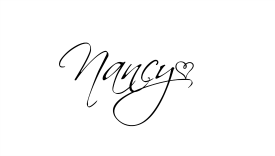 Related affiliate links you may like: