Veggie Noodle Stir Fry (plant based)
This veggie noodle stir fry is the perfect (and quick) dish to throw together any day for a healthy, plant based option!
I've been playing around with more plant based recipes lately.
Well, let's back up….I went plant based for about a month.
Let me tell you what that did for me. Besides feeling great, it made me really think outside of the box about meals and eating.
I realized quickly that I had been creating meals, every single day, centered around whatever meat I was cooking that night.
Then a quick "I'll throw this on the side to go with it". Probably not the healthiest, full rounded way to eat.
On the plant based meal plan, we ended up eating loads of vegetables and healthy foods.
The creativity just flowed once I got going and got used to using certain plant based options.
By the way, I don't use or eat Tofu (for health reasons) so I had to come up with other ways to get some protein in.
In the end, I decided a full on plant based diet was a little limiting for me personally.
I still do not eat pork or beef (I had already quit both of those) but have added chicken, fish and eggs back in.
But whether you are plant based, vegan, etc, or not, this meal is a winner!
Veggie Noodle Stir Fry
It's pretty simple to make so follow along to see!
Cook the brown rice noodles (<<<— the kind I use) according to the package and set aside. I used 1/2 the package for this recipe.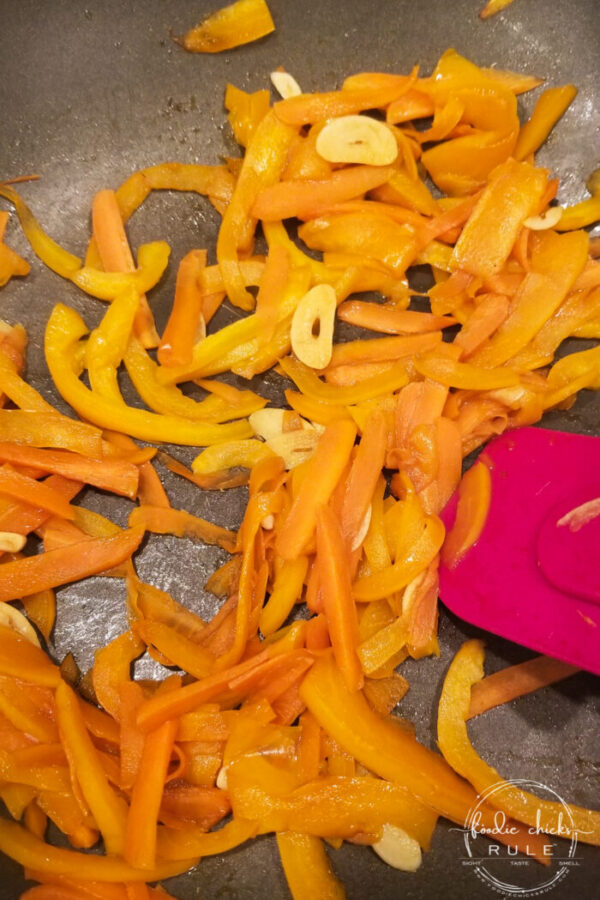 Then saute the thinly sliced peppers and baby carrots until they are slightly softened. (I like using red, orange or yellow for this)
Then add in the sliced garlic and continue to saute.
Next I add in the slivered spinach leaves and cilantro and toss for a minute or two.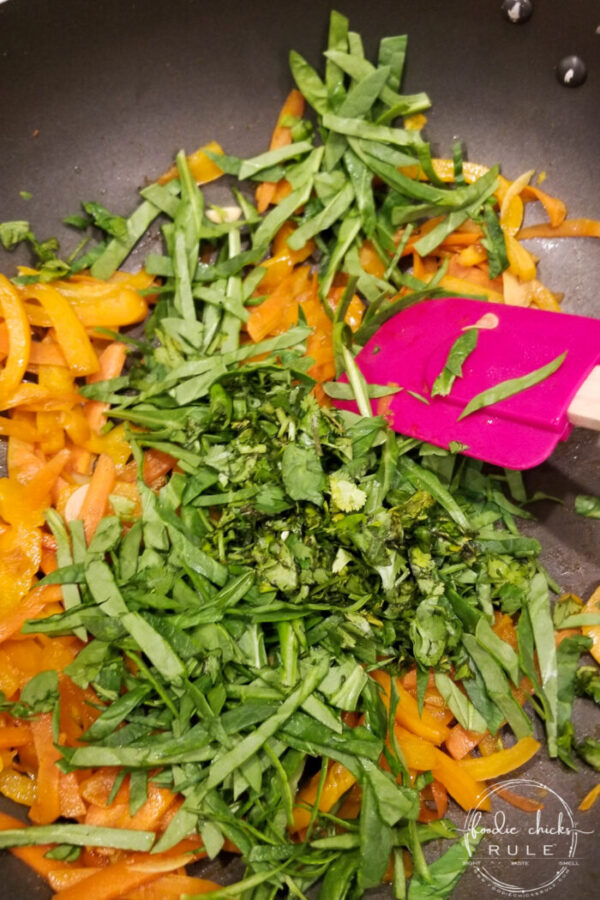 Next add the sliced grape or cherry tomatoes and saute for a few minutes more.
Add the cayenne, Teriyaki sauce (<<<— this brand is SO good and so good for you), wine and rice wine vinegar and toss to coat evenly.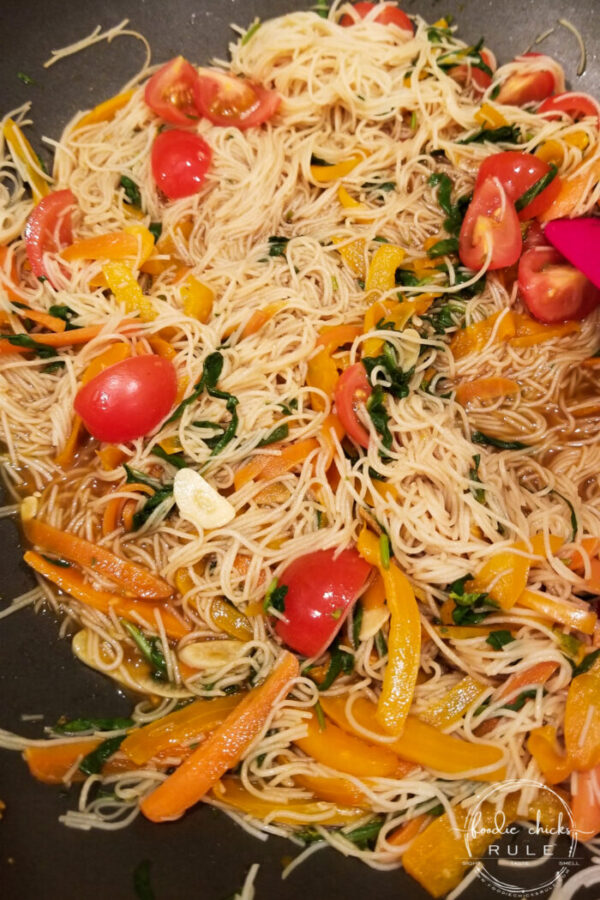 Place in bowls and top with more cilantro to garnish.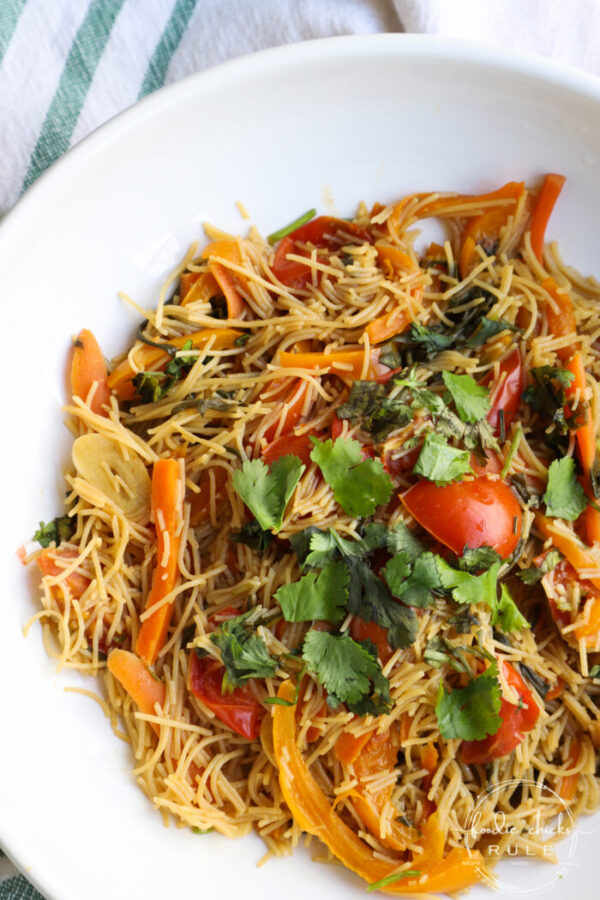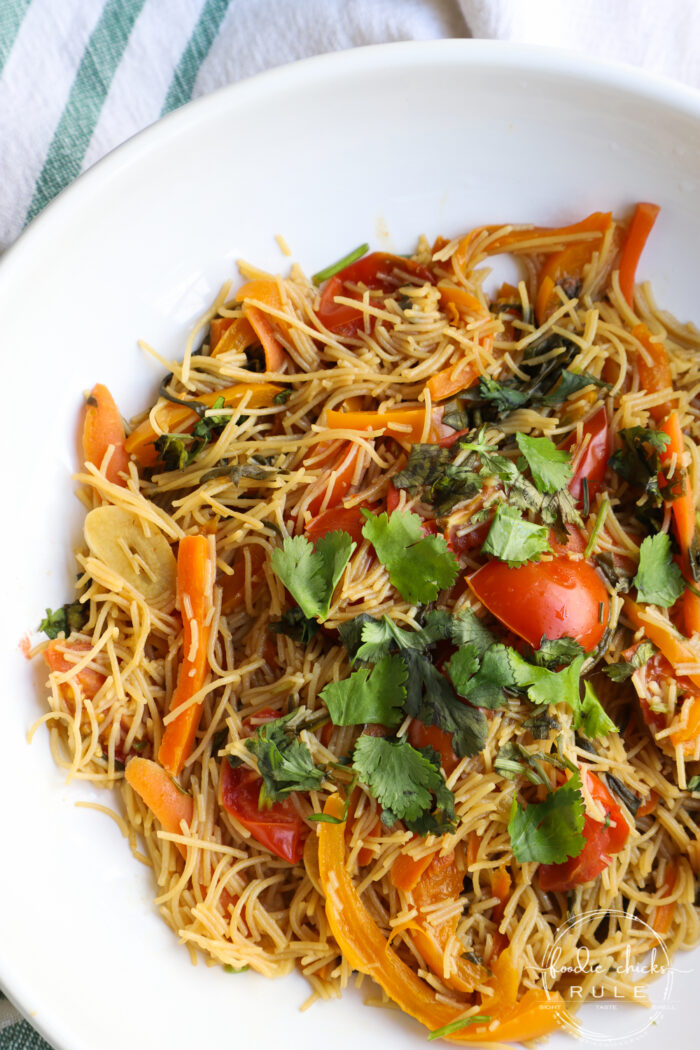 You can add other veggies to this too. The sky is the limit.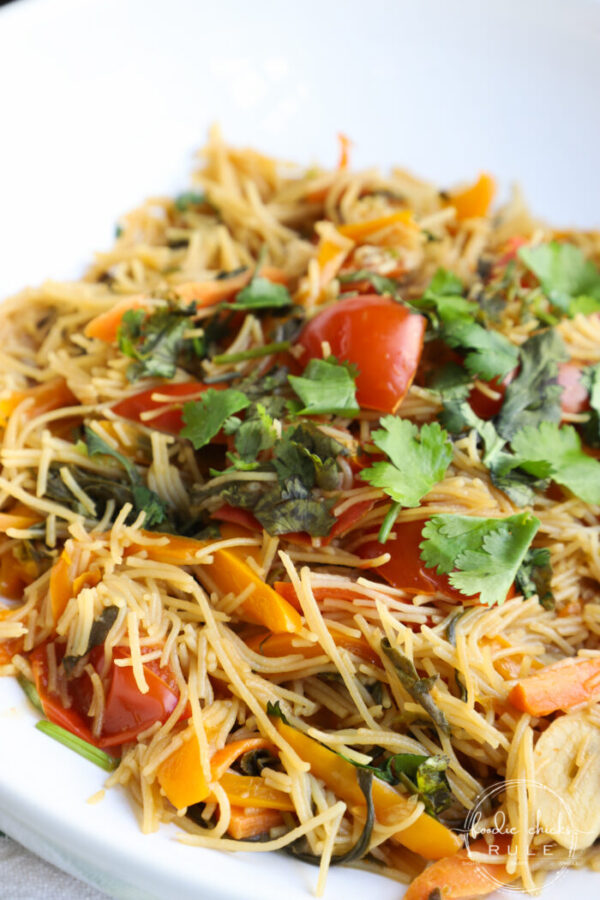 This veggie noodle stir fry is such a light and fresh meal.
Enjoy!!
PIN it to save it!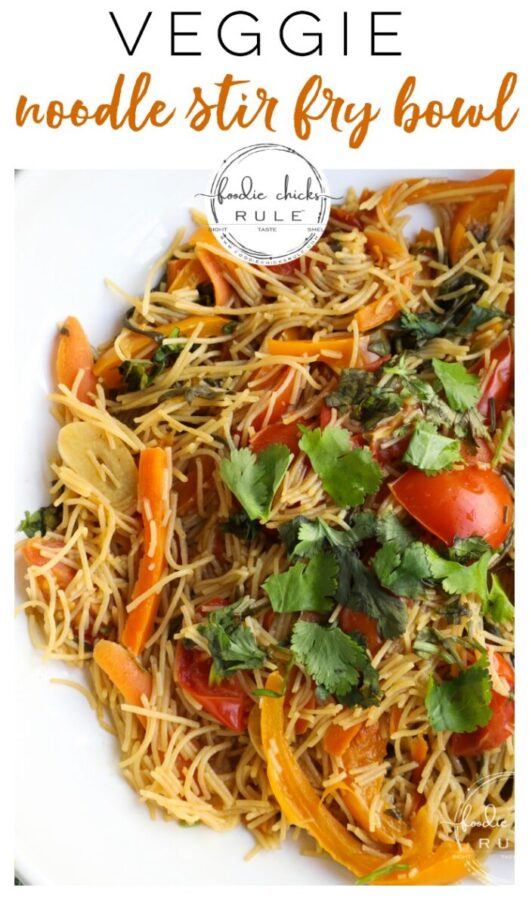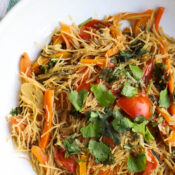 Veggie Noodle Stir Fry
Ingredients
1

orange, yellow or red pepper, thinly sliced

1/2

cup

baby carrots, thinly sliced

1/2

cup

slivered spinach leaves

1/4

cup

cilantro, chopped

1

large clove of garlic, sliced

1/2

cup

Teriyaki sauce (see post for the one I use, so good!)

1/4

cup

rice wine vinegar

1/8

cup

white wine

1/2

package

brown rice noodles (see post for link to the brand I use)

salt and/or pepper, taste
Instructions
Cook the brown rice noodles according to the package and set aside. (see post for the type I use)

Thinly slice the carrots, peppers and spinach. Chop the cilantro.

Saute carrots and peppers in a tablespoon of olive oil (or water if you want oil free) on medium heat.

Cook until just softened. Then add spinach and garlic, sauce for 1 to 2 minutes.

Stir and then add seasonings, rice wine vinegar, wine and Teriyaki sauce as well as the sliced tomatoes and cook for about 2-4 minutes on medium heat. (cook less for "fresher" tasting, crunchy veggies or more, per your own taste)

Add the cooked brown rice noodles and stir well. Heat through, cover and let sit for 5 minutes to give the noodles a chance to absorb some of the sauce.
Enjoy!!
You might also like this recipe….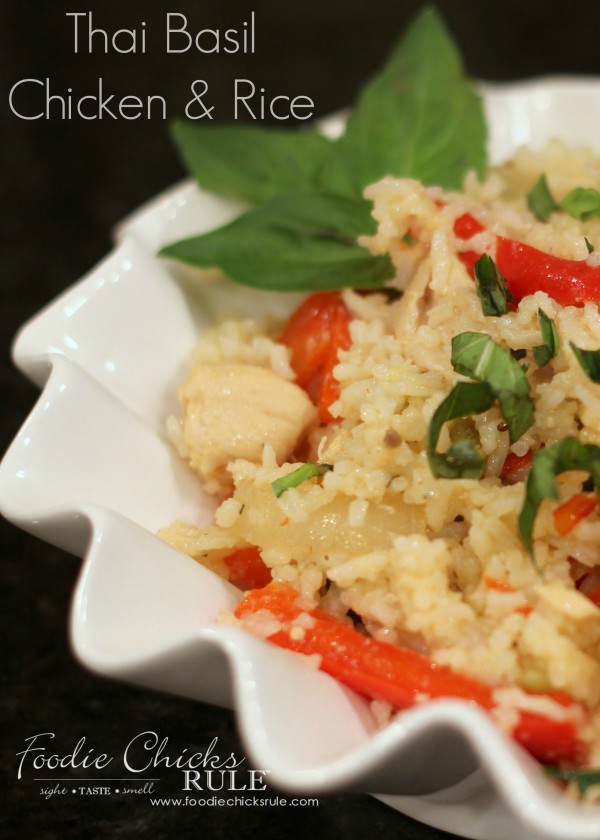 Get the recipe here >>> Thai Basil Chicken & Rice
Have a wonderful Sunday!
xoxo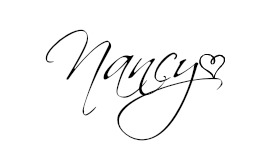 Related affiliate links you may like: