Gluten Free Breakfast Balls (or snacks too!)
I love to mix up things that I can snack on….or grab and go in the morning!
Who has time to cook every day, I don't.
So these little balls make the perfect quick fix.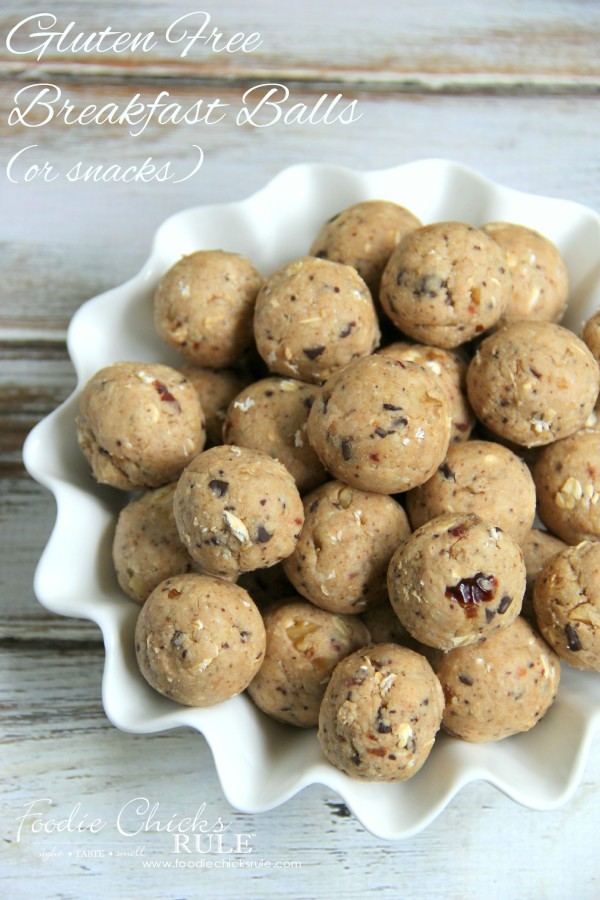 With oats, nut butters, etc, they are pretty healthy and long lasting too.
….and SUPER EASY to whip up.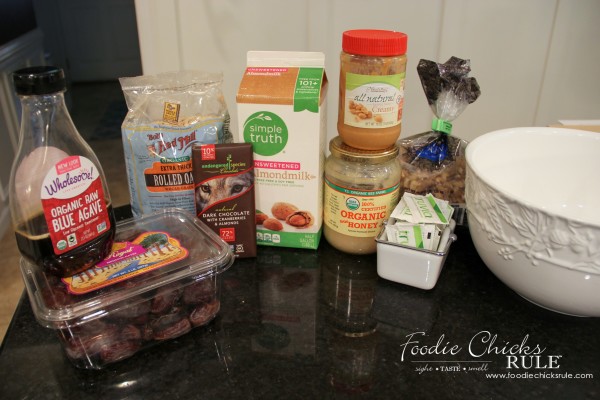 I usually have just about everything on hand to make these.
They are very versatile also.
Things can be interchanged in this recipe which I'll talk about further down.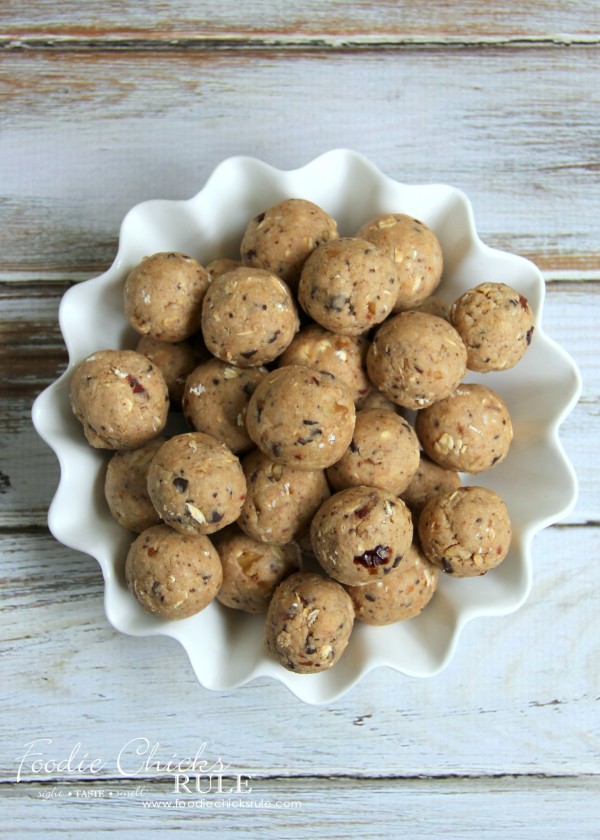 So first, grind up your oats. (as I've mentioned, I try to buy organic whenever I can)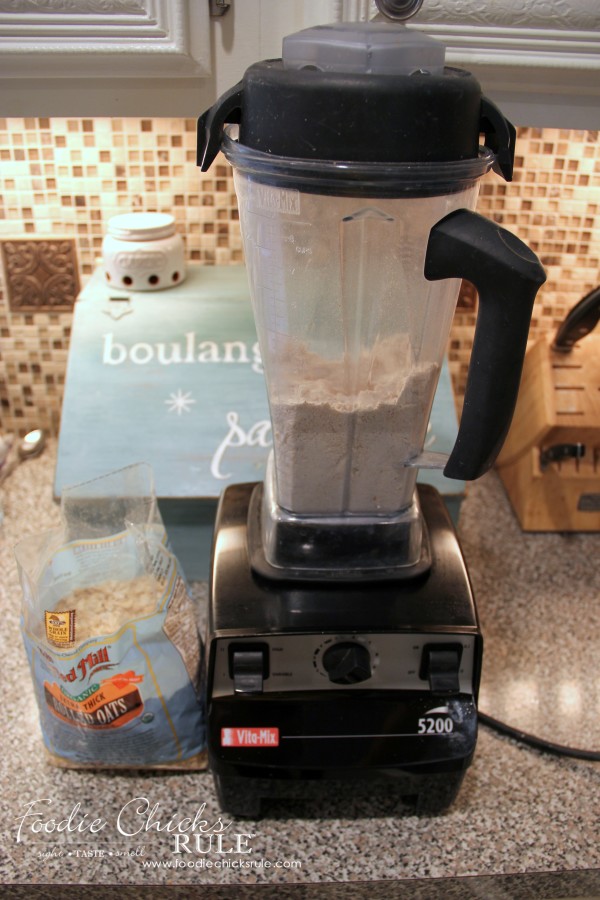 If you don't have a VitaMix, you can probably just use your regular mixer to grind up a bit.
Chop the nuts and dried cherries, dried cranberries, dried blueberries and/or dates.
See? It's versatile. I used dates in these but made them just recently with dried tart cherries and have used the others too.
They each have a subtle taste difference so use what YOU like.
Some of the dried fruits can be sticky so I always add a bit of the ground oats to them to chop.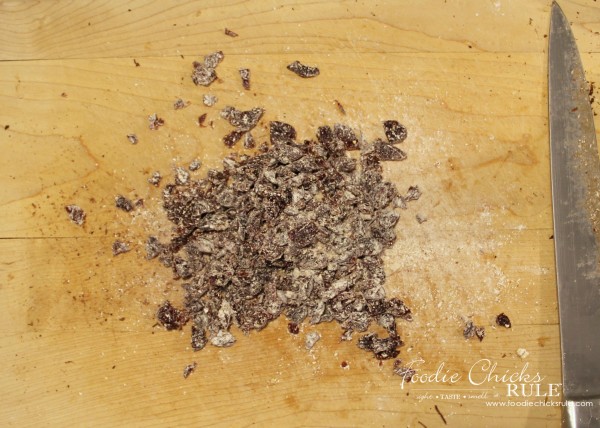 That's a quick little tip for ya! It keeps them from sticking to each other as you try to chop them smaller.
I used a hand chopper to chop the nuts and chocolate though.
Or you can use chocolate chips out of a bag without chopping.
I do both. Sometimes I don't want that "big" chocolate taste so just chop up a bar of chocolate.
(I used a dark chocolate bar, 70%+ cocoa content)
Then just add everything to a large bowl!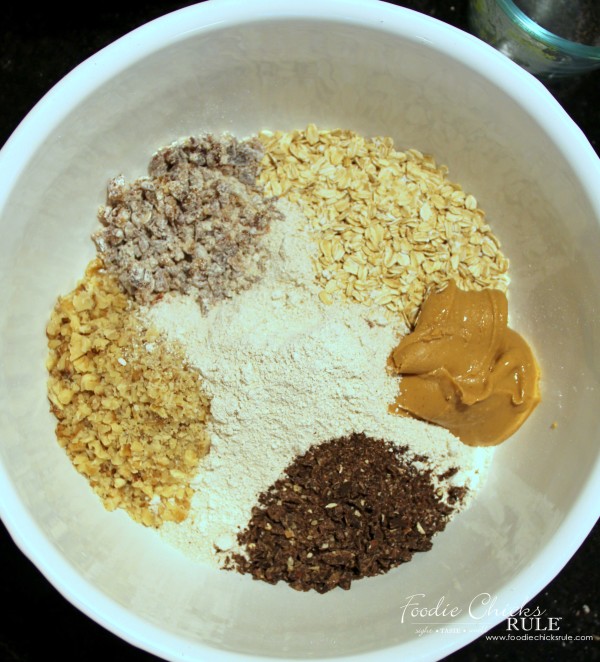 See how small I chopped the chocolate in these? (at 4 o'clock position in the bowl)
You can also use white chocolate. (with dried cranberries, for example, and that would give you a totally different flavor)
VERSATILE. I love that. :)
Mix it all up. I will sometimes have to use my hands because it can be sticky.
You want to make sure you mix it very well.
You'll have to use your hands anyway to roll them up into little balls. ;)
Roll em up and store them in the refrigerator.  (I love how the chocolate has a bit of a crunch out of the fridge! yum!)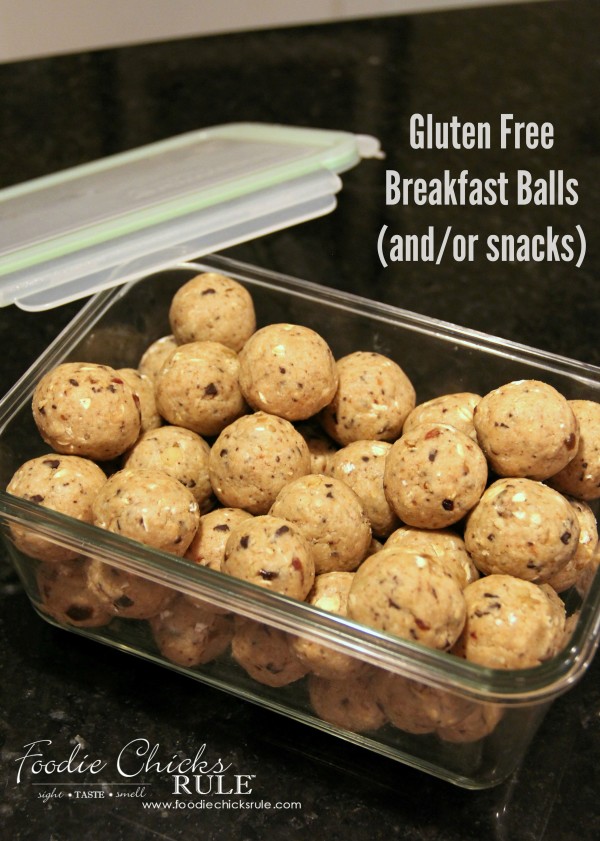 They are so good.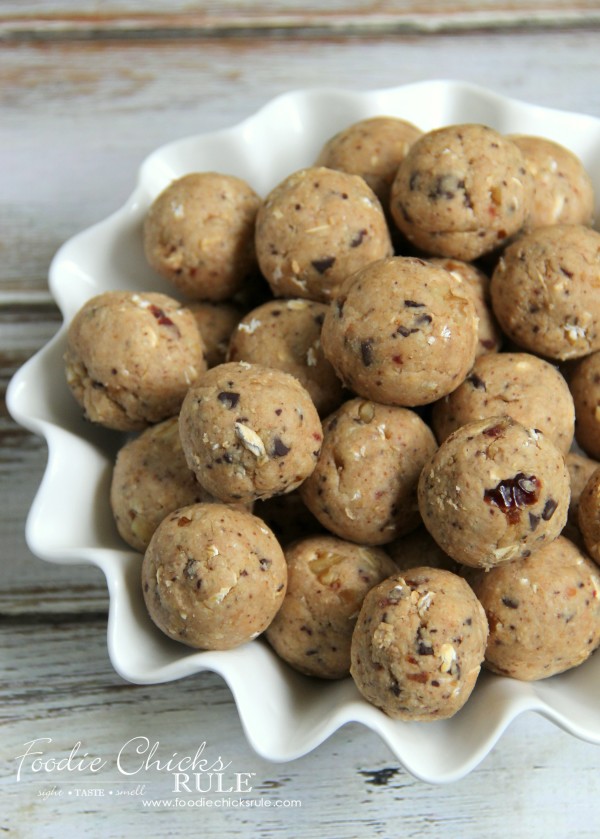 And you don't have to eat them just for breakfast.
Although they are perfect for those times you have to run out the door.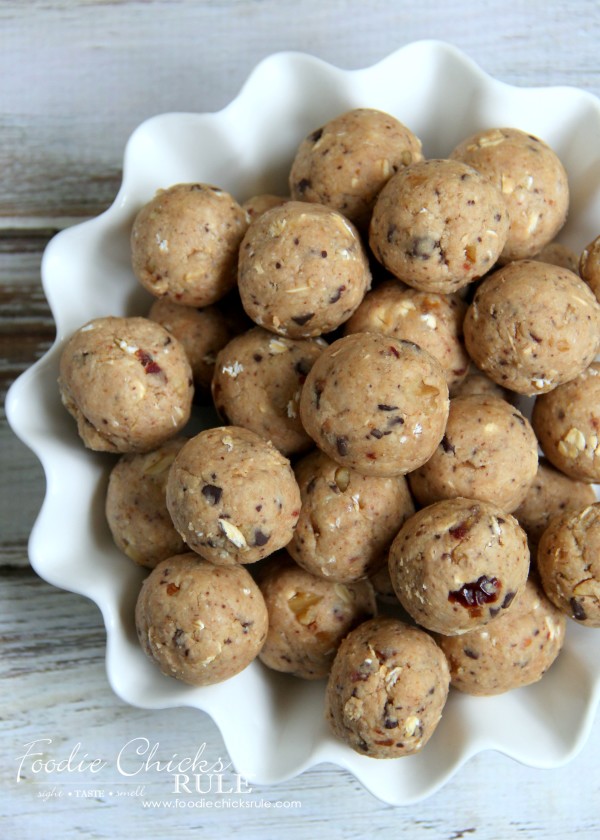 They are PERFECT for those times you need a little snack too!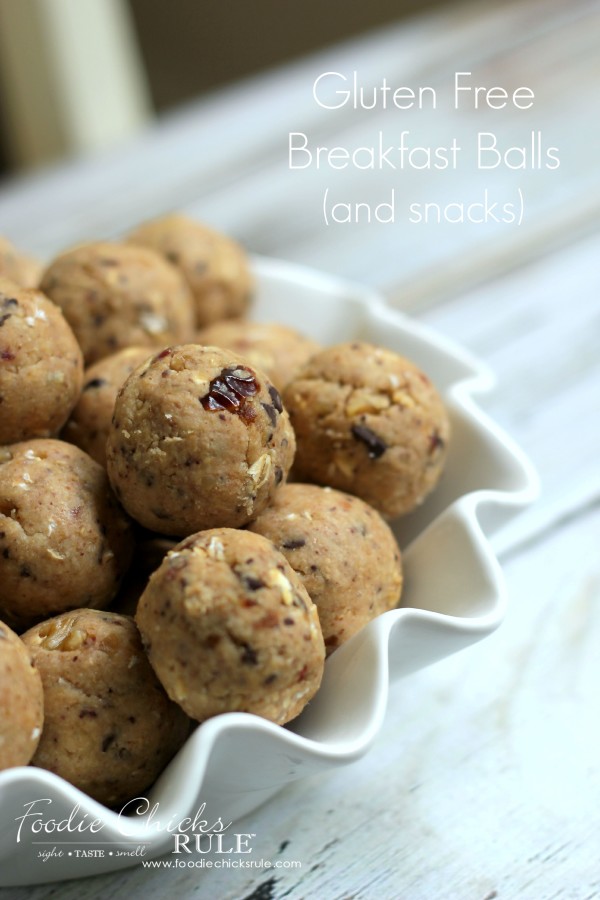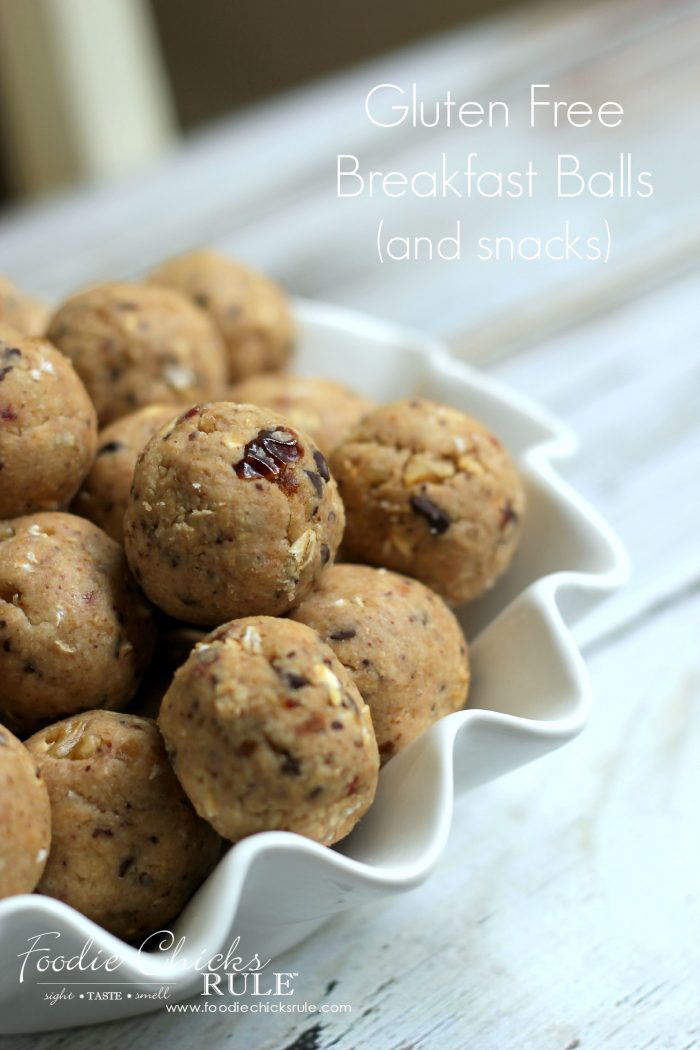 I hope you enjoy them as much as we do! :)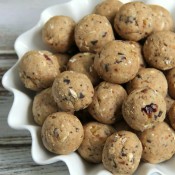 Gluten Free Breakfast (or Snack!) Balls
Ingredients
2

cups

ground oat flour

I use GF and organic

1/4

cup

whole oats

1/2

cup

chopped walnuts

1/2

cup

chocolate

either a chopped bar or chips (to taste, of course)

1/2

cup

chopped dried cherries

cranberries, blueberries or dates

1/4

cup

organic peanut butter

1/4

cup

organic almond butter

1/2

cup

almond milk

2

T

Agave syrup

1

T

Honey

I use Raw honey

3

packets Truvia

1/4

tsp

sea salt
Instructions
Grind up your whole oats to equal 2 cups.

Add to a large bowl along with the whole oats.

Chop the nuts and chocolate (if using bar chocolate) I used 70%+ dark chocolate.

Add to the bowl.

Chop the dried fruit (add a bit of the oat flour for ease in chopping sticky dried fruit)

Add the nut butters, almond milk, sweeteners and sea salt to the bowl.

Mix well. Use hands if necessary to mix.

Roll into balls and store in the refrigerator. The bowls can be rolled in extra oat flour so they won't stick to each other but I usually do not have a problem with that.

Be sure to see notes for variations.

Enjoy!
Recipe Notes
You can use other nuts in place of walnuts.
You can interchange white chocolate for the dark chocolate.
Any dried fruits can be used.
Any nut butters can be used in exchange for those I've listed.
You can use sugar in place of the sweeteners listed but will have to do so by taste because measurements that I have aren't interchangeable.
Dairy milk can be used in place of the almond milk.
Enjoy!!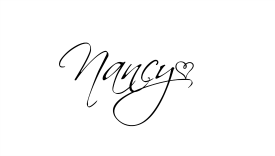 Related affiliate links you may like: