Sugared Cranberry Custard Tarts
Sugared cranberry custard tart is perfect for your next holiday gathering! Bite size, adorable and perfectly sweet and tart.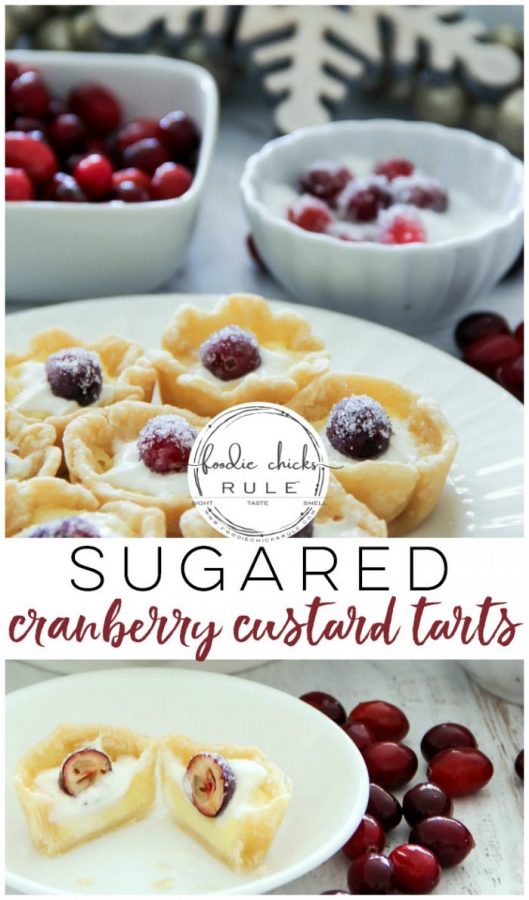 You guys, this is the easiest recipe you'll make this holiday season! Truly.
And these are so tasty, cute as a button and make a great presentation for any holiday party or gathering.
Sugared Cranberry Custard Tarts
I'm joining in with a bunch of my friends for a holiday themed tour and I'm so thrilled to be sharing a holiday themed recipe today!
Angie over at Postcards From The Ridge so graciously organized this fabulous tour so be sure to check out all the links at the bottom of this post so you can find even more holiday inspiration, baking and decor.
Now let's talk sugared cranberry custard tarts. :)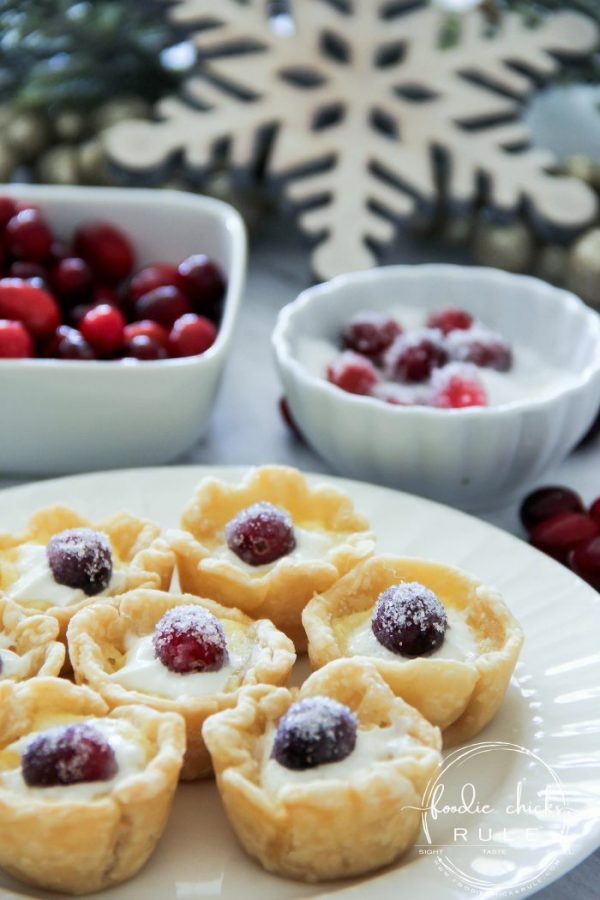 Last week I shared a very important ingredient to these sugared cranberry custard tarts…..the sugared cranberries! ;)
They are also good for a cocktail or two. ;)
If you missed that recipe, you can find it right here >>> Sugared Cranberries
For this recipe, I simply bought and used ready made pie crusts. (the ones that come in the refrigerator section in a rectangular box)
I did roll the dough out to thin it somewhat. I could have actually thinned it a bit more actually.
Then I used a small biscuit cutter to cut out circles.
I smooshed them into the tiny cups on my huge mini muffin pan. (I just got this and love how many I can make at one time now!)
You can find the baking pan, here.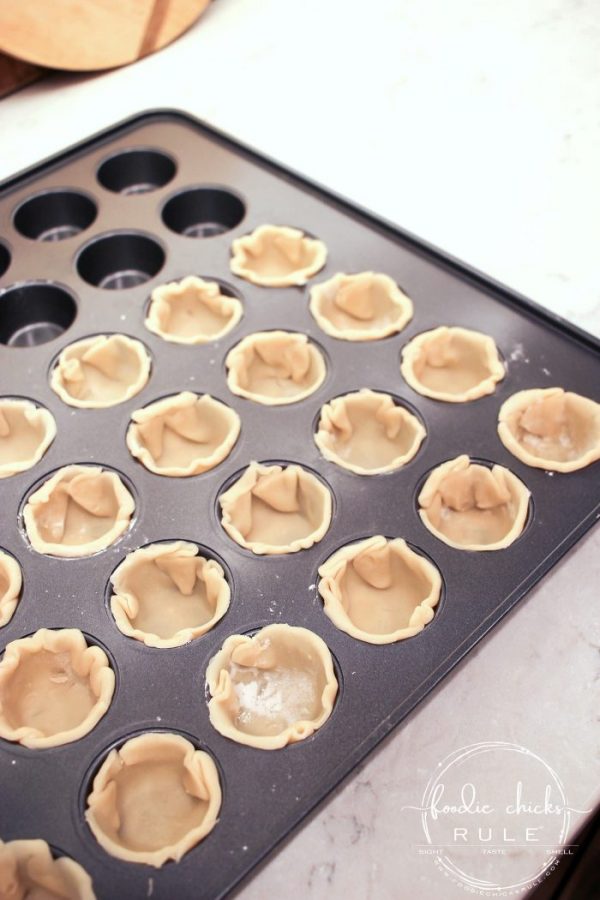 I baked the crust for about 5 minutes at 350.
Next I mixed up the ingredients for the custard and poured it into the tart shells with a spoon.
I filled them up about half full. They will rise some because of the eggs and you'll want to leave room for whipped topping and the cranberry, of course!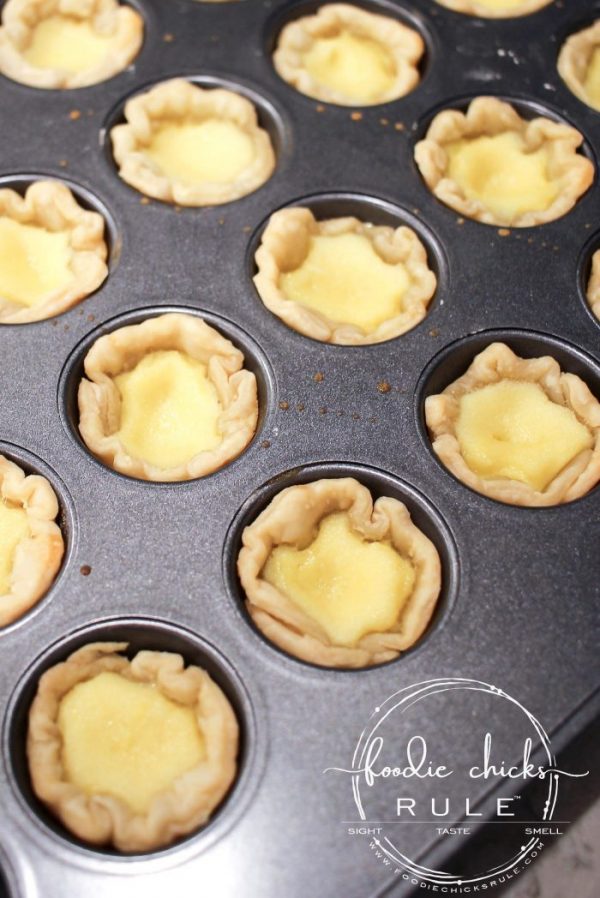 Once they were cooled, I put some whipped topping (out of a can but you can also use home made) and topped each with one sugared cranberry.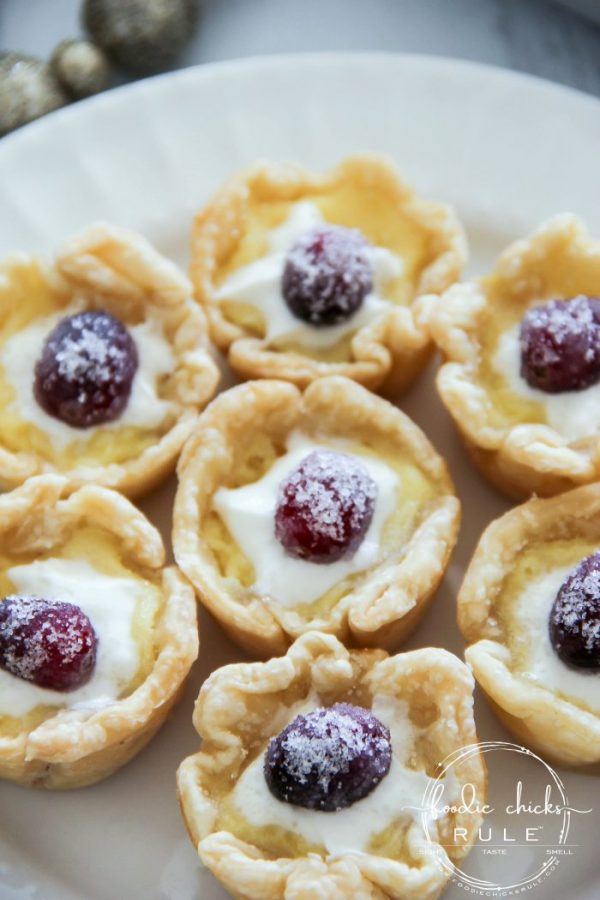 They are just delicious!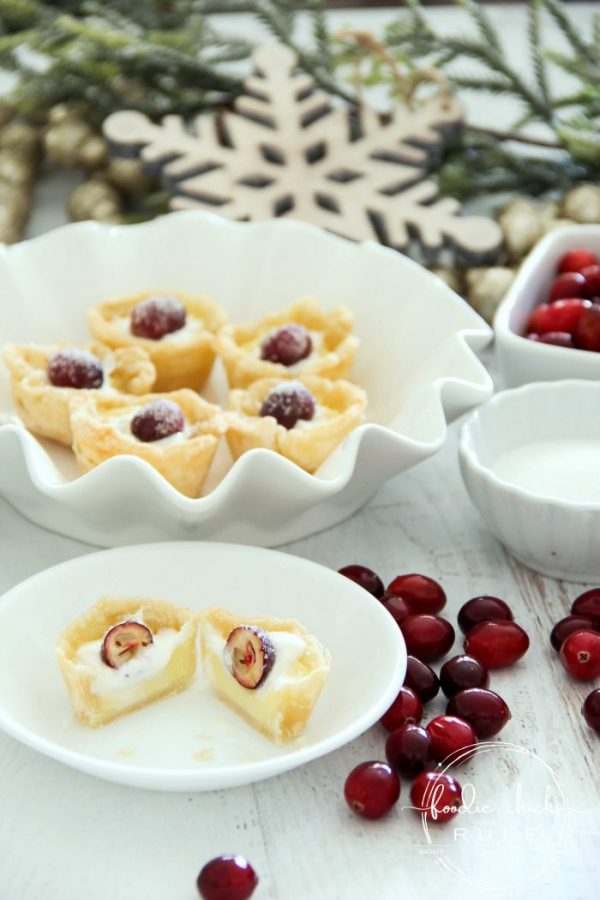 The sugared cranberries add some nice flavor and a hint of tart.
The perfect accompaniment to the custard.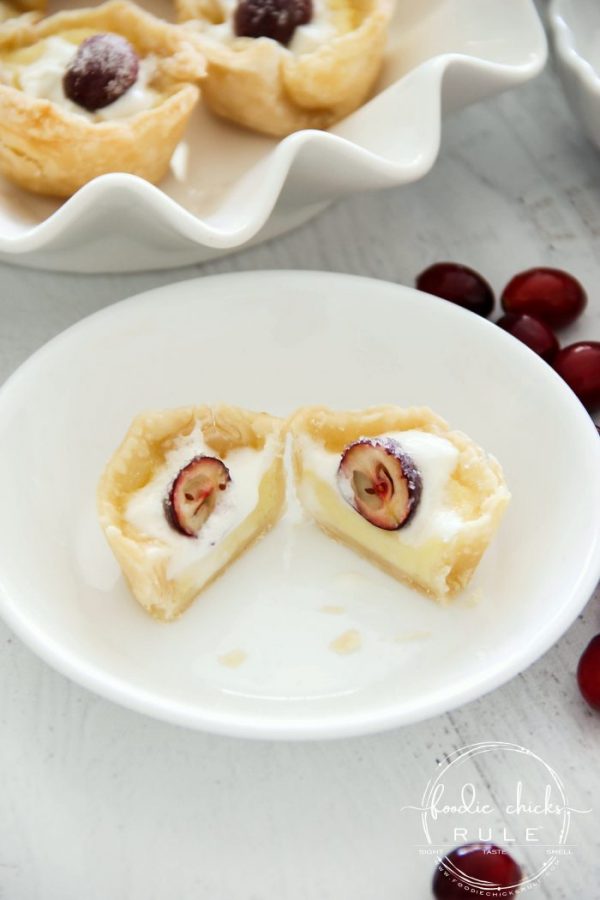 I wanted to mention that although I used ready made pie crust dough, you could also use home made.
OR you could even use sugar cookie dough. That would be amazing …. if a little sweet. ;)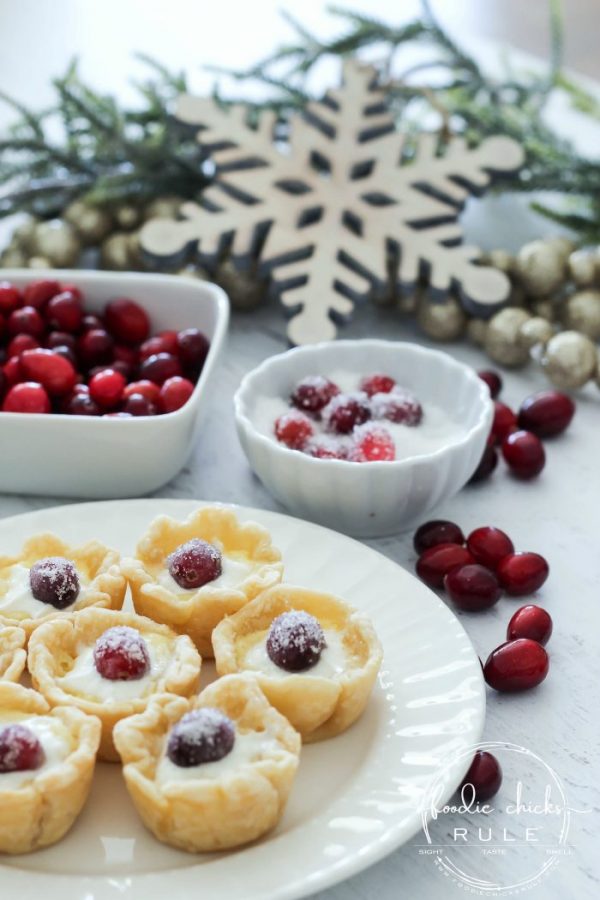 Hope you'll give these cranberry custard tarts a try this holiday season!
Enjoy!!!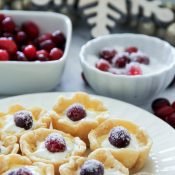 Ingredients
2

pkgs

ready made pie crust dough

6

eggs, beaten

2

cups

milk

1-1/2

cup

sugar

6

Tbsp

butter

3

Tbsp

flour

2

tsp

vanilla flavoring

1

tsp

orange flavoring

whipped topping
Instructions
Sit the pie crust out on the counter for approx 30 minutes before you begin.

Flour and roll the pie crusts to thin them out somewhat. Cut with a small biscuit cutter into circles for the mini muffin pan.

Gently push down the circle dough into the muffin pan creasing the edges around the top.

Bake the tart dough for 5 minutes in a 350 oven.

Meanwhile, combine the butter (melted but not hot), sugar, milk, flour, vanilla and orange flavorings. Add in the beaten eggs, beat well.

Pour or use a spoon to add the custard mixture to the tart shells. Fill halfway.

Bake at 325 for approx 30 minutes or until done. Be careful to don't overcook.

Cool completely. Add whipped topping (in a can or home made) to each tart and top with a sugared cranberry. Don't top with either of these until you are ready to serve.
Recipe Notes
You can also use sugar cookie dough for the crust. 
Don't top with whipped topping or the sugared cranberries until directly before serving.
You might also like this holiday recipe: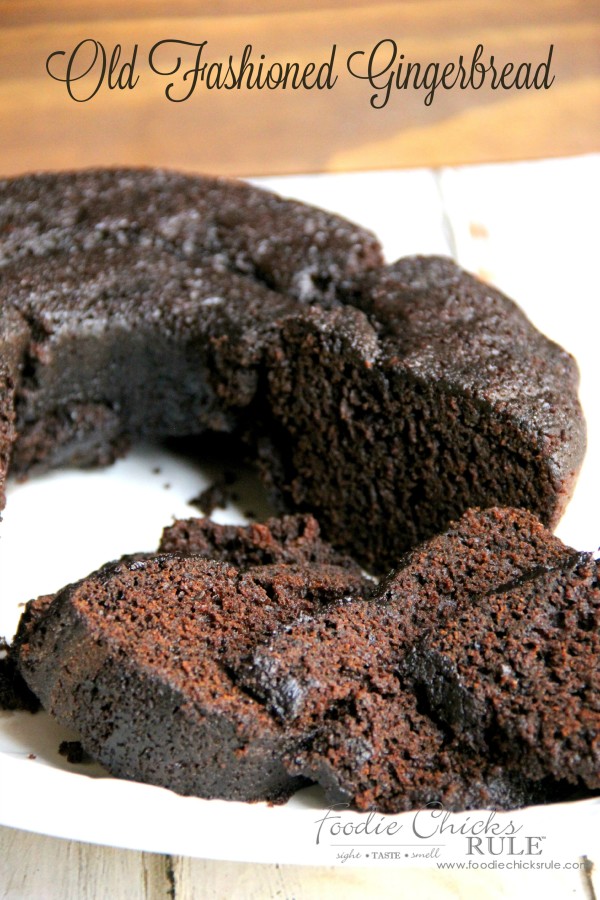 Get the recipe here >>> Old Fashioned Gingerbread
Don't forget to visit my friends below!!
xoxo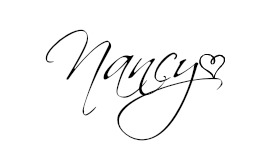 Now it's time to see all the Christmas ideas from these talented home bloggers. Here's the tour lineup for the week. Be sure to visit everyone for wonderful Christmas ideas for the whole house. The links for each topic are below the images.
Monday – Christmas Mantel Ideas
Tuesday – Christmas Tablescape Ideas
Wednesday – Christmas DIY/Craft Project Ideas
Thursday – Christmas Tree Ideas
Friday – Christmas Recipes
Related affiliate links you may like: