Hi Friends! I've got a yummy new recipe for y'all today…… Pistachio Almond Pastry.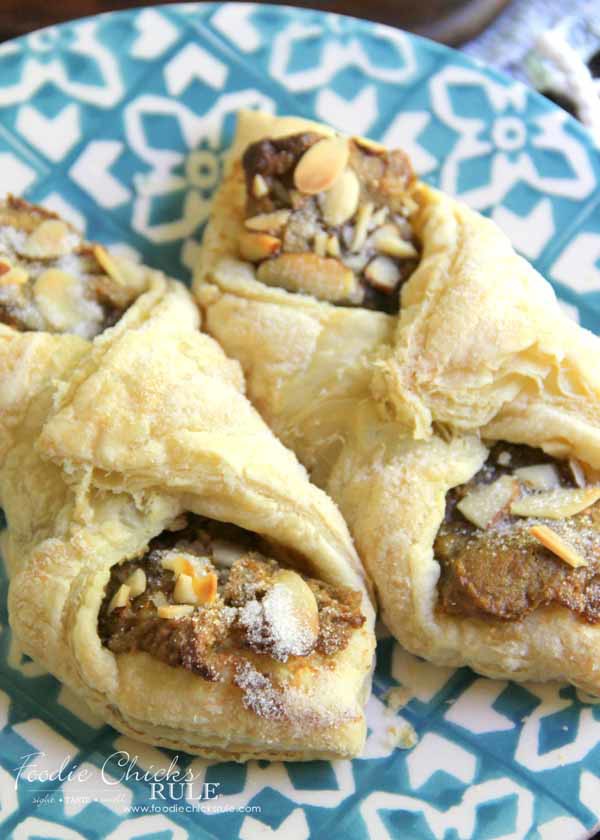 I recently had the yummiest pistachio pastry at our local Whole Foods.
I'm big for recreating things …. so I did!
BUT, I created my own version which ended up being a bit different.
These are not overly sweet which is just how I like my "sweets".
If you are a sweet, sweet lover than I'll give an edit/option to the recipe for you.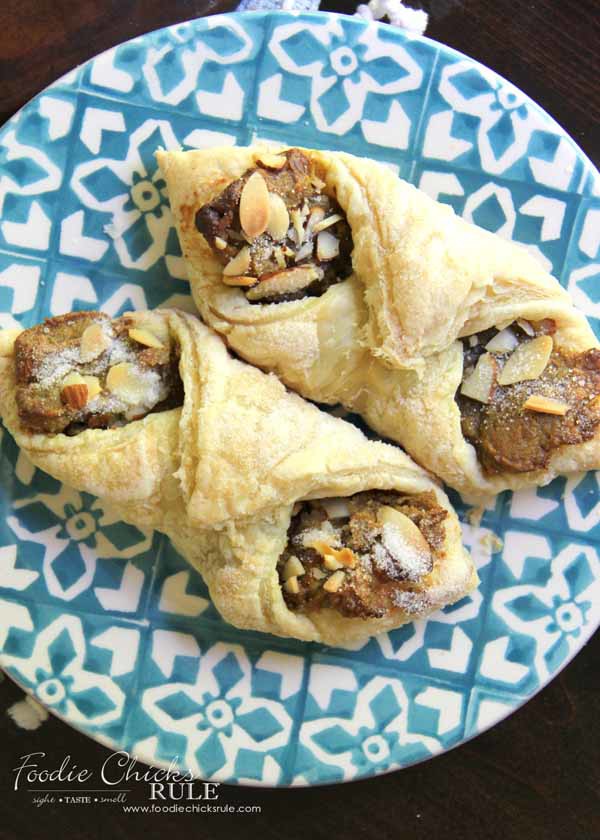 They are SUPER easy to make also.
Perfect for breakfast OR snack.
First, go to your local grocery and pick up some puff pastry sheets.
I used Pepperidge Farms.
Next, let them thaw as directed on the package.
While they are thawing, make the pistachio almond filling.
The filling consists of 8 oz of almond paste, 10 oz package of pistachio nuts and water.
I used my Vitamix to blend but a food processor or coffee bean grinder would work as well.
Grind the nuts and paste with enough water to create a creamy paste.
Here is where you can add in a bit of sugar if you would like your pastries sweeter.
It should look something like this…..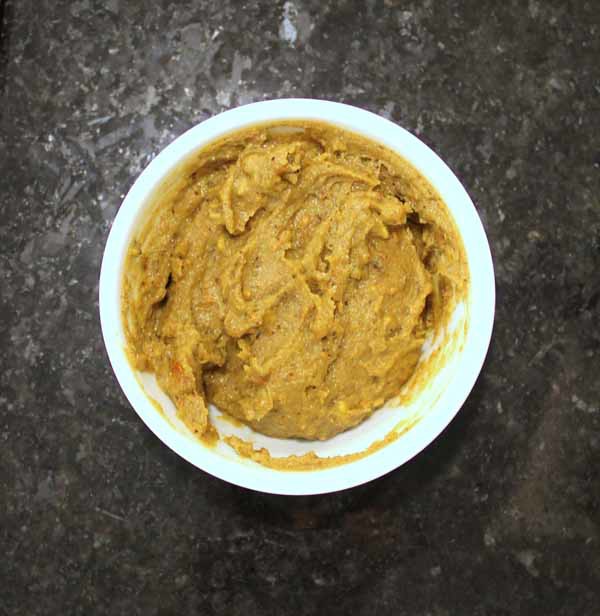 You can add green food coloring to make it a bit more green.
I didn't because I don't feel the need to have it be a fake-y green.
But you certainly can, if you like.
Might be fun for St. Patrick's Day, etc.
Once the pastry sheets are a bit softened, lay them out onto a cutting board.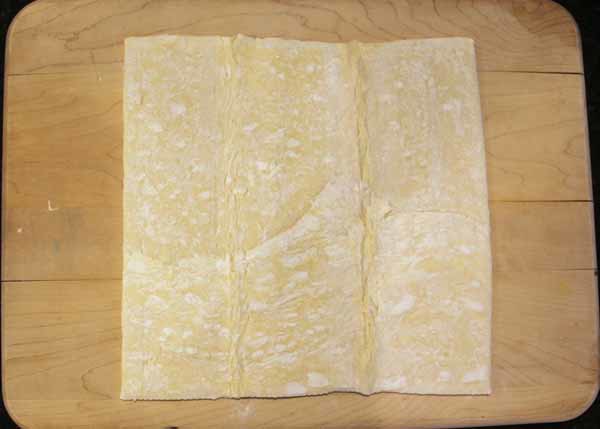 I used a pizza knife to cut into 4 squares.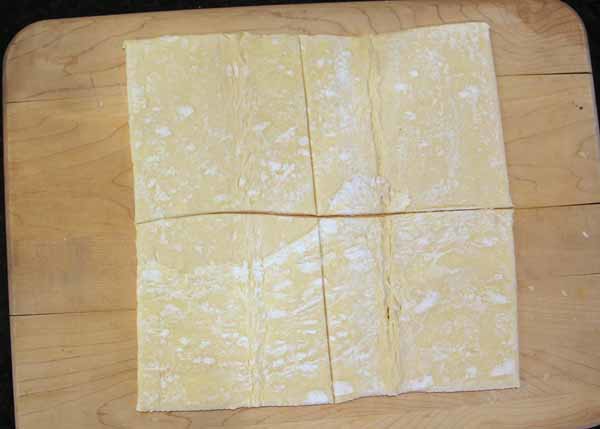 Spread the filling evenly onto the center of the pastry squares, diagonally.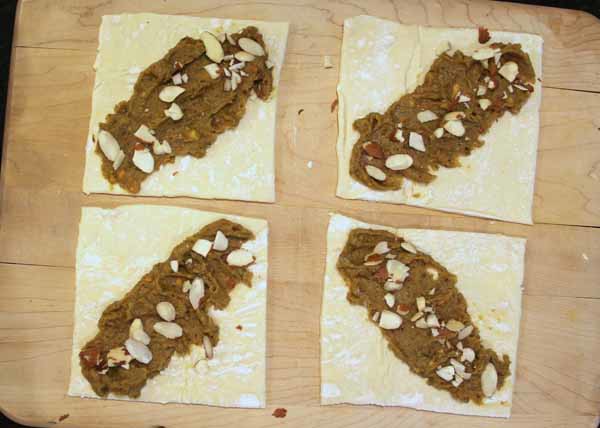 Sprinkle with sliced almonds.
Roll up and place together with a bit of water to seal.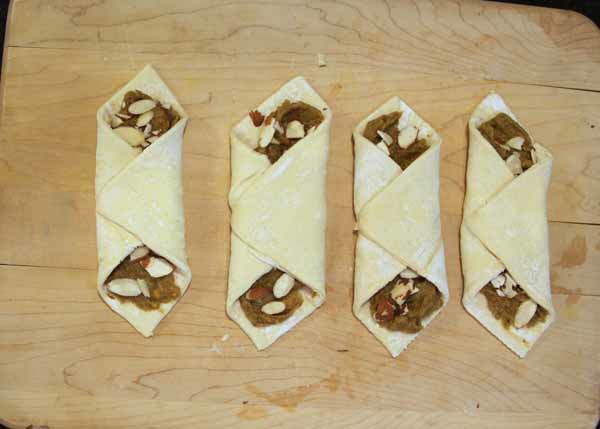 Place onto a baking sheet, sprinkle with sugar and bake.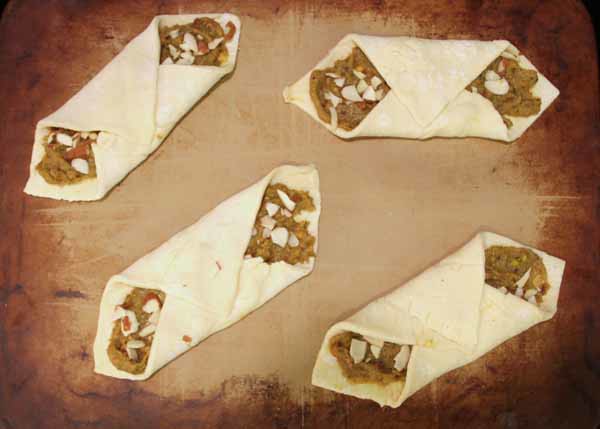 So tasty!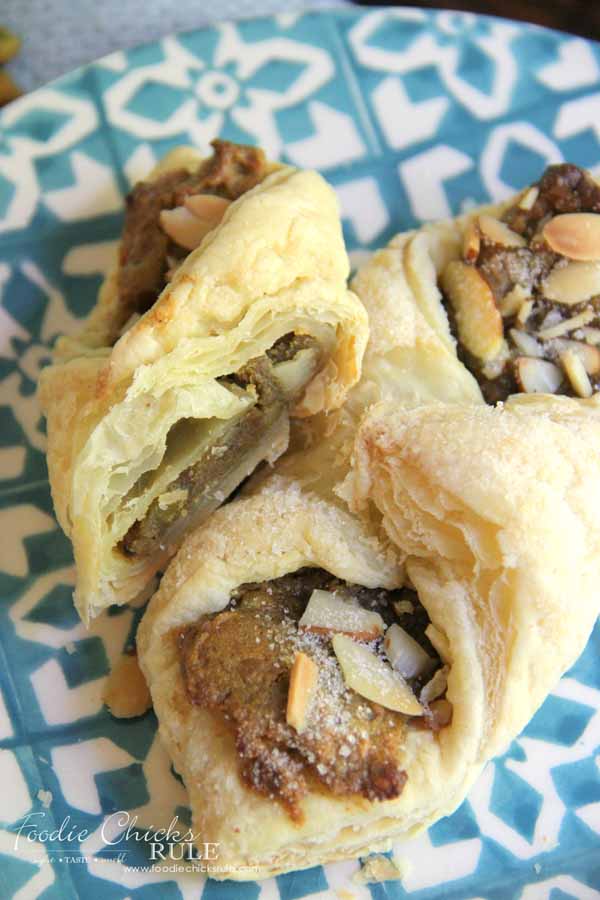 So, to make them a bit sweeter, you can add a little sugar to the filling as you are grinding it up.
AND/OR, you can also drizzle warm honey over top, once cooked. (as shown below)
Hope you enjoy the Pistachio Almond Pastry!!!
PIN this to save the recipe for later! :)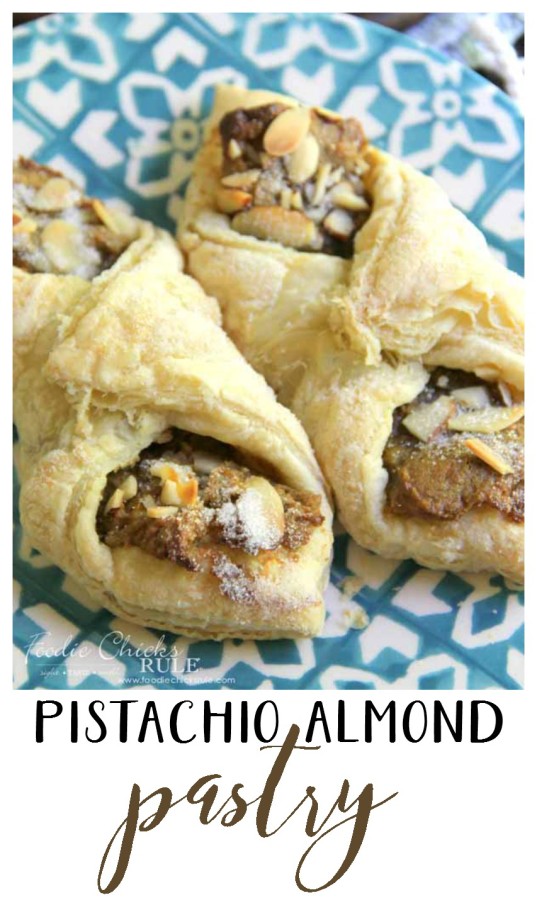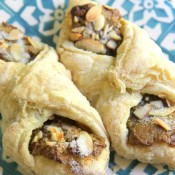 Pistachio Almond Pastry
Ingredients
10

oz

pistachio

shelled

8

oz

almond paste

1

box of puff pastry sheets

sliced almonds

sugar

honey to drizzle

optional
Instructions
Grind the pistachios, almond paste with water to create a creamy paste.

You can add sugar here if you'd like it a bit sweeter (or drizzle with warm honey at the end)

Thaw the puff pastry according to the box directions.

Roll out each pastry sheet and cut into 4 squares.

Spread the paste onto the squares across the middle.

Sprinkle with sliced almonds and roll up the other two sides to meet in the middle. (see photos)

Sprinkle with sugar and bake at 400 until lightly golden.

If desired, drizzle with warm honey.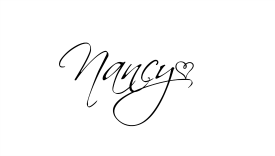 Related affiliate links you may like: