Cabbage, Rice and Chicken (w/cilantro)
Today I'm sharing a recipe that my doctor's nurse (from Brazil) shared with me a few years ago.
I have no idea if it has a name but I'm calling it "Cabbage, Rice and Chicken…w/Cilantro".
Creative, right? ;)
It's very healthy and she said it was something she ate growing up over there.
I hope I do it justice as she just spoke the main ingredients to me and I came home and figured out the precise measurements.
It's really good…and healthy. Did I mention that already? ;)
I love food and I love sweets but I don't really eat those often.
I will share them here for those that do (and because they are fun to make!). But I will also be sharing many healthy recipes I've developed or come across over the years.
And healthy eating tips too.
I am very passionate about about health, healthy living and eating.
But I realize we must "live" and sometimes that calls for a full sugar, full fat cupcake.
Just not every day (or every month!).
So now that we've gotten that all straight….take a look at this awesomely healthy meal.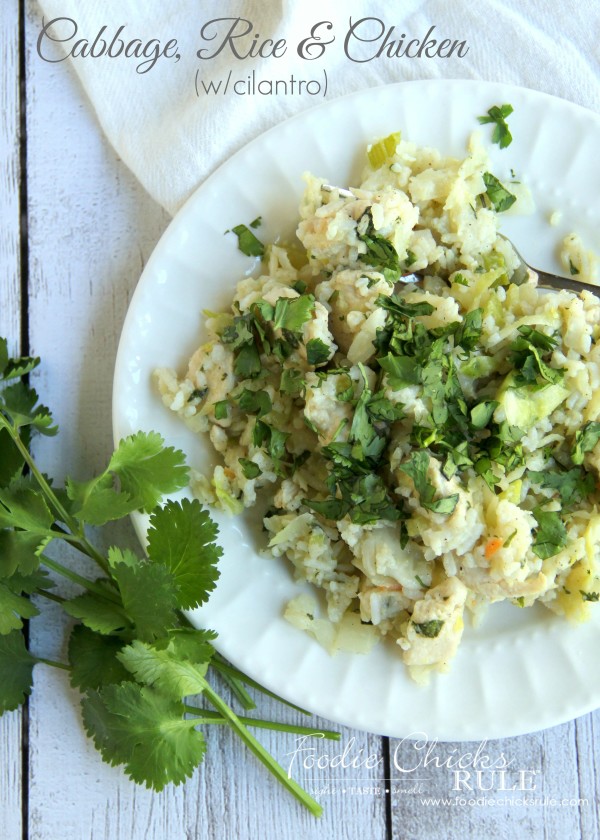 I know, it's not exciting looking.
But….it's full of flavor and my 16 year old son even loves it.
And it's pretty simple to throw together too.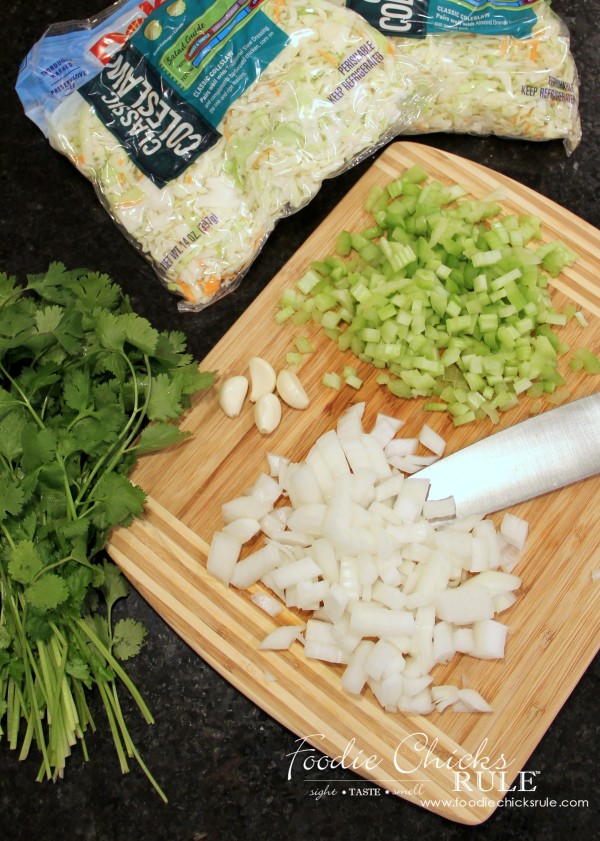 Especially so, if you start with a bag of "cole slaw" mix.
With that, there is no chopping of carrots or cabbage.
I've done it both ways but thought I'd share this super simple way here.
You do still need to chop your onion and celery though.
So after chopping those all up, add them to the pan and saute for approximately 5-8 minutes.
Add the pressed or chopped garlic and saute another 1-2 minutes.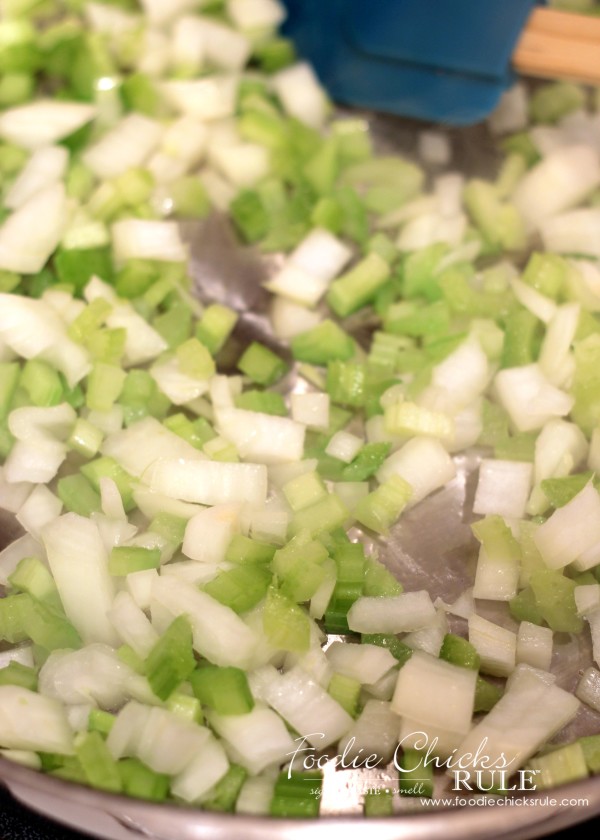 While those are sauteing put the rice in a pot to cook. Set aside, once finished.
Add the cabbage/carrots or bag of slaw mix to the celery/onion/garlic mix.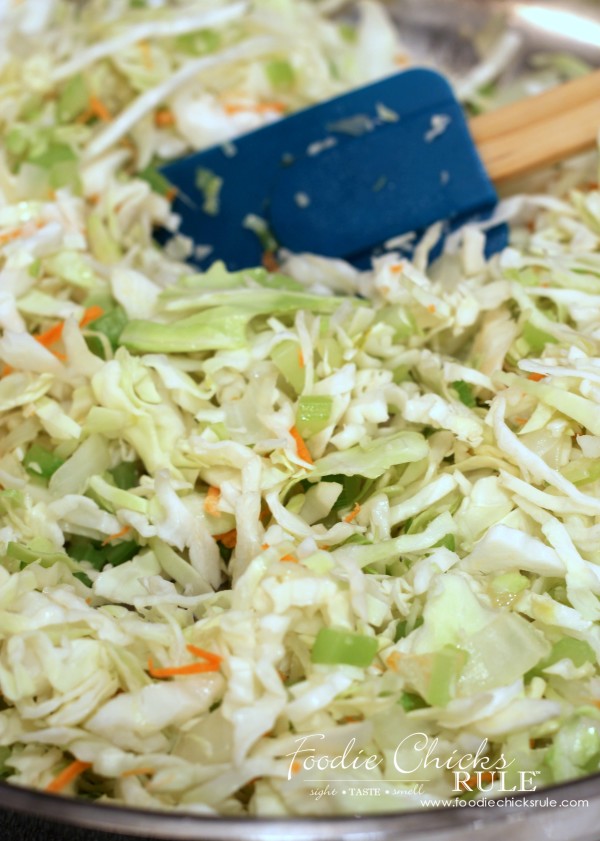 Cook for 5- 10 minutes. (I like a tender, slightly crisp vegetable so cook longer or shorter depending on how you like it)
Then add seasonings (salt and pepper).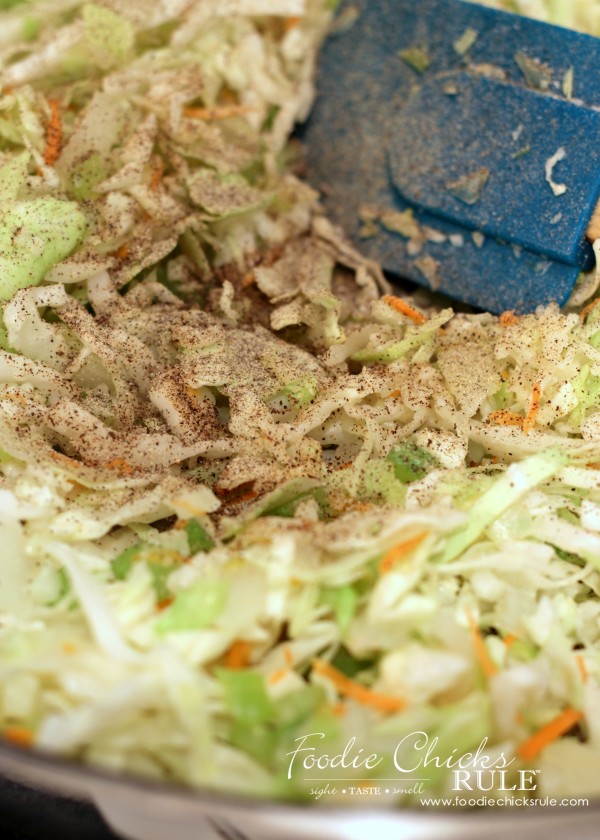 Continue to cook for another few minutes.
While that is cooking, cut up and saute your chicken in another pan.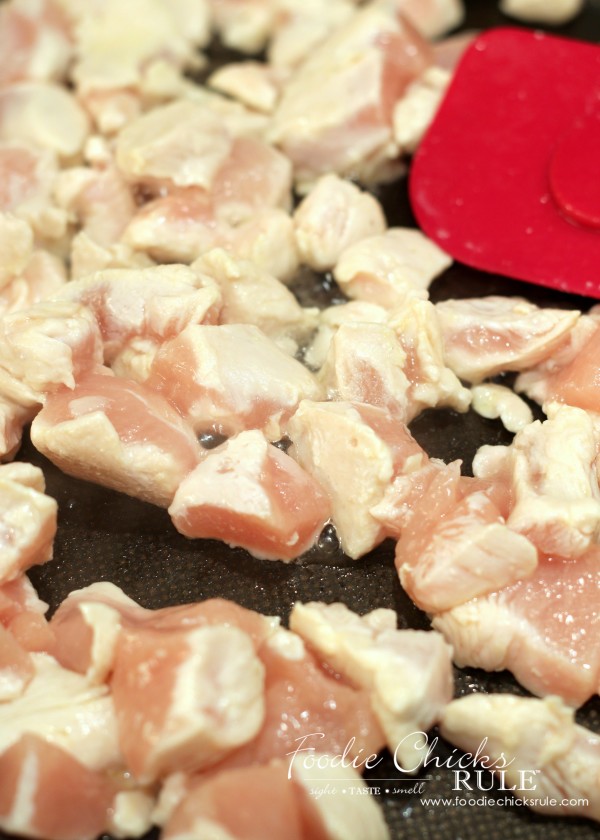 Add the rice to the cabbage mixture and a tablespoon or two of olive oil and 2 tablespoons of butter.
(you can omit the butter, if you like, I use it for flavor)
You can also use Extra Virgin Coconut Oil. That will give it a totally different flavor however.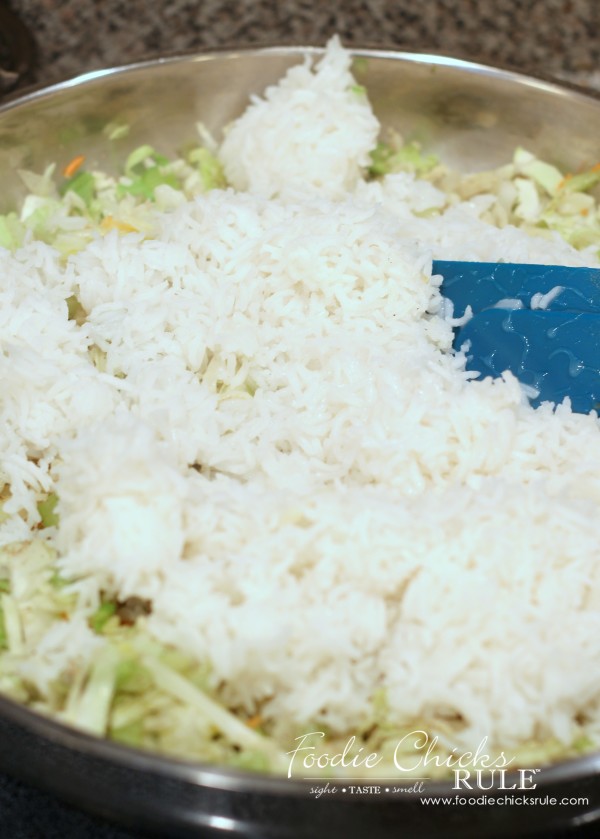 Once the chicken is done, add it to the cabbage mixture.
After cooking the cabbage to a tender/crisp stage, add 1/2 cup chicken broth and continue to cook.
(you can add more of the chicken broth if you want to cook it down a bit more…I like mine to have a tiny crunch)
Chop cilantro and add to the mix. Stir well.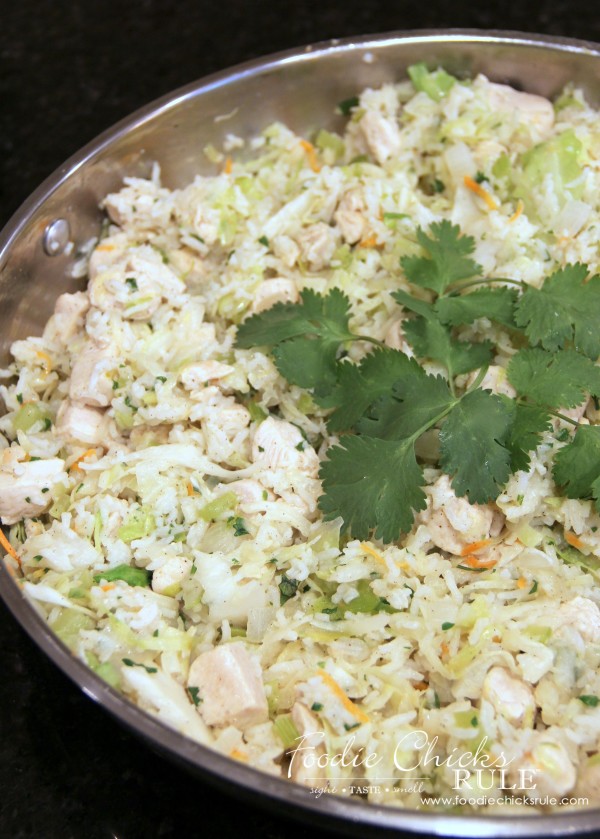 Plate it up to eat and garnish with more chopped cilantro….yum.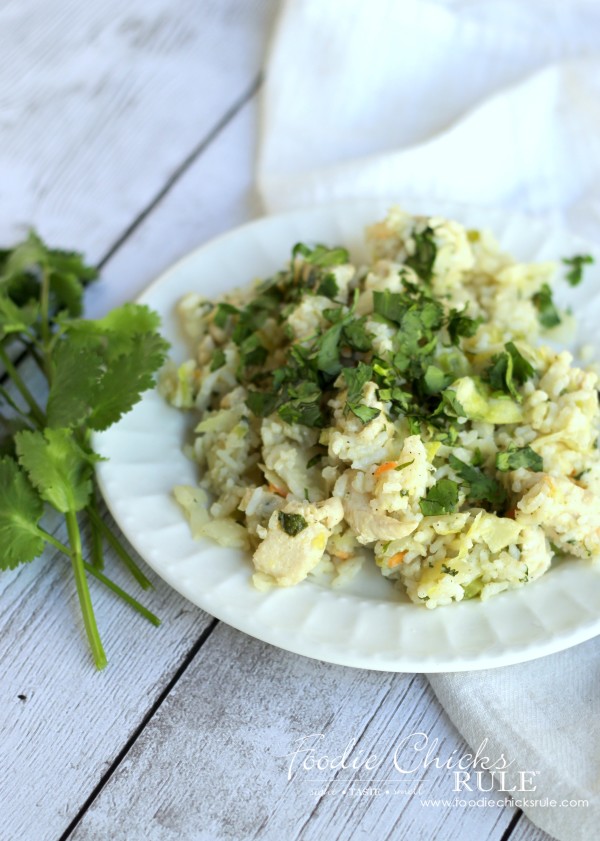 I LOVE cilantro and anything with it….and avocados. They are a fave too.
I've found that cilantro is typically a "love it" or "hate it" kind of thing.
If you are in the "hate it" camp, you can leave it out and/or substitute another herb/seasoning you like instead.
I've added a garnish of avocado to this dish before and it was yummy.
Try it and see what you think.
But for me, cilantro is a must with this dish.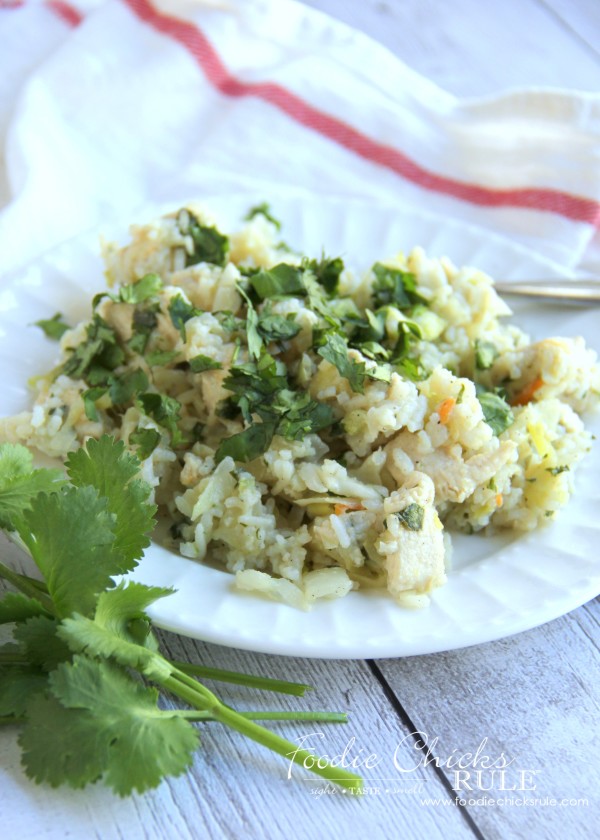 It adds the perfect (and unexpected) zing to this dish.
Love that!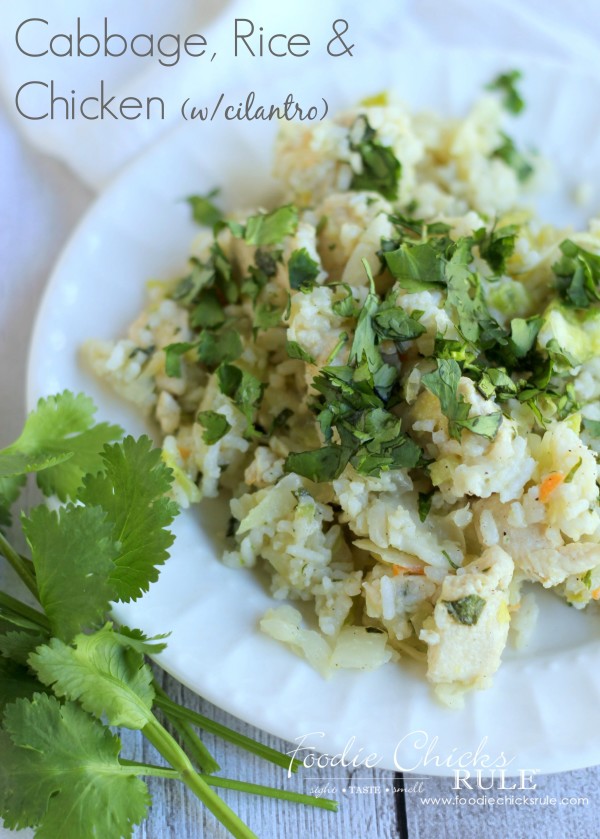 It's good stuff….and very healthy.
Love that even more.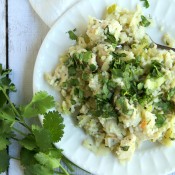 Cabbage, Rice and Chicken (w/cilantro)
Ingredients
2

large chicken breasts cut into bite sized pieces

1 - 14

oz

bag of Cole Slaw mix

3

large stalks of celery

chopped

1/2

of a large onion

chopped

3-4

large garlic cloves

pressed or chopped

1/2-1

cup

chicken broth

1

cup

of rice

cooked

Avocado oil

or olive for sauteing chicken and vegetables

2

tbsp

olive oil

2

tbsp

butter

Fresh cilantro

chopped

Salt and Pepper

to taste
Instructions
Cook rice according to package directions and set aside.

Add oil to pan and cook celery and onion for 5-8 minutes.

Add garlic and saute 1-2 minutes.

Add cabbage mix and stir fry for another 5 minutes or so.

While that is cooking, cook chicken in a separate pan.

Stir cooked rice into the cabbage mixture. Mix well.

Add 2 tablespoons of olive oil and 2 tbsp of butter.

Add salt and pepper to taste.

Add cooked chicken and 1/2 cup of broth. (or more, as needed)

Add chopped cilantro last. Stir well.

Plate and garnish with extra chopped cilantro.
Recipe Notes
I like my vegis and cabbage to have a very slight crunch so I keep this mind with cook times on all.
Also, adding more chicken broth will further soften the vegetables and is the reason I only use 1/2 cup for flavor. You can use more, and/or cook longer for a more tender finish.
Hope you enjoy! :)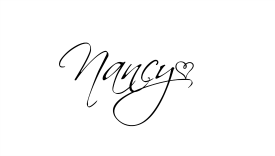 Save
Related affiliate links you may like: