Veggie Greek Pita Bowl (with Tahini dressing!)
This veggie Greek pita bowl is so filling and healthy! Loads of flavor too!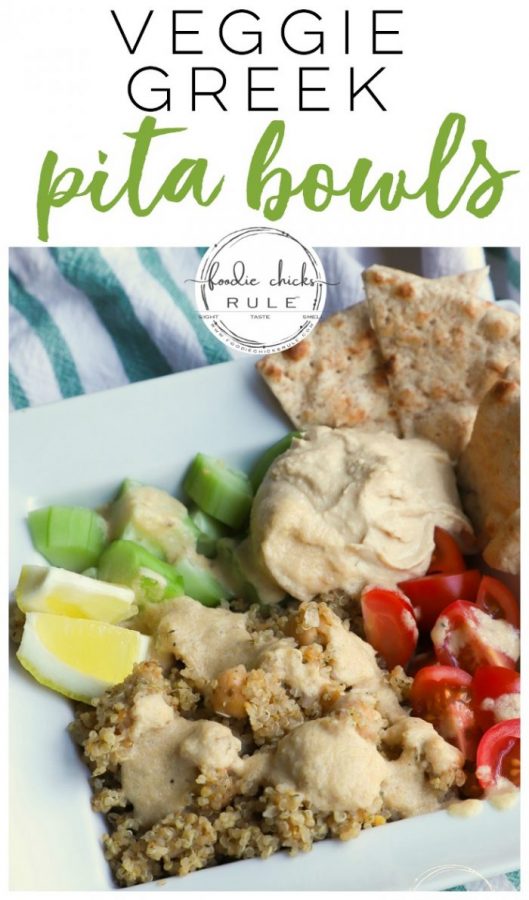 These Greek pita bowls are SO simple to throw together and the flavors are just amazing!
I am always on a quest for good health…and healthy food.
You'll get a little bit of everything around this blog because for one, I don't conform to any one thing and two, I love food!
I love all the cakes, cookies and desserts but don't make (or eat) them often. The healthier recipes are where I shine.
But, healthy food doesn't have to taste bad to be good….or good for you.
If you don't want to read about my latest food/eating adventures, just skip on down to the first photo! ;)
Lately, I have been trying to follow a plant based diet. More so for health reasons, less so for ethical reasons.
Although those are very valid, I agree.
I have stopped eating beef and pork for those reasons, actually. BUT I realize that is a personal choice and I in no way have issue with those who do eat it. :)
Because I may eat it again in the future! Who knows.
But for now, I am not really that comfortable eating it.
I also haven't eaten dairy in a really long time. (occasional cheese here and there…I'm not 100% strict on any of it because, you know, life :) )
Mainly because it does not agree with me as I've gotten older, but also for my own health reasons.
So, I figured, what the heck, there's not much left, let's stop eggs, chicken and fish (seafood) too. Why not?
I'll give it a go and try a full on plant based diet.
Well that lasted all of two weeks. TWO WHOLE WEEKS. haha
Oh well, I tried.
I was really worried about my health eating this way and it was the whole reason I did it … for my health.
Silliness, so I started adding back in some chicken, fish and eggs. (side note, I have anemia so have to be careful removing too much from my diet)
What going "plant based" did do for me in that short time, however, is to make me prepare meals around vegetables and grains, not meat.
Try cooking meals for a straight 2 weeks without any meat, dairy, eggs, etc, allowed.
You get really creative, really fast!
Before this, our meals were always prepared around whatever meat I was planning for that night.
What a difference this was. We began eating all kinds of grains, beans and veggies.
Not that we didn't before, but it wasn't the star of the show, if you know what I mean.
And so, as I'm adding the chicken, eggs and fish back to my diet (after a whole 2 weeks off! Lol), I'm incorporating less meat, more veggies.
I will say we have never felt better. I think this is a good balance.
We were eating too much protein, not enough of the other (veggies, good starches, etc).
Falling back on some of the processed "quick fixes", which weren't allowed on a plant based diet.
Anyway, all this to say, is that this veggie Greek pita bowl recipe is all "vegan" or "plant based"….and so good.
BUT you can add in some grilled chicken, if you so choose. I may do that next time myself.
The quinoa/chick pea base is delicious though! You won't miss the meat in this one, promise! :)
Greek Pita Bowl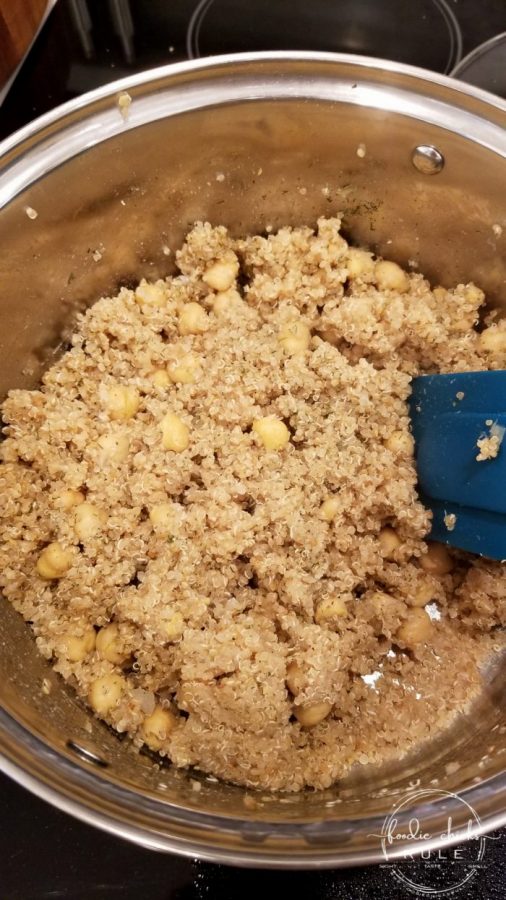 The seasonings I chose for this one taste so wonderful together.
One of them is very important to the flavoring of this dish because it's a blend.
Here is the exact one I used, >>> Greek Seasoning.
It really comes through in the finished dish.
And topped off with veggies, makes it so light and fresh.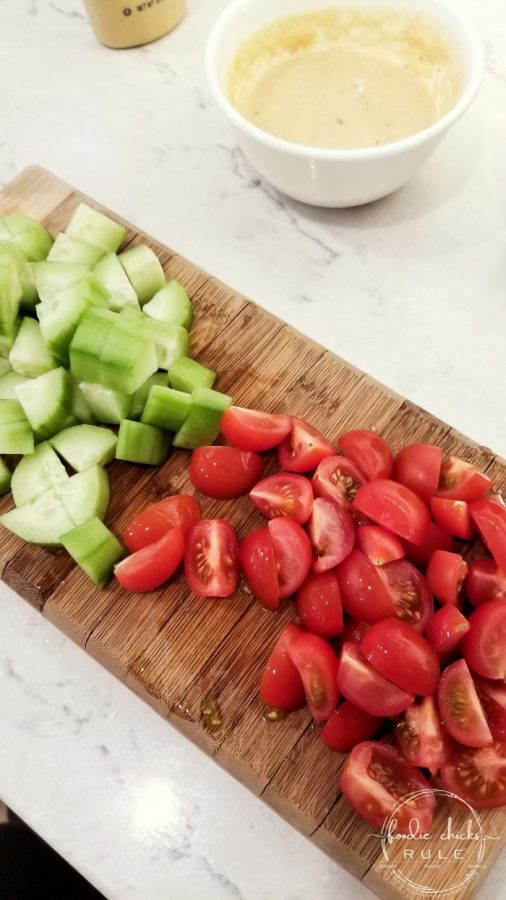 There's a simple tahini dressing (recipe also below) that really beefs up the flavor. (hee hee)
I used this brand of tahini and I really like it.
And I just used store bought hummous from Whole Foods.
I love this brand because the ingredients are simple. (and sparse, which I like!)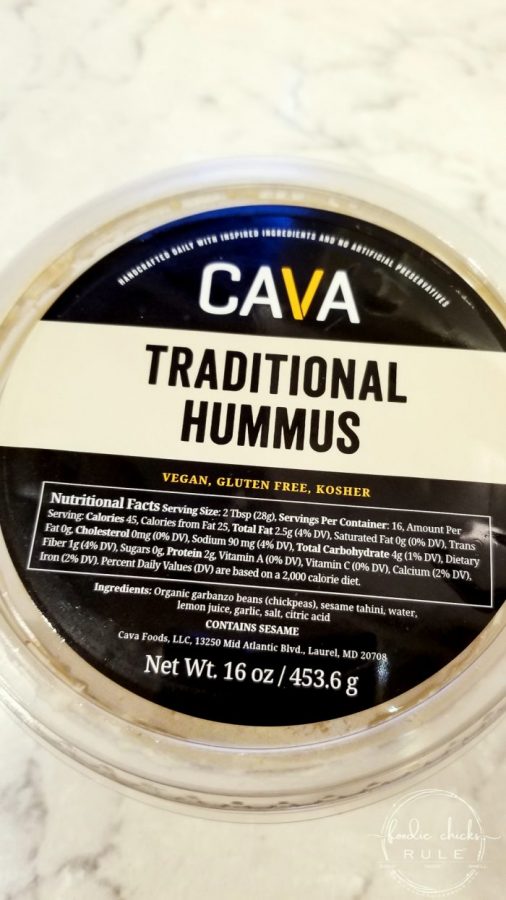 No added oil is a plus, too.
That's another thing going plant based taught me. I was using much too much oil in my dishes.
Unnecessary, really, I have since found.
And so, that's it!
Pile the quinoa blend into the bowl, top with the fresh veggies, hummous, tahini dressing and toasted whole wheat pita crisps.
Yum, yum, enjoy.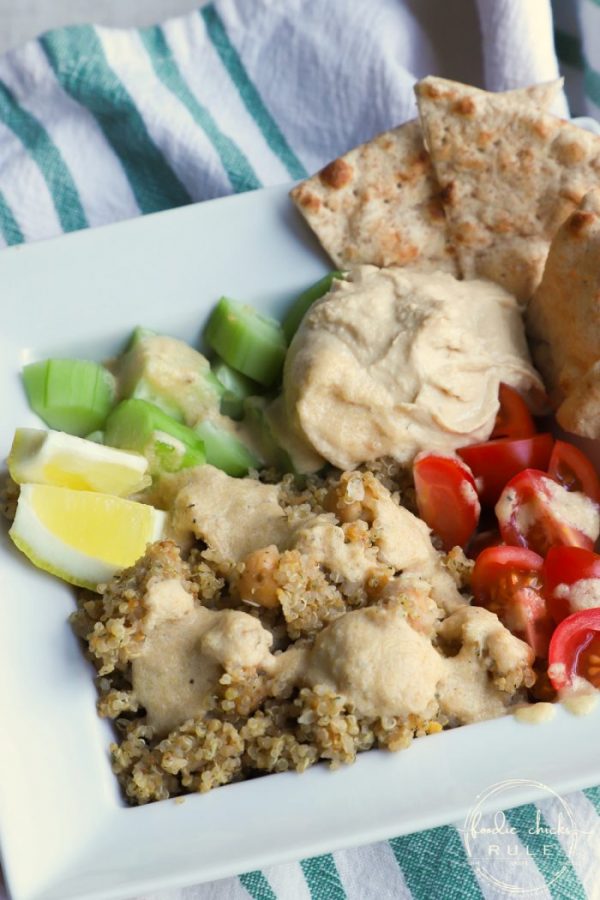 I think you'll love it!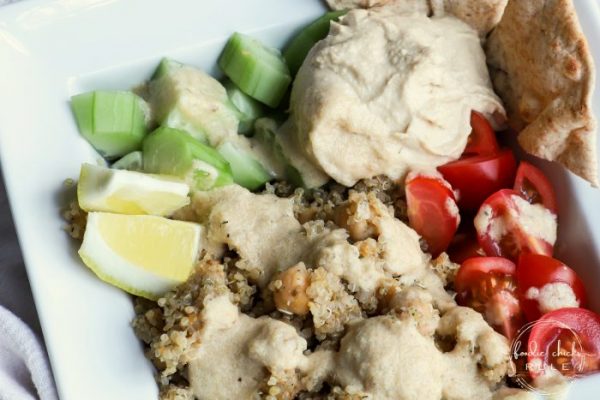 Veggie Greek Pita Bowl Recipe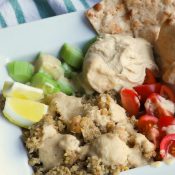 Veggie Greek Pita Bowls
Easy, vegan, plant based style pita bowls which can easily have chicken or other meat added to, if desired.
Ingredients
1

large

cucumber, peeled and diced

10

cherry sized

tomatoes, quartered

hummus, store bought or home made

1/2

can

garbanzo beans

1

cup

quinoa, uncooked

1

Tbsp

olive oil, optional

2

tsp

dill weed

2

tsp

Greek seasoning

1

tsp

onion powder

1

tsp

salt (or to taste)

black pepper, to taste

2

pitas

whole wheat, toasted and quartered
Tahini Dressing Ingredients:
2

Tbsp

Tahini

1

lemon

juice of one large lemon

1

Tbsp

Rice Wine Vingegar

2

tsp

Dijon mustard

1

clove

garlic, crushed

1

tsp

agave, optional
Instructions
Mix all of the sauce ingredients and set aside.

Cook the quinoa according to package instructions.

Peel and chop the cucumber.

Cut the tomatoes into quarters.

Rinse the garbanzo beans and set aside.

Once the quinoa is done, stir in the garbanzo beans while hot. Add in the seasonings and olive oil, if desired. (it helps to hold it together, etc)

Place the quinoa mixture into 4 bowls. Top with cucumbers and tomatoes. (and feta cheese, if desired)

Drizzle the tahini dressing over top and place a dollop of hummus on one side.

Garnish with lemon wedges and pita crisps.
Recipe Notes
You may add grilled chicken and feta cheese, if desired.
Real diced onions may be used in place of onion powder.
You might also like this recipe!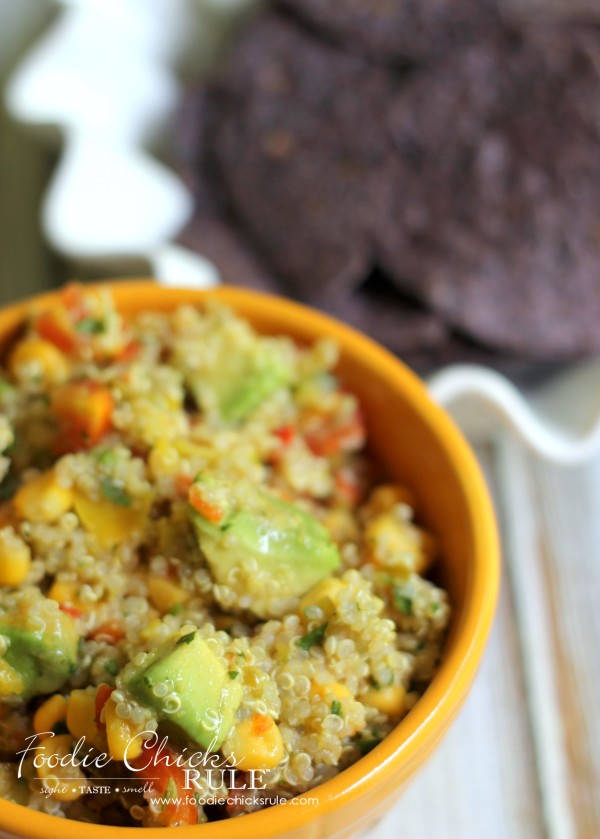 Get the recipe here >>> Avocado, Corn & Quinoa Salsa
Enjoy!
xo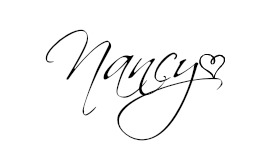 Related affiliate links you may like: