Dairy Free Chicken a la King
Comfort food at it's best! If you are dairy free like me, you will love this dairy free chicken a la king recipe! You won't even be able to tell the difference.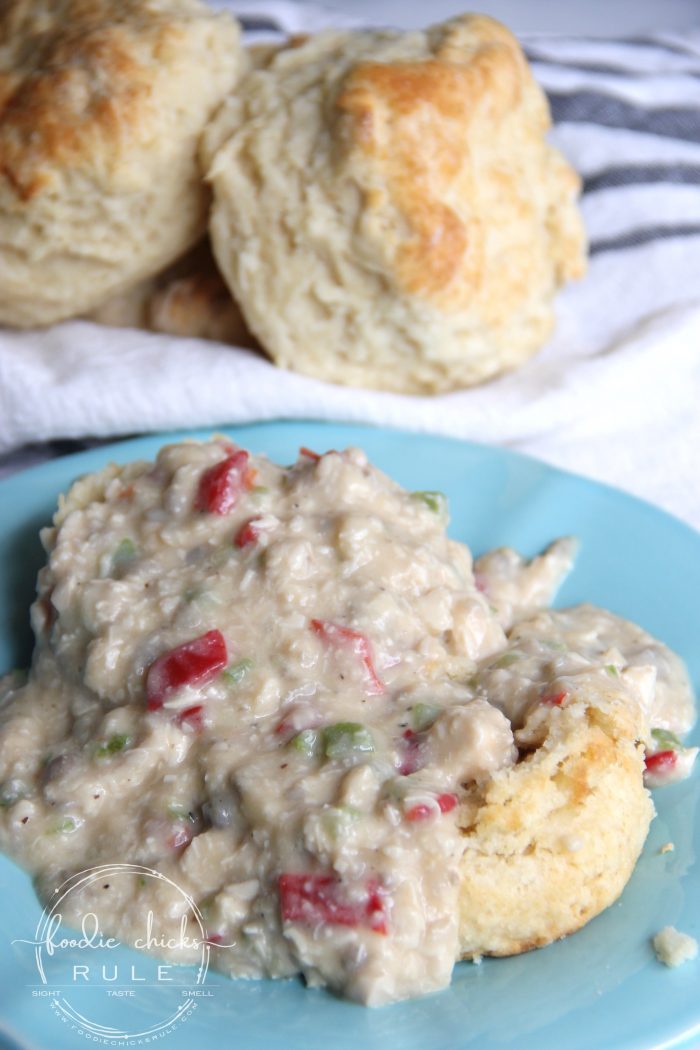 I don't know about you but I grew up eating Chicken a la King out of the can. I loved that stuff!! :)
But have you taken a look at the ingredients in it? Lots of things I don't want to eat.
Or how about the sodium content?
Nope.
And why eat it out of a can anyway? It's really not hard to throw together if you have all the ingredients.
This one would definitely fall under my "quick & easy" dinners.
Well, most of mine do fall under that because I'm busy and who has time these days to spend hours in the kitchen?
But we all like to eat good food, right?  So I try to share recipes that are just that, quick, easy …. and good. :)
You know what's not good?
Trying to photograph this oh so yummy dairy free Chicken a la King. ;) lol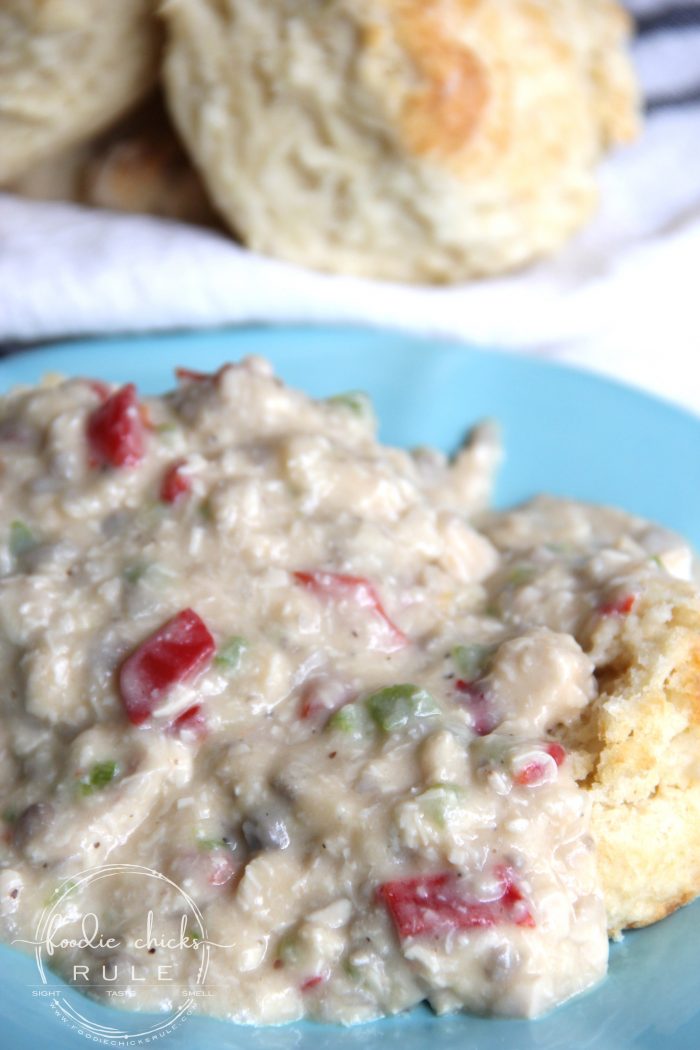 It just does not look good. (well, unless you LOVE and know what Chicken a la King is)
I'm not going to say what I think it looks like but you can probably guess on your own! haha
So, please, just ignore how it looks and listen to me when I say, it's the yummiest, most comforting food around.
Oh! And I did call this dairy free Chicken a la King for a reason. ;) But…it's really "milk" free (and not fully "dairy free") because I do use butter in this recipe.
You can sub olive oil to be fully dairy free if you like but I really think the butter adds to the flavor. But you can, if you need/want to.
I try to eat milk/dairy free (because my body does not like it) but do eat butter without an issue.
***I should also mention, that you also could just use milk if you have no issues with dairy.
This is a simple recipe that is forgiving with substitutions. So, sub gluten free flour if you need to do that as well.
I've made it several ways over the years….all turn out just slightly different, but still very good.
And did I already mention how easy this dairy free Chicken a la King is to make?
Melt butter (or olive oil) in pan on medium heat. Saute the chopped bell peppers and mushrooms until slightly tender.
It gets quicker and easier when you use utensils like this chopper to chop your ingredients.
Stir in the flour….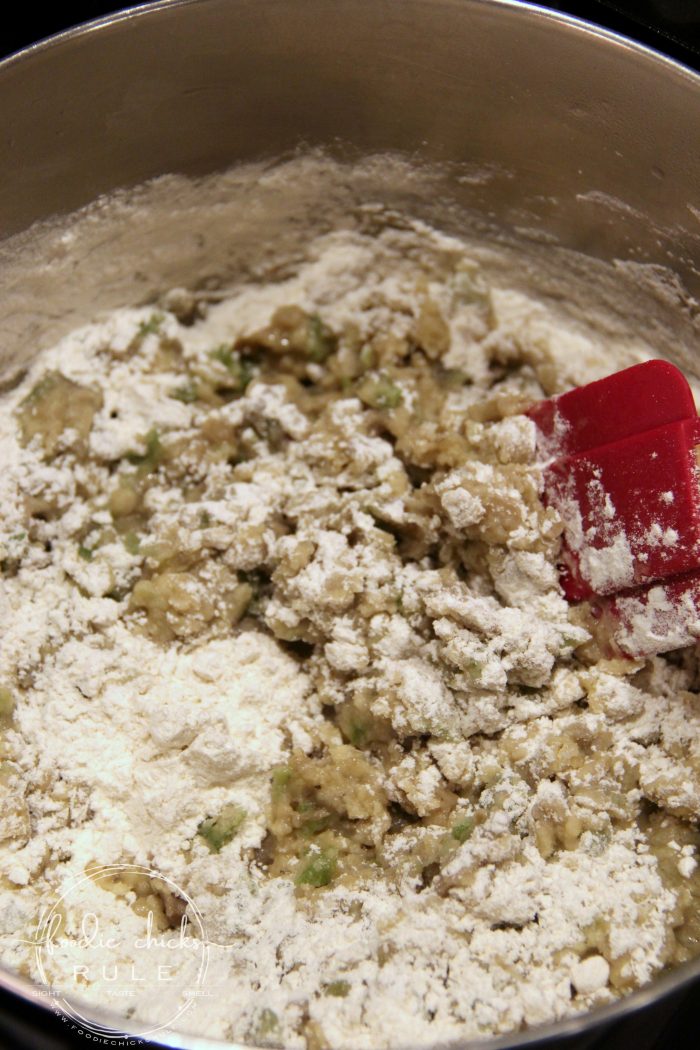 Remove from heat while you stir in milk substitute and broth. I like Ripple because it is the most "milk like" in texture and flavor.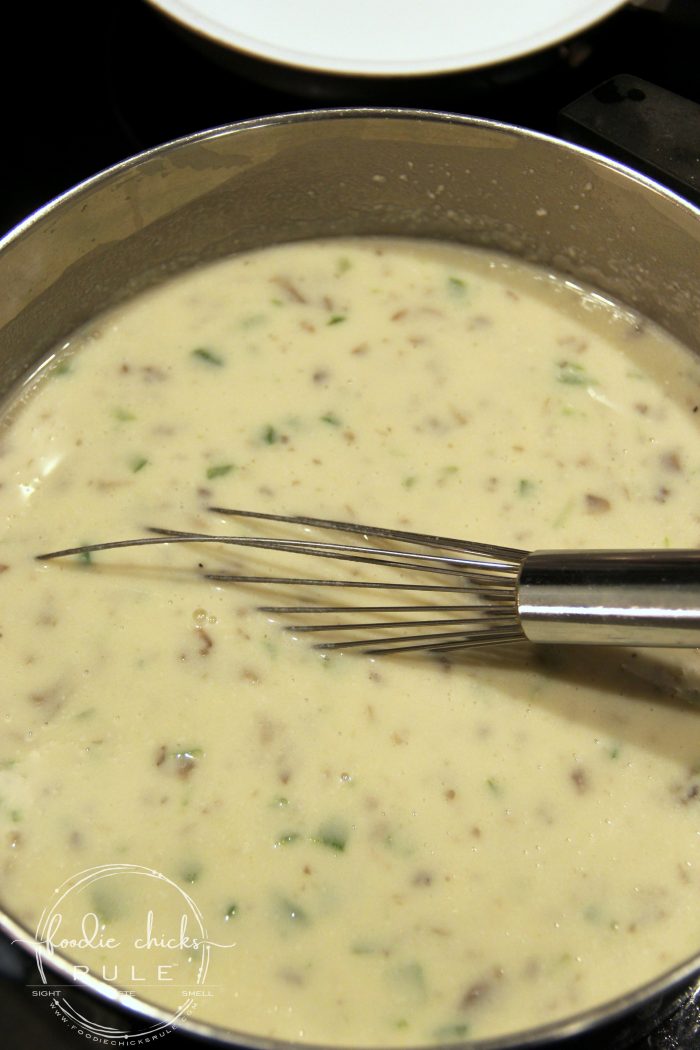 Stirring constantly, continue to cook on medium heat until thickened.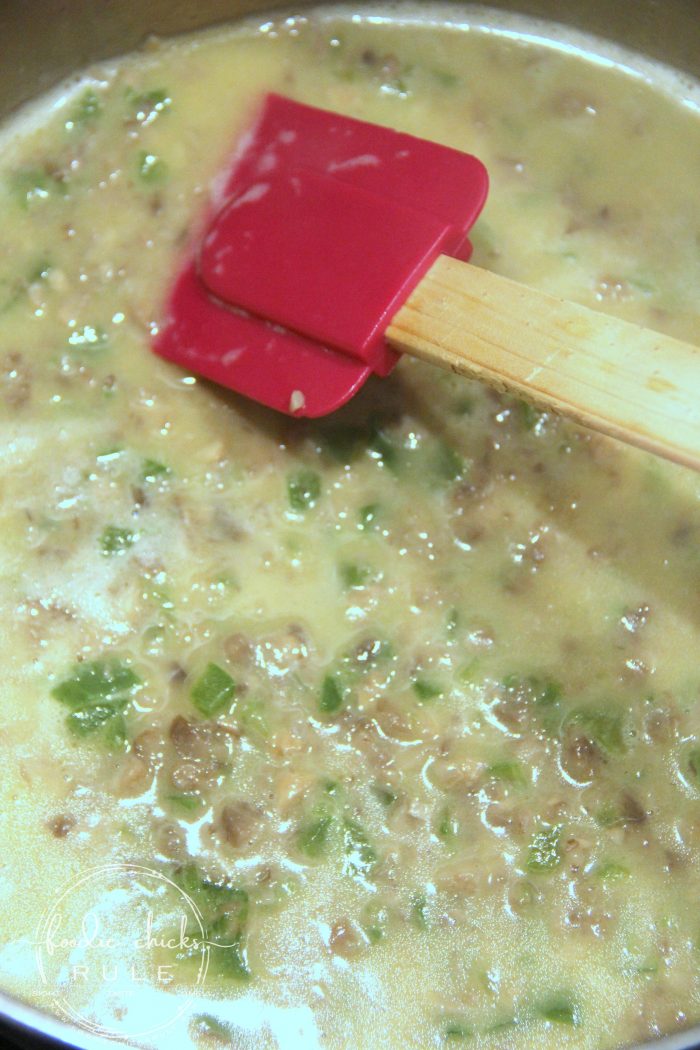 About 3-5 minutes.
Finally, stir in chopped pimentos and chopped chicken.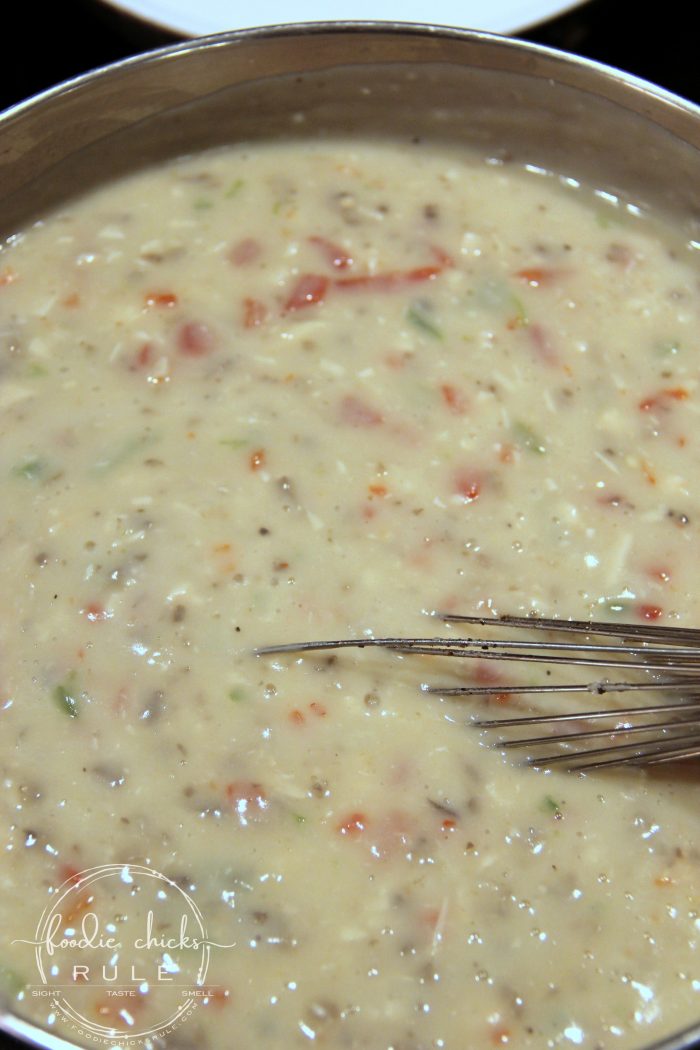 Heat through and serve over rice, toast, rolls or biscuits.
I grew up eating it over toast but now serve it with my homemade buttermilk (or subbed milk) biscuits.
They are so good, and I share a little tip you may already know about making the best biscuits ever!
If you don't know and also want the recipe, you can click here to get it >>> Best Buttermilk Biscuits
PIN it to save it!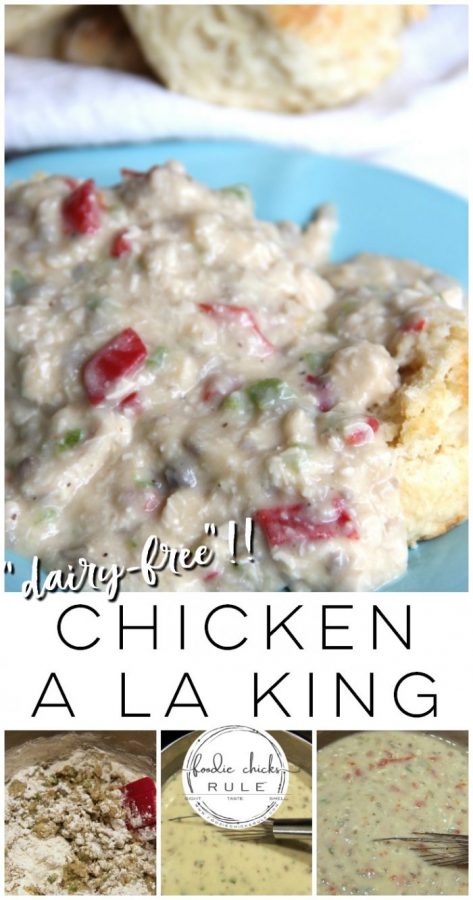 Hope you enjoy this dairy free Chicken a la King recipe as much as we do!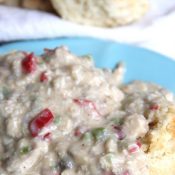 Ingredients
8

T

butter (or olive oil to be fully dairy free)

1

green pepper, chopped

1

(approx 4 oz)

!/2 container of mushrooms, chopped

1/2

cup

flour

1 1/2

cups

milk or milk substitute (I like Ripple Milk substitute)

1 1/2

cups

chicken broth

1/2

tsp

salt, to taste

1/8

tsp

pepper, to taste

2

cups

chicken, chopped (I like using a rotisserie)

1-2

2 oz

jar of pimentos, chopped and drained

rice, toast or biscuits
Instructions
Saute the chopped green peppers and mushrooms in a pan along with the 8 T of butter. Cook until just slightly tender.


Remove from the heat while you add the flour. Mix it into the pepper/mushroom mixture well.


While it is off the heat, slowly add the milk substitute and chicken broth, mixing well.


Once blended into the pepper/mushroom mixture, place back on medium heat and stir constantly until slightly thickened.


Add in the chopped chicken, pimentos, salt and pepper. Cook for another 2-3 minutes until well heated through.


Remove from heat and serve with toast, rice, rolls or biscuits. I serve mine with my homemade buttermilk biscuit recipe.

Recipe Notes
I like Ripple milk substitute best because I've found that almond milk (although I love it) imparts a non desired flavor to this type of dish.
I like to use 2 jars of pimentos and extra peppers in ours. You can follow the recipe as is, or add more, as desired.
Gluten free flour can be subbed for the regular flour.
Using a rotisserie for the chicken makes this a quick and easy dinner idea!
You might also like this recipe: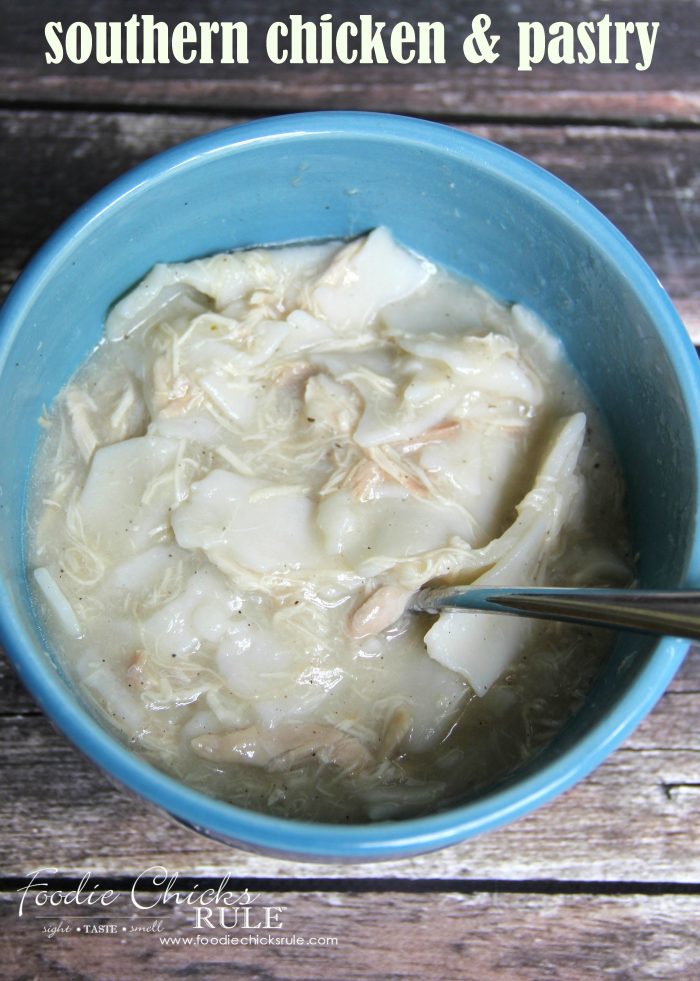 Another delicious comfort food that's hard to photograph but oh-so-good!
Get the recipe here >>> Chicken & Pastry
Enjoy!!
xo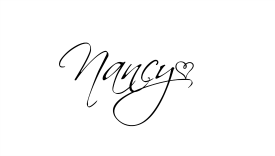 Related affiliate links you may like: