Curried Quinoa with Cranberries, Almonds & Raisins
I thought I'd share with y'all this delicious and healthy recipe I threw together a few months ago.
That's always my problem. Throwing a recipe together. (how I cook)
Well, not a real problem except when I'm trying to recreate or actually share a recipe!
I started writing down the ingredients, at least, over the last few years.
So I had the ingredients for this but had to pay attention (and measure..boo!) when I made this so I could share it here with you all.
Do you guys cook like that too?
Organically.
I'd bet so!
But in order to share here I have to be structured…and I'm working hard on that. :)
So ….quinoa, good stuff.
And "curried" at that. YUM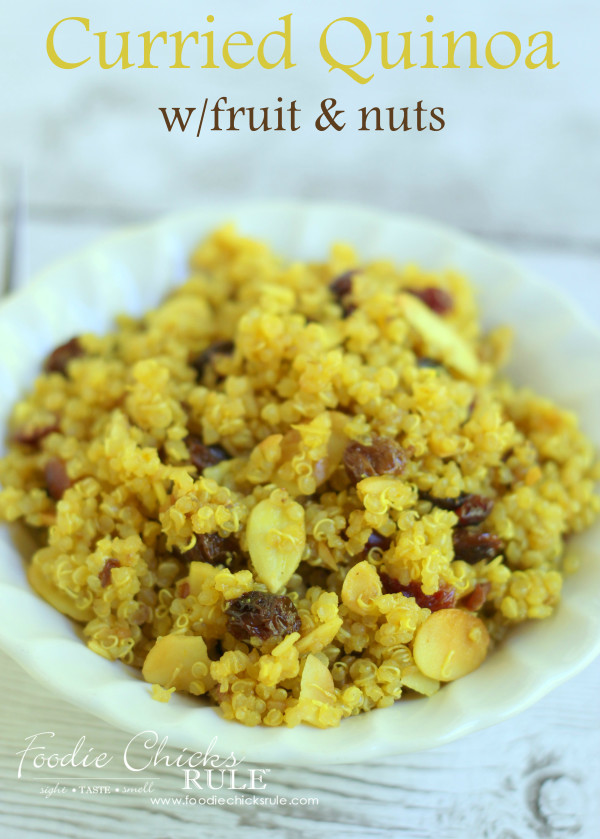 Do you like curry? I do …. love it!
How about quinoa? I love that too. It's so versatile and so much healthier for you than rice, pasta, etc.
….and with fruit and nuts.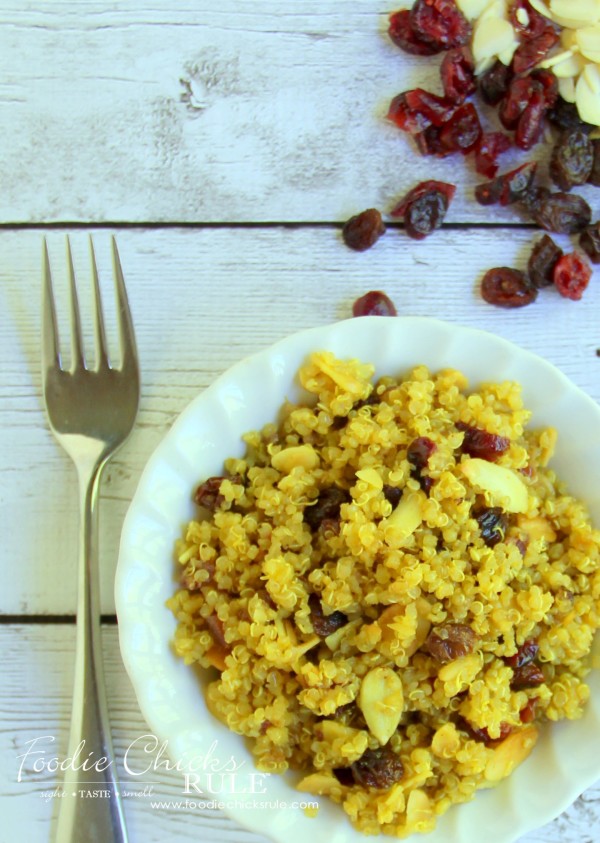 Cranberries, raisins and almonds to be exact. :)
It's good stuff.
And easy to make. Which is basically a requirement around here.
I am short on time (I have two blogs and a teenage son… ;) ) so it has to be quick and easy.
Plus, I'm a bit impatient and like to cook and then move on to the next thing!
(that's probably the main reason hee hee)
When I'm looking up a recipe and see a looong list of ingredients AND 4 paragraphs of directions….NEXT!
Who's got time for that?
Anyway, it will be a rare occasion around here that I post a detailed or very involved recipe.
If I do, you'll know it was worth it and definitely one to try! ;)
So lets talk fruit and nuts….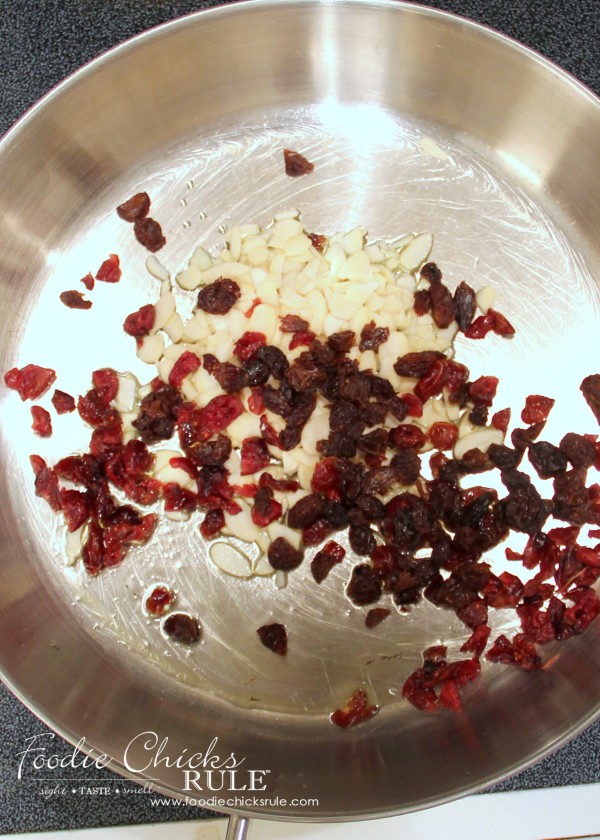 You don't have to but I like to chop my cranberries and raisins up a bit before sauteing them.
They add a great flavor to this dish….but best in smaller bites of taste, if you know what I mean.
So saute the fruit, nuts and garlic (yum–sweet and savory) in olive oil (or coconut oil) for about 2 minutes on medium.
Then add the cooked quinoa — it's cooked ahead of time…and looks like this before: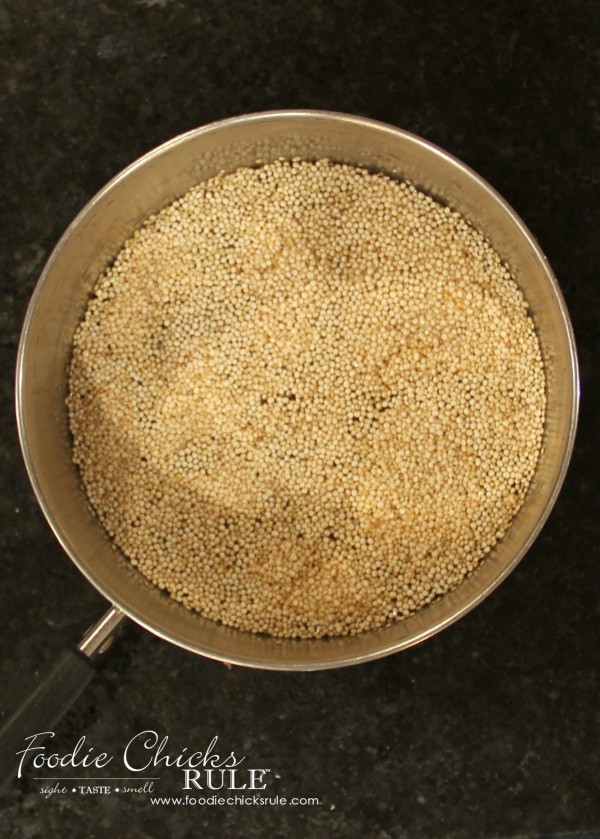 Once that is done add 1 cup of cooked quinoa to the frying pan along with the nuts & fruit.
Add seasonings and stir well. Cook for about 2-3 minutes on medium-low.
Then add chicken broth and cook on low for an additional 2-3 minutes….and done!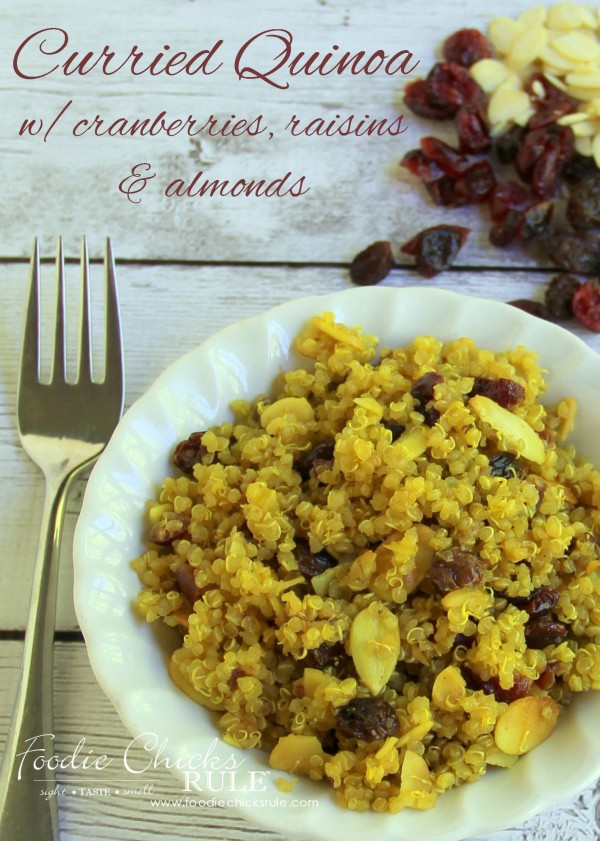 Easy, right?
Hope you'll give it a try!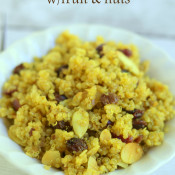 Curried Quinoa with Cranberries, Almonds & Raisons
Ingredients
1

cup

cooked quinoa

2

T

sliced almonds

2

T

chopped cranberries

2

T

chopped raisins

2

large cloves

minced

1

T

olive oil or coconut oil

1-1/4

tsp

curry powder

1

tsp

brown sugar or coconut palm sugar

1/4

tsp

salt

1/4

cup

chicken broth
Instructions
Cook the quinoa according to the package directions and set aside.

Chop cranberries and raisins.

Add fruit, garlic and almonds to a frying pan along with olive oil.

Saute for 1-2 minutes on medium heat.

Add the cooked quinoa to the frying pan.

Add seasonings and sugar, stir and saute well for another 2-3 minutes on medium-low heat.

Add chicken broth and cook an additional 2-3 minutes.
Enjoy!! :)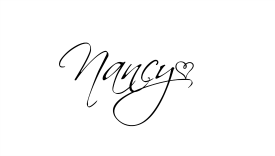 Related affiliate links you may like: