Whole Wheat English Style Blueberry Scones
I love scones.
I've been making them for….forever.
I'm a "bready" at heart.
I am.
But try not to be these days. So these only make a rare appearance every now and then.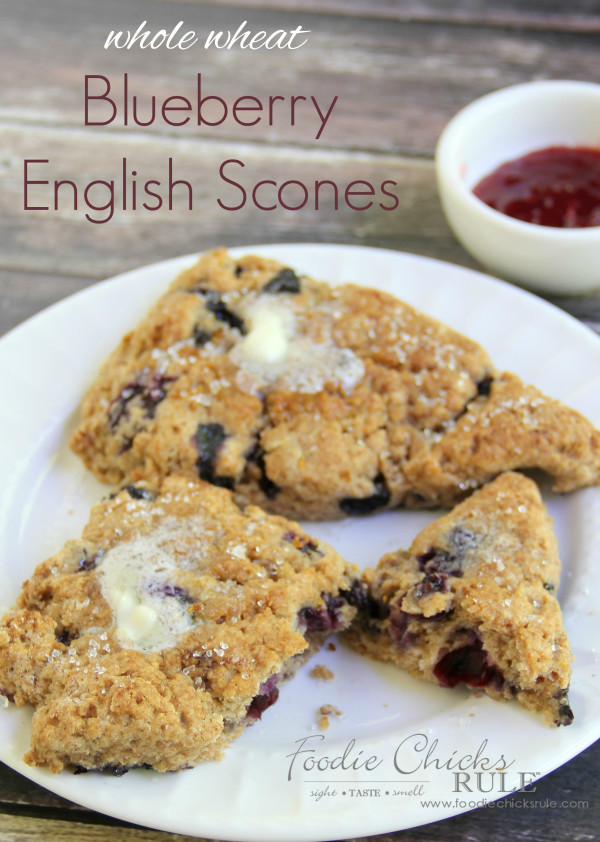 These are more like traditional scones. (I am no scone expert, by the way)
English style –> no eggs, little sugar, more biscuit-like, etc.
That's the way I like them. If I wanted a muffin….I'd make a muffin.
I'm making SCONES. :)
So, if you don't like a slightly sweet biscuit filled with fruit. You might not like these.
BUT if you do, then you might just love them. ;)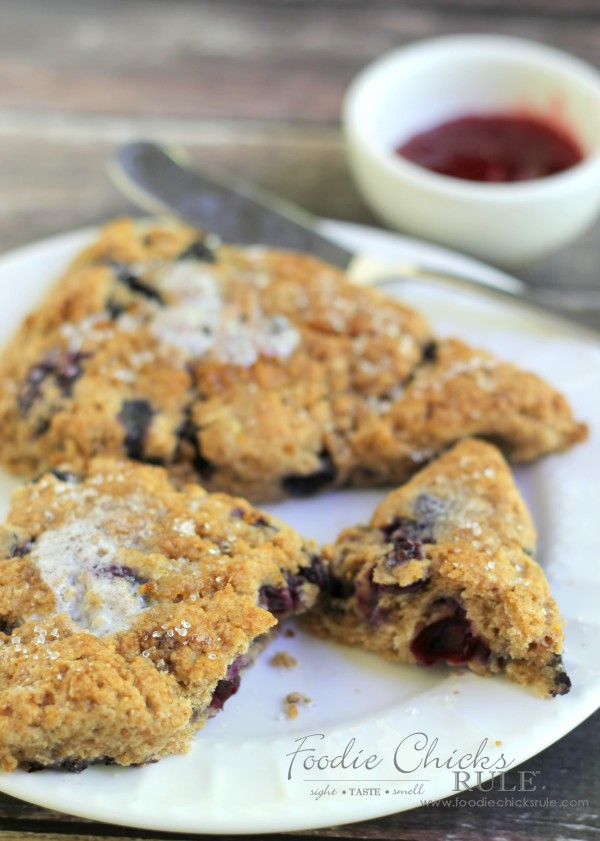 Mmmm, yummy, with a little jam and butter. (or clotted cream, if you have access!)
And tea, of course.
I'm also a tea lover. It's my thing. :)
So let's make scones!
Here's what you need.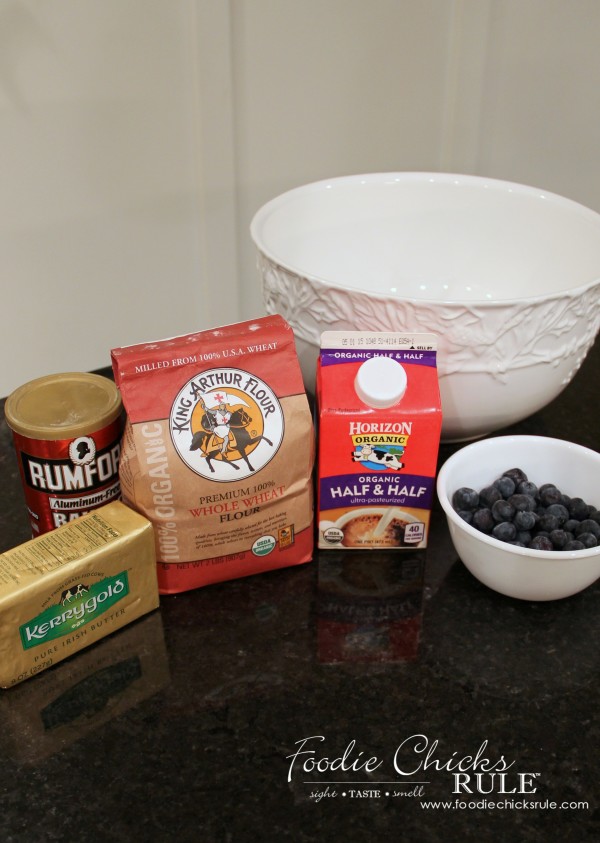 I use organic whole wheat, when I use wheat.
Add that to a large bowl along with the baking powder, salt and sugar. ( I used xylitol for the sugar which is a bit less sweet)
Then add the very cold butter. The butter is best cold (or frozen) so it can be grated easily.
I've found that is the best way to add to the flour without overworking it….which you don't want to do.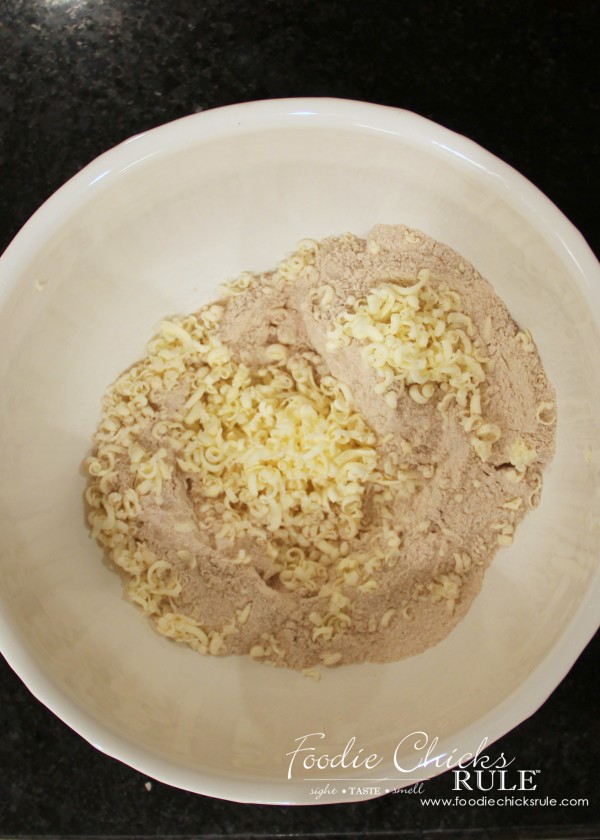 Mix with your hands until it has a crumbly texture.
Next measure out the blueberries, dust them with flour, and set aside.
Pour the cream into the flour/butter mixture and stir with a fork to mix. (don't over stir)
Then gently fold in the fresh blueberries.
You can add more cream, if needed. The dough will be somewhat sticky.
You don't want it dry but you don't want it overly wet either.
If you decide to use regular white flour decrease the cream by 1/4 cup.
Whole wheat takes more liquids when baking.
Pat it out into a circle on a baking stone. (or pan)
Then cut into pie slices.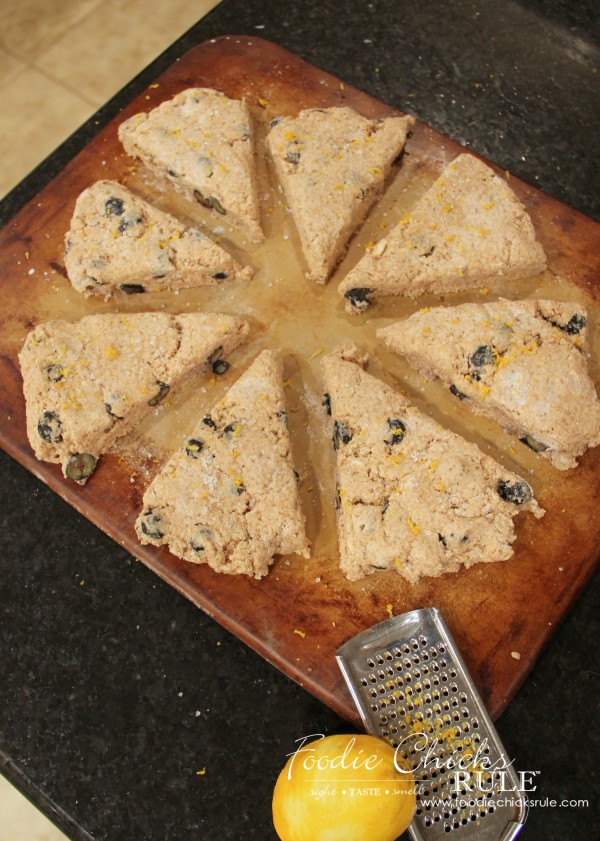 Separate the pieces slighting so they'll bake evenly.
I topped mine with a bit of lemon zest and xylitol (sugar substitute).
Bake at 400 for 10-12 minutes.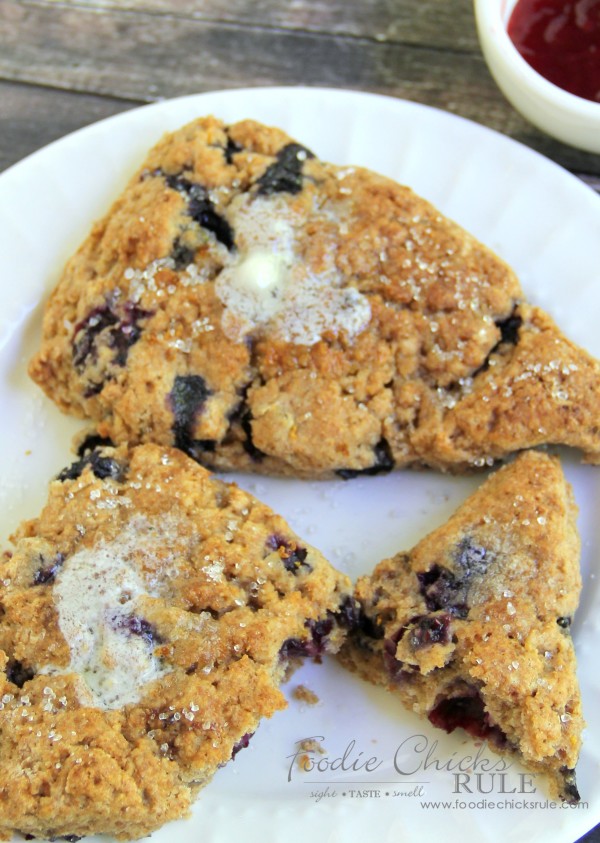 Oh…and make that cup o' tea to go along with it.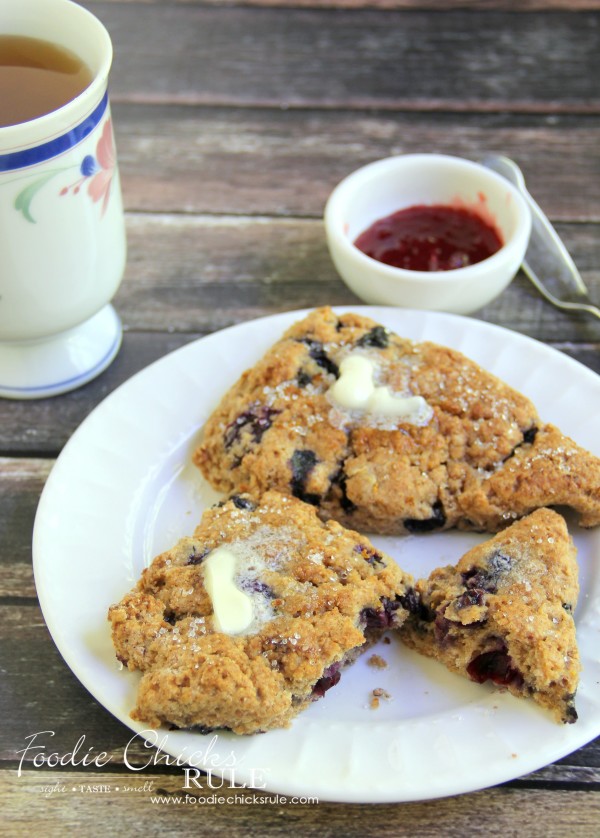 Yum.
Hope you like these more traditional styled scones. :)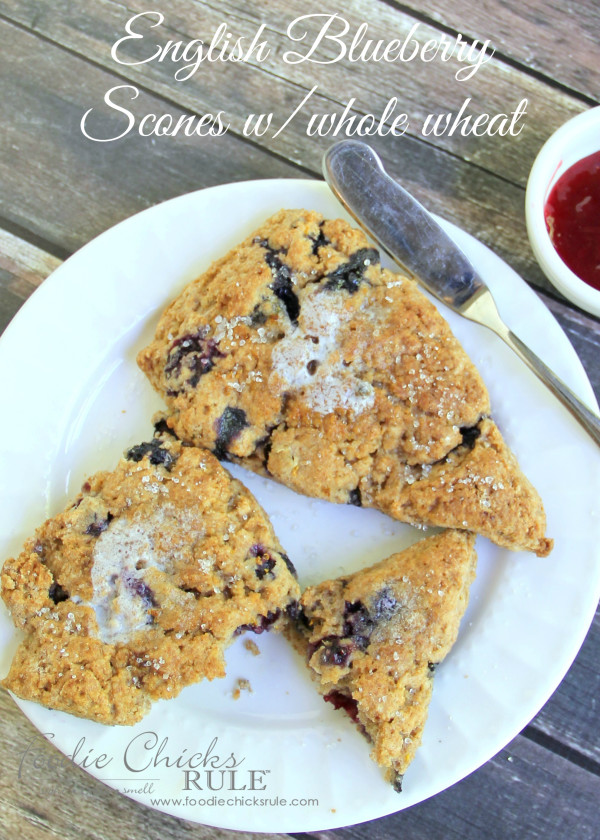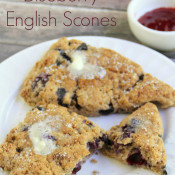 Whole Wheat English Blueberry Scones
Ingredients
2

cups

organic whole wheat flour

1-1/4

T

baking powder

3

T

sugar

or xylitol

5

T

butter

frozen or very cold, grated

1-1/2

cups

cream

8

oz

fresh blueberries

dusted with flour
Instructions
Mix the flour with baking powder, sugar and salt.

Add the grated butter.

Mix with your hands until the mixture resembles course crumbs.

Pour the cream into the flour mixture with a fork. (do not overwork the dough)

Gently fold in the blueberries.

Pat out on your baking stone or pan.

Cut into squares or make a circle and cut into a pie shape. Separate the pieces a bit so they will cook evenly.

If desired, brush with cream and add large crystal sugar (or xylitol)

Bake at 400 for 10-12 minutes.
Recipe Notes
If using white flour, decrease cream by 1/4 cup.
Be careful to not overwork this dough.
Enjoy!!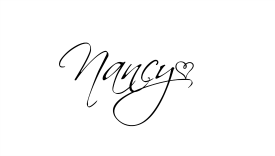 Related affiliate links you may like: