Hey y'all!!
Today I'm sharing my Butterfinger Trifle recipe AKA —>>> Dreamy Dessert because that's what it should really be called!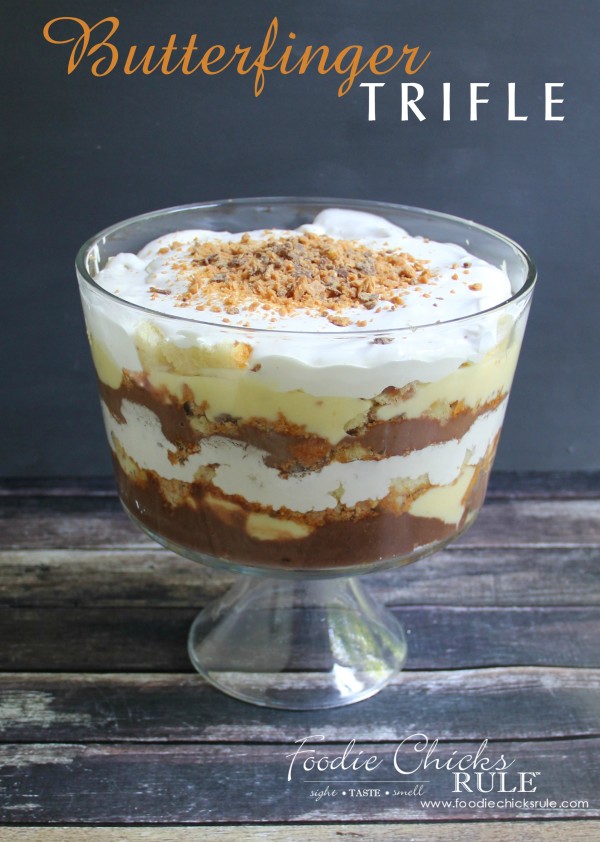 Not kidding one little bit.
It's that good, really. Doesn't it look dreamy?
I don't make it often (it's been at least 6-7 years!) because I seriously will eat it all day long, every day, until it's gone.
And that's bad, very bad. ;)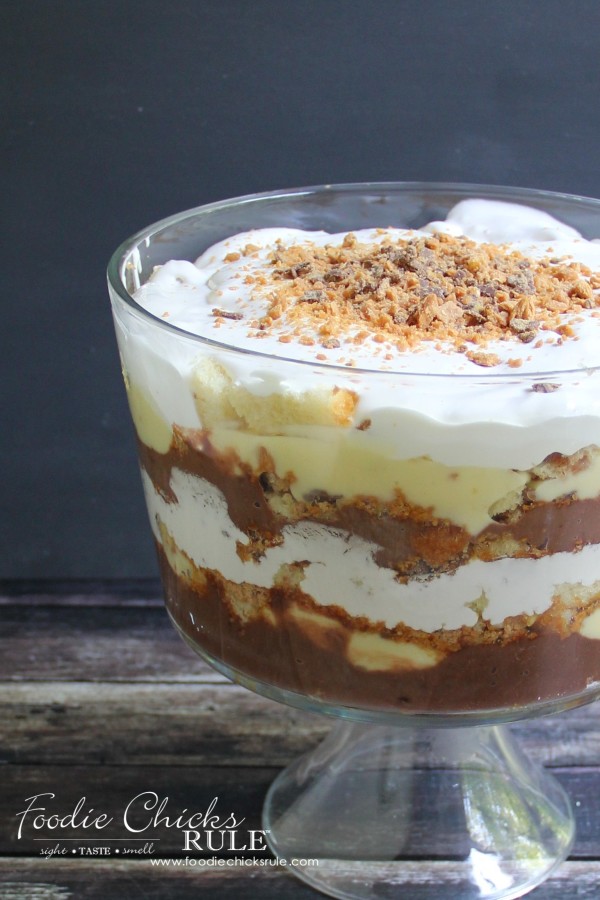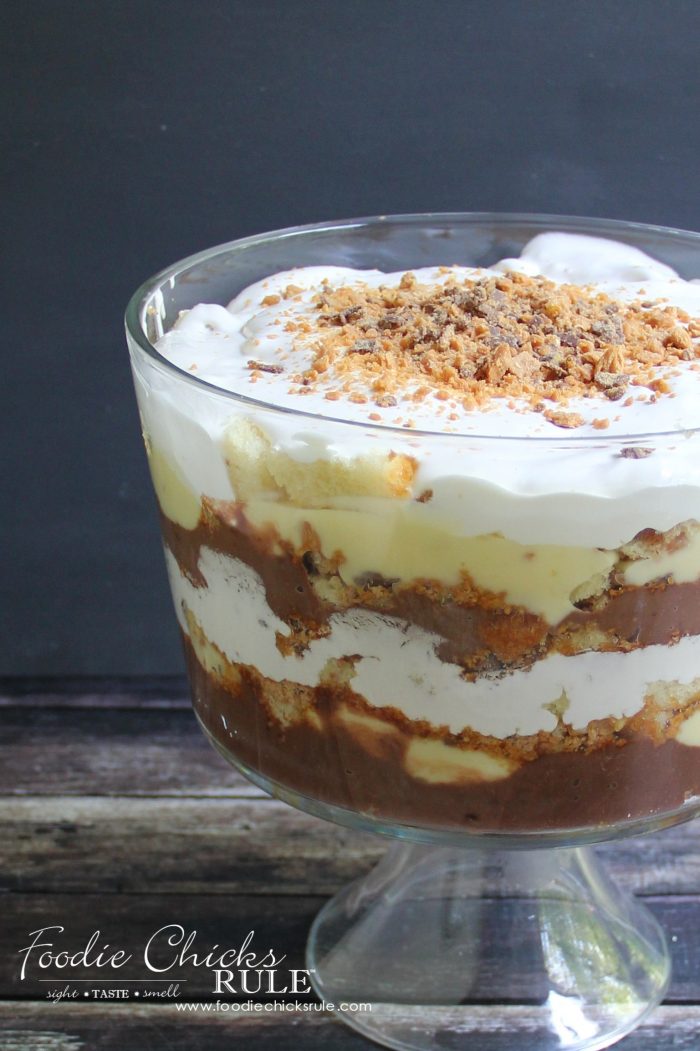 Look at all those luscious layers.
This is a long time family recipe.
My mother in law first made it and I revamped it and continued the "tradition" with a few changes of my own.
Here's what I put in mine….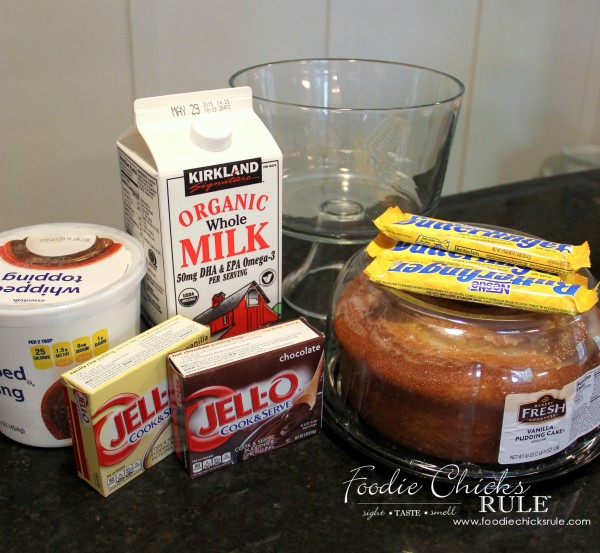 Please disregard the "cook and serve" pudding. It's INSTANT you need to get.
I do this every . single . time I buy pudding for these trifles!
I always mean to buy instant….and I always buy 'cook and serve'.
I don't know why. Old age. ;)
Anyway….instant, ok? I snapped the photo then realized my mistake.
I had to run out and buy the correct ones but didn't take a new photo.
Now, this is super simple. (which just makes it all the better in my book!)
Mix up your puddings in two separate bowls per the directions on the box. (actually, you could probably add about 1/4 cup extra of the milk)
I'm going to try making this with Almond Milk next time. I don't drink milk (it doesn't agree with me anymore–plus I do try to stay away from most dairy these days) so eating this was … iffy.
But I did anyway.  ;)
I made this one for Mother's Day so thankfully I wasn't left to eat it all myself.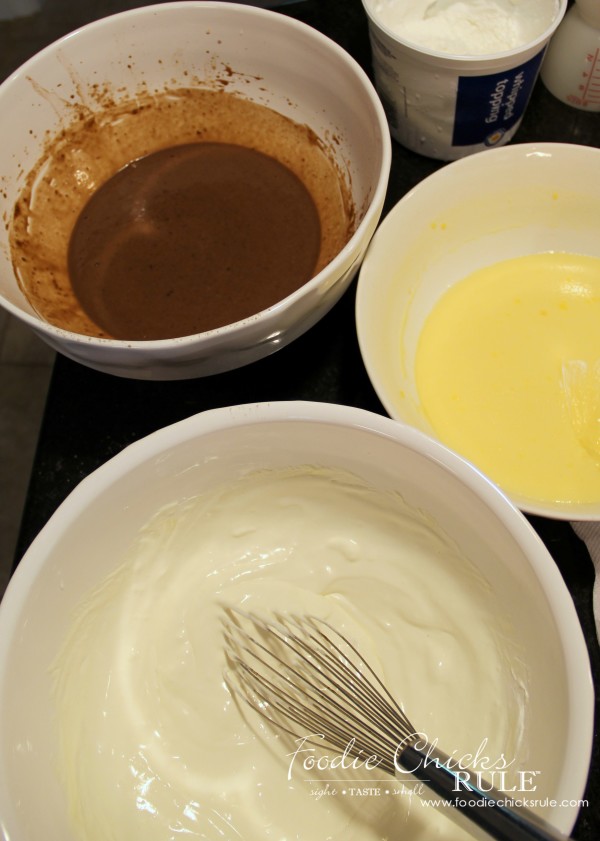 Whip the whipped topping so it's a bit creamy. Then add about 1/4 – 1/2 cup of the vanilla pudding to it.
So now you have your three layer ingredients.
Next chop your pound cake into 1 inch squares.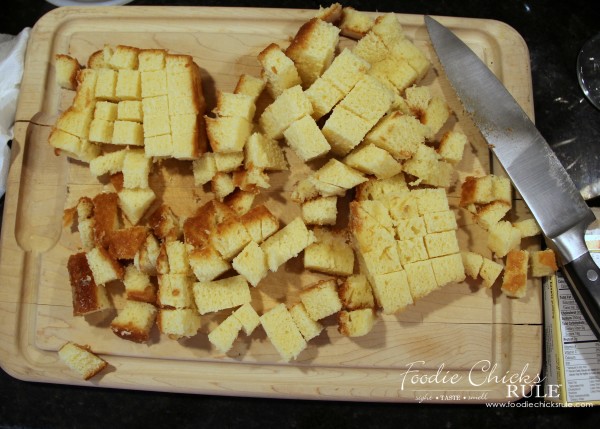 You can make a home made pound cake if you like. I bought a store bought one….it's just easier.
Then start layering the ingredients….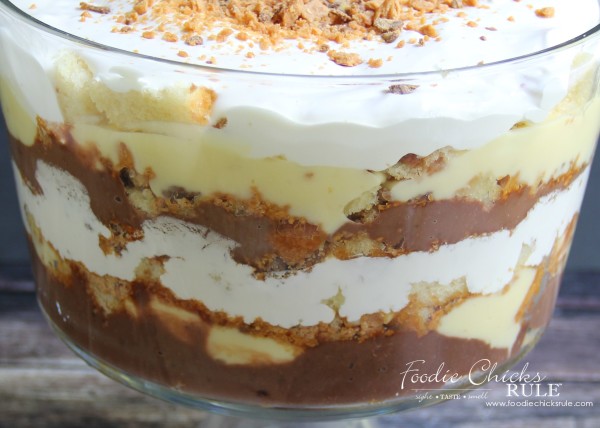 I usually put a layer of cake on the bottom with a few sprinkles of crushed Butterfinger bars.
– then a layer of chocolate pudding
– then a layer of cake, followed by the crushed Butterfingers
– then a layer of whipped topping
– then a layer of cake, followed by the crushed Butterfingers
– then a layer of vanilla pudding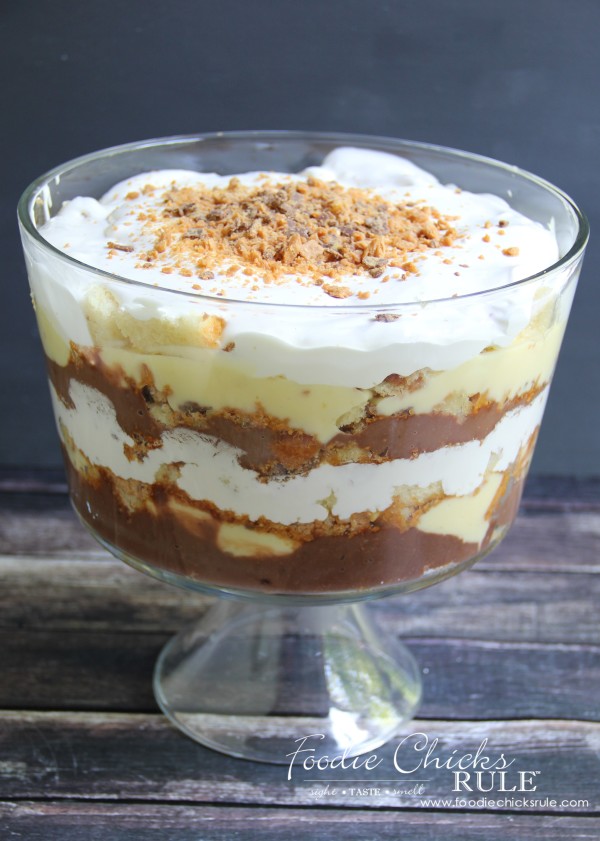 Keep doing that until you get to the top.
Finish the top with the remaining white whipped topping.
Then do this…..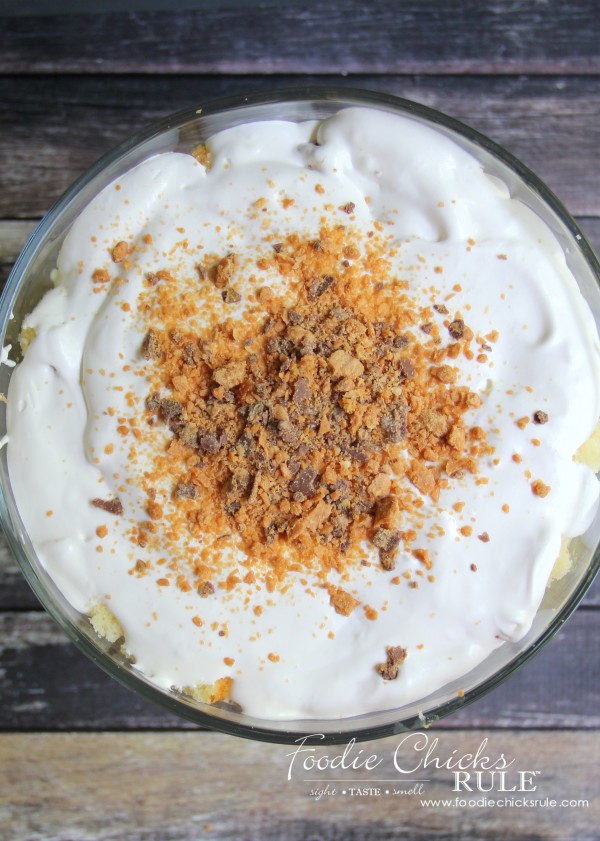 Sprinkle a bunch of that goodness on top.
OH….and to note, Butterfingers are not candy bars I eat and never have. (well, I don't even eat candy bars anymore but growing up as a kid, I didn't really love them)
BUT in this recipe…oh my goodness. They are perfection.
You'll see.
Or at least I hope you will!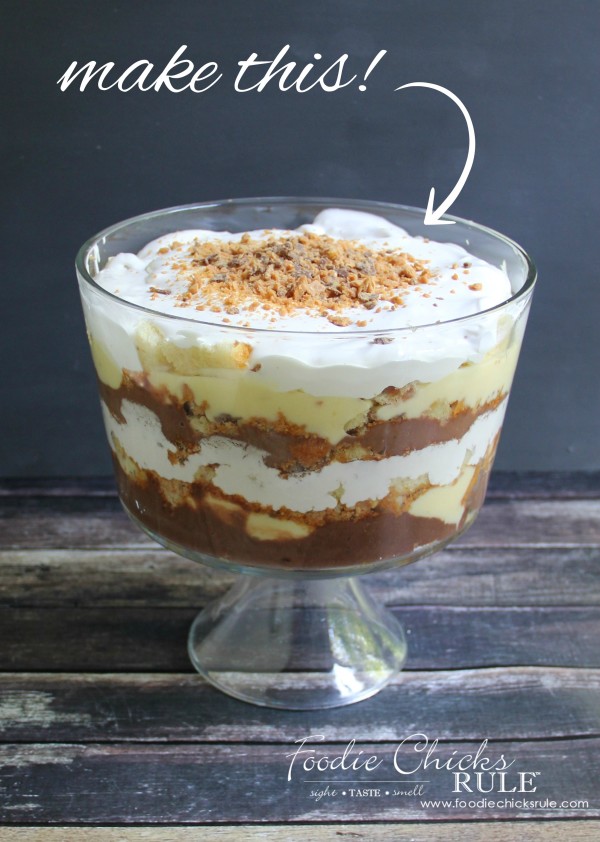 You have to try this.
Make it for a function though…just a warning. ;) (lest you eat the whole bowl by yourself)
The long holiday weekend may be a good time.
Have a cookout to got to? Make and bring this.
They even make cute single serve…like I did in this wine glass.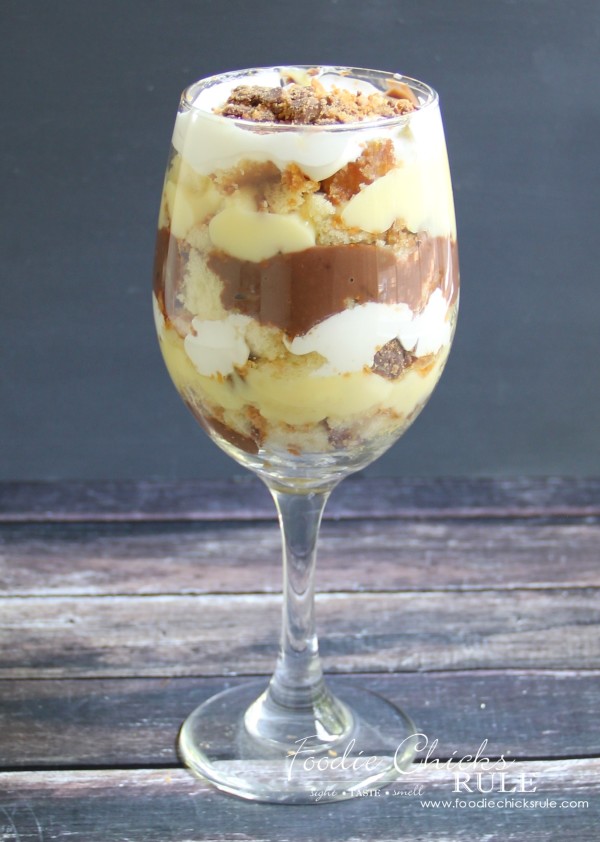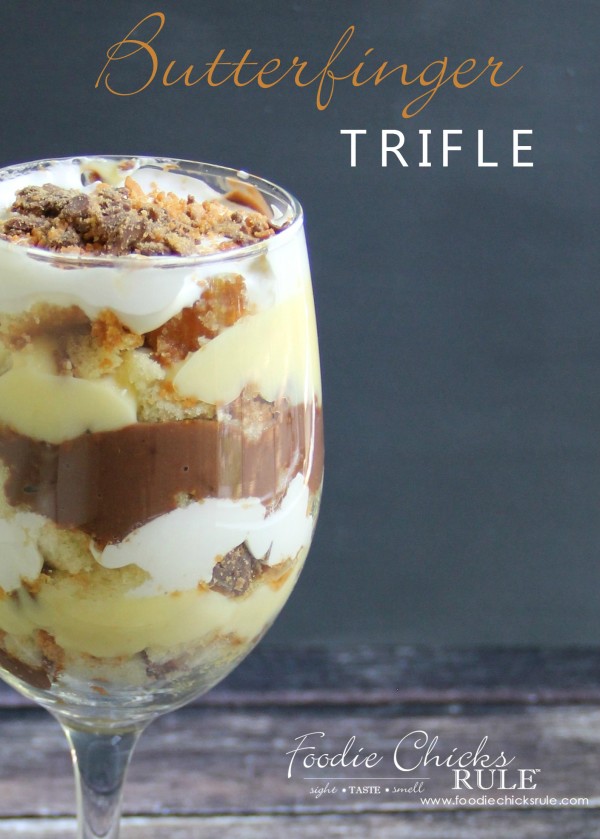 YUM, you want to take a bite, I know you do. ;)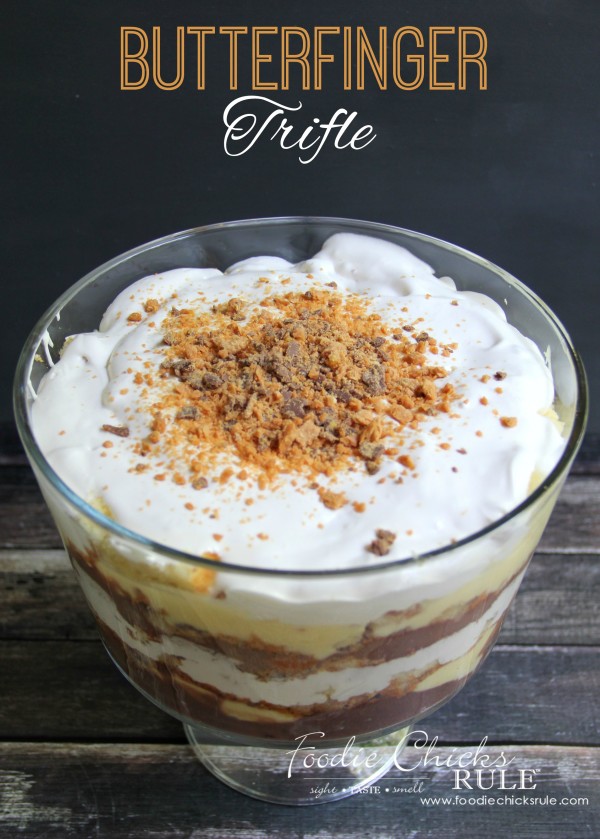 Oh..and it's best if refrigerated for a day or so before you serve.
Love it? PIN it to save it!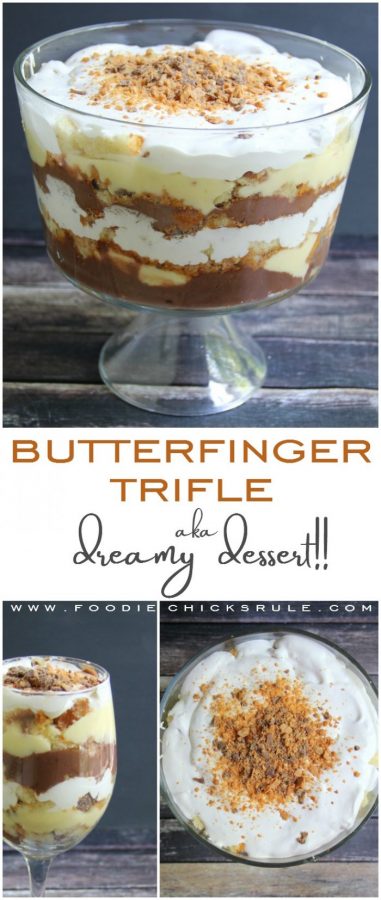 Here's the recipe: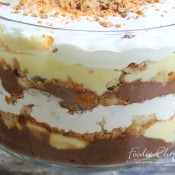 Butterfinger Trifle (aka Dreamy Dessert)
Servings
:
12
-16 servings
Ingredients
1

large pound cake

1 16

oz

whipped topping

1 5

oz

box of INSTANT vanilla pudding

1 5

oz

box of INSTANT chocolate pudding

Milk

4

Butterfingers Bars

or more, it you like
Instructions
Mix both puddings (in separate bowls) per the package directions (adding approx 1/4 cup extra milk for fluidity) Set aside.

Whip the whipped topping with a wire whisk in another bowl to get it creamy. Mix about 1/4 cup of the vanilla pudding into the whipped topping.

Chop the pound into 1 inch pieces.

Crush the Butterfingers bars.

Place one layer of pound cake in the bottom of the bowl, sprinkle with crushed Butterfingers.

Spoon one layer of chocolate pudding over that.

Add a layer of pound cake over the chocolate pudding, topping with crushed Butterfingers.

Spoon a layer of whipped topping over that.

Add another layer of pound cake, topped with crushed Butterfingers.

Spoon a layer of vanilla pudding over that.

Keep doing this until you almost reach the top (depending on your size bowl, you may have leftovers ...enjoy ;) )

Finish up the top with the whipped topping.

Sprinkle crushed Butterfingers as a garnish.

It's best after it's been refrigerated for a day (or at least a few hours) so the flavors mix and the cake absorbs some of the pudding, etc.
I know I added a lot of photos of this recipe in this post….but it's worthy, I promise. ;)
You might also like this recipe: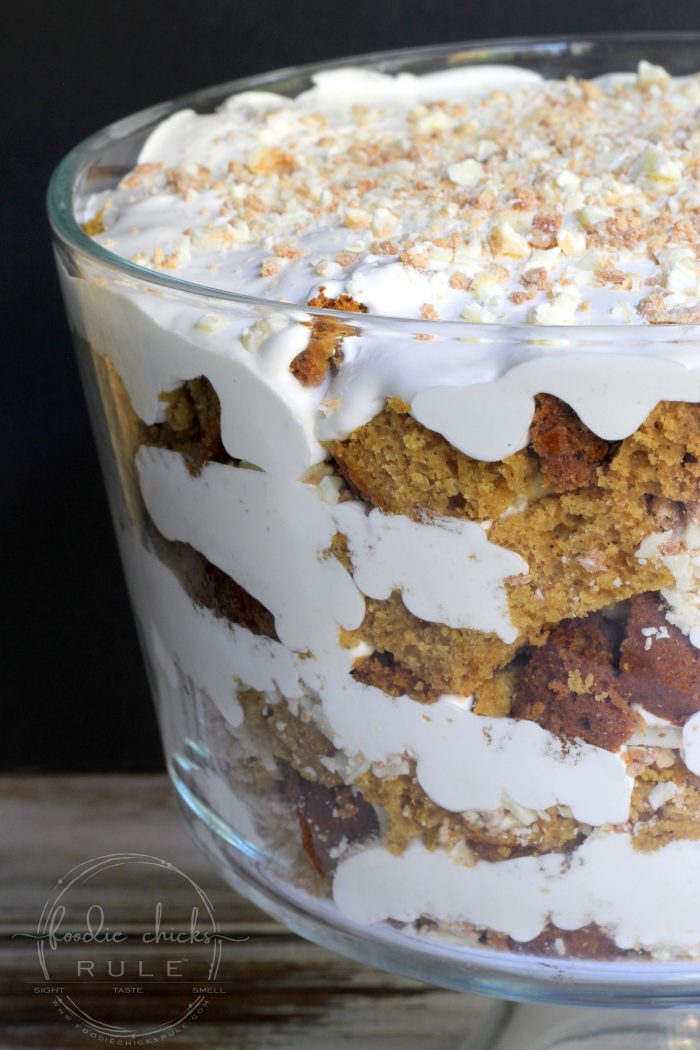 Get the recipe here >>> "Pumpkin Bread Trifle… Surprise!"
ENJOY!!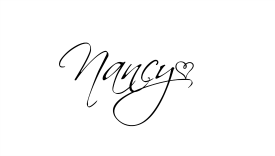 I'm including affiliate links for the recipes items below. See my disclosure here.
Save
Related affiliate links you may like: