Lemony Broccoli Rice Casserole w/Salmon (one bowl – one dish!)
This lemony broccoli rice casserole is sure to please! I make it with salmon but you can sub out any meat you like.
I love casseroles. Pure comfort food….there's just something about them.
Plus they are usually pretty easy to throw together.
This one is no different….it's incredibly quick and easy.
AND all you need is one bowl…and one baking dish!
That's the best part.
Broccoli Rice Casserole … with Salmon (and lemon!)
One bowl…..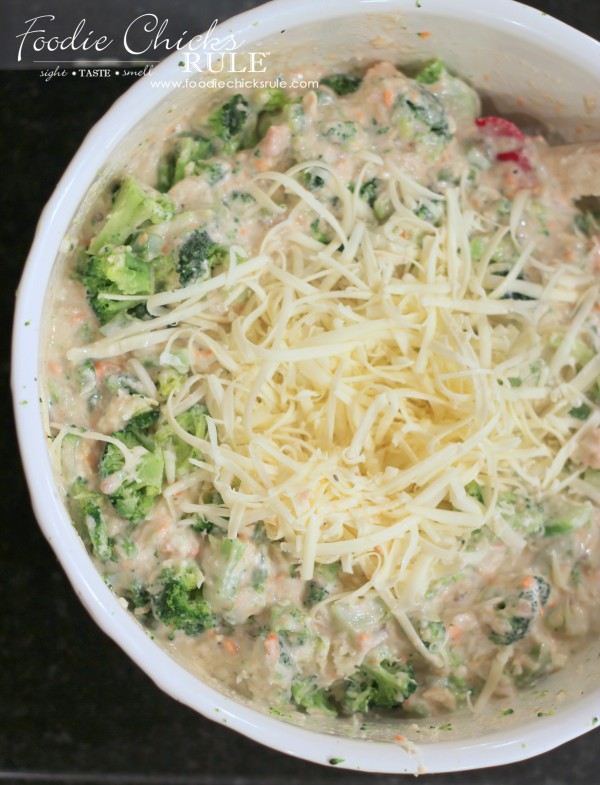 Literally throw everything in…..and stir….and pour.
Pour into a 13×9 casserole. I doubled the batch this last time (because we love this recipe) so used 2.
I also used one can of tuna and one can of salmon because that's all I had….it was great!
Top with Panko bread crumbs (optional), Parmesan cheese and a sprinkle of Cayenne pepper (also optional).
Bake at 375 for approximately 45 minutes, or until golden and firm.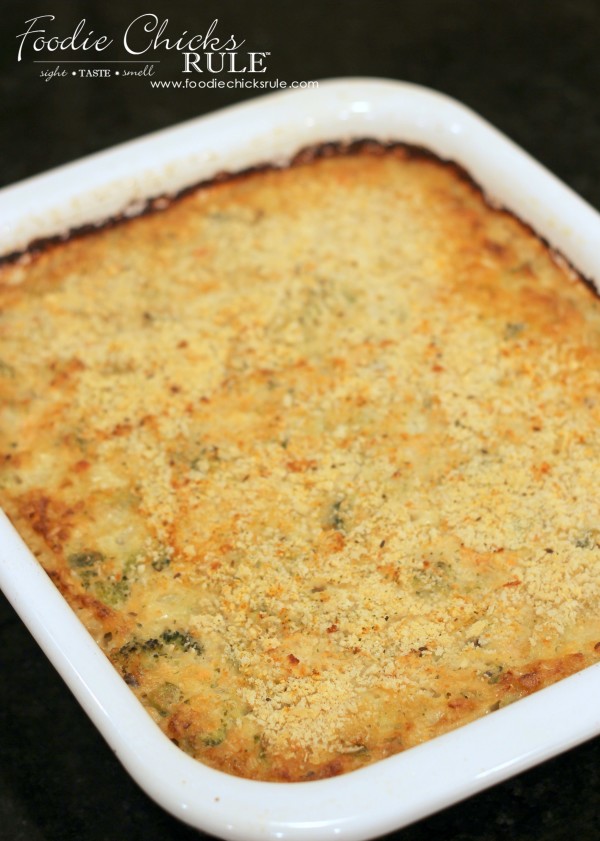 Sprinkle with the juice of half of a lemon (or more…I like more, lots more!)
The lemon goes so well with all of the flavors in this dish.
The broccoli, the salmon, the hint of Dijon…all of it.
Cut and serve…..and enjoy.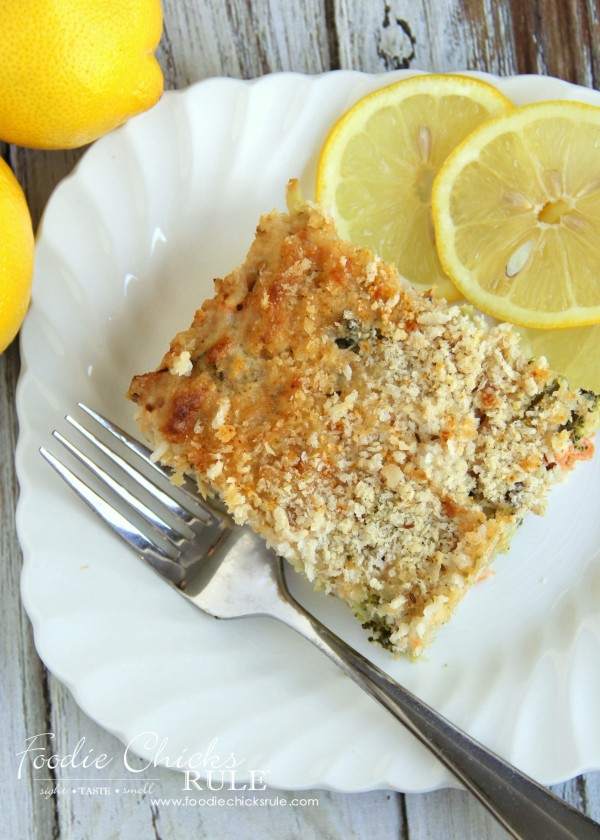 It's really very good. I always eat too much of it when I make it!
This broccoli rice casserole is a perfect one dish, one bowl, super quick and easy meal to throw together.
And that, I love.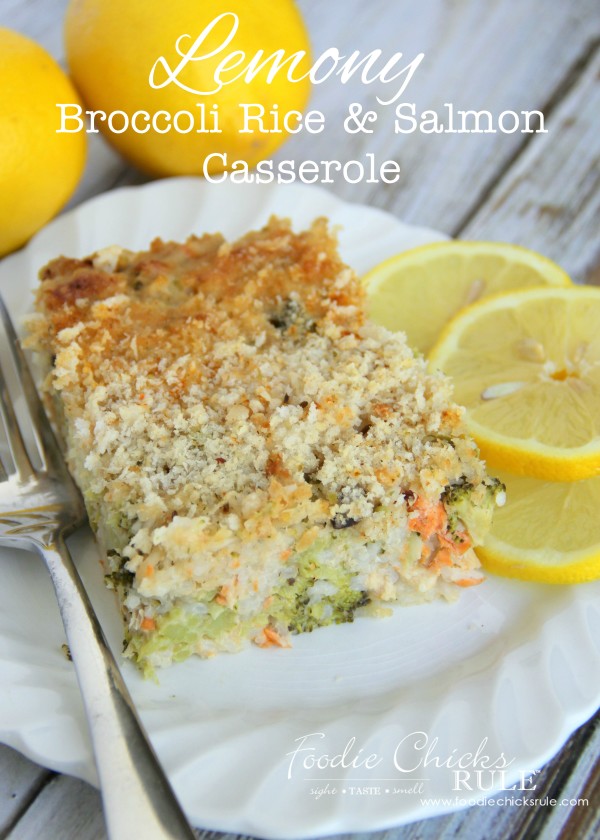 If you don't like Salmon, you can sub Chicken or any other meat you like.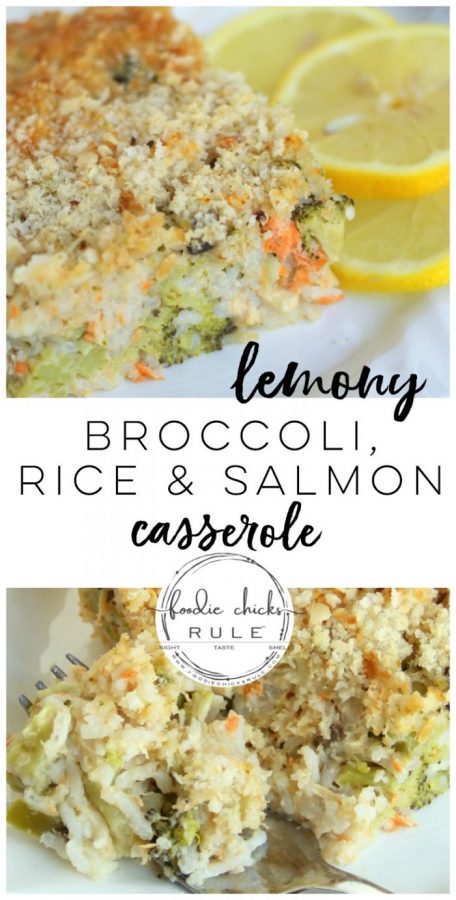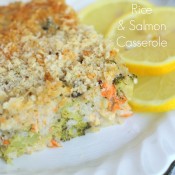 Lemony Broccoli Rice Casserole w/Salmon (one bowl - one dish!)
Ingredients
1

cup

uncooked rice

I used Basmati

1

can Cream of Mushroom soup

1-1/2

cans of water

1/2

cup

Parmesan cheese

1

small can salmon

or any meat

1/2

cup

plain

unsweetened yogurt

2/3

cup

mayonnaise

4

Tbsp

Dijon mustard

1/2

cup

green pepper

diced

1/4 - 1/2

cup

Monterey Jack cheese

shredded

1

pkg

14 oz broccoli florets

Lemon Pepper seasoning

juice of 1/2 lemon

Panko bread crumbs

Parmesan Cheese

Cayenne pepper
Instructions
Mix all ingredients in a large bowl (except the Panko bread crumbs, extra Parmesan cheese and cayenne pepper)

Mix well and pour into a greased/sprayed casserole dish. (13x9)

Sprinkle the Panko bread crumbs & Parmesan evenly over top. Sprinkle with Cayenne, if desired.

Bake at 375 for approximately 45 minutes.

Sprinkle the juice of 1/2 to 1 lemon over the entire top, cut and serve.
Recipe Notes
If the broccoli florets are large, chop into smaller pieces.
Crushed Ritz crackers can be used in place of the Panko bread crumbs.
I hope you enjoy it as much as we do!! :)
You might also enjoy this recipe: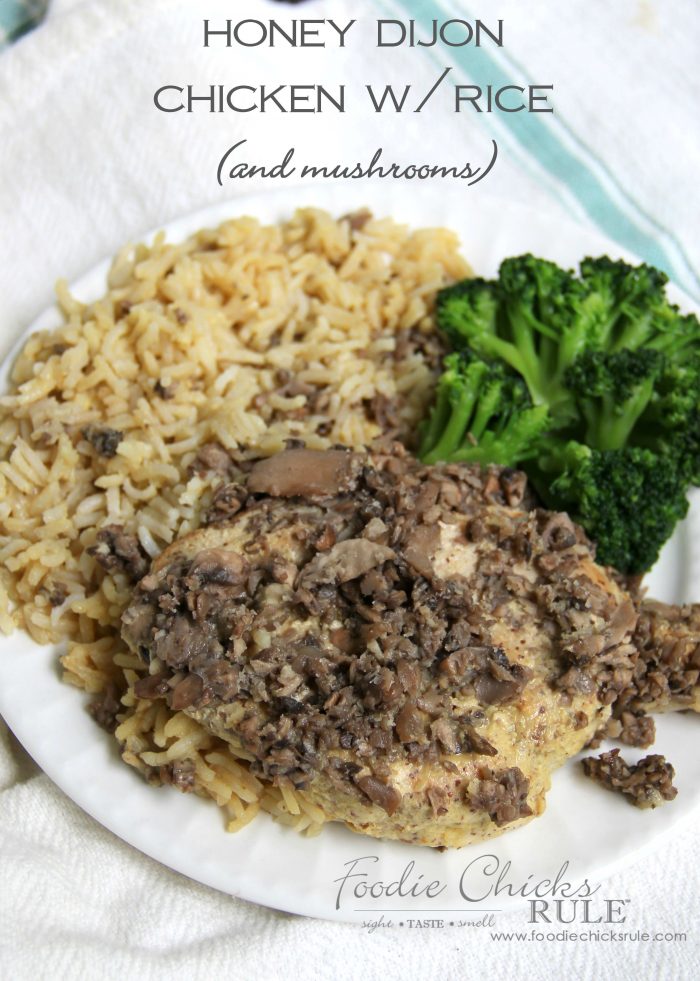 You can get the recipe, here.
Enjoy!
xo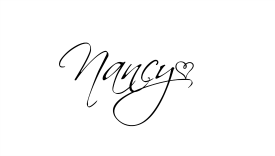 Save
Related affiliate links you may like: