Hope you guys had a wonderful Easter weekend!
The weather has just been wonderful here! I'm so loving the warmer temps.
I hope you've had some warmer temps where you are as well.
Sunday was also a gorgeous day full of sun, good food and lots of family.
I thought I'd make and bring along an old favorite dessert for Easter dinner.
Almond Poppy Seed Loaf w/Orange Glaze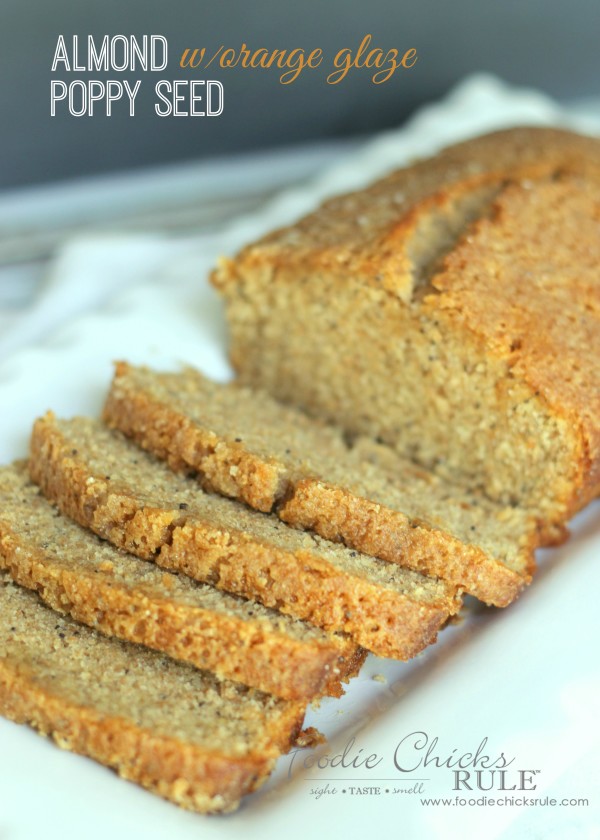 It is delicious!!
And it is a recipe shared with me by one of my neighbors growing up.
So, I can't claim this one. :) It is hers and well loved!
I did make a few adjustments however. (don't I always?)
Either way, it's fabulous.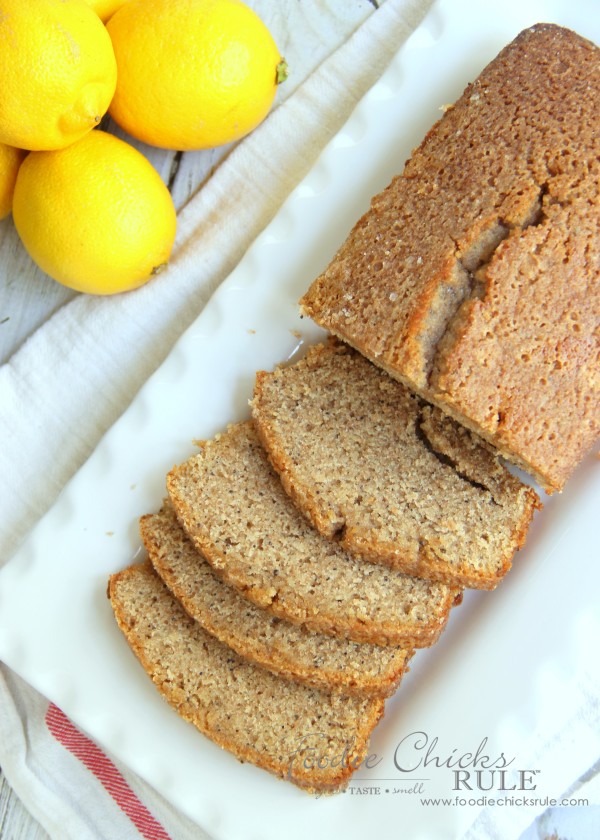 And yes, those are lemons in the photo with my "orange" glazed cake…..because I had a brain, well, I kept thinking "lemon" for some reason.
I had taken a million and two photos by the time I remembered it was ORANGE not LEMON.
Oh well. They are both citrus so let's move on shall we? ;)
This is a super easy recipe. Most of the recipes I will share here will be super easy because I have no patience for long, complicated ones.
OH! And this is the first time I used my beloved, brand new KitchenAid Mixer.
If you follow me on Instagram (or on my other blog at Artsy Chicks Rule's Facebook page) then you might have seen several things about this fun mixer already.
I'd been wanting one for forever (20+ years) and finally took the plunge.
So first off, one of the things I changed in the recipe is the type of flour used.
Instead of regular white, I used ORGANIC Whole Wheat.
(organic because have you heard some of the things they do to our wheat crops?? ugh…no)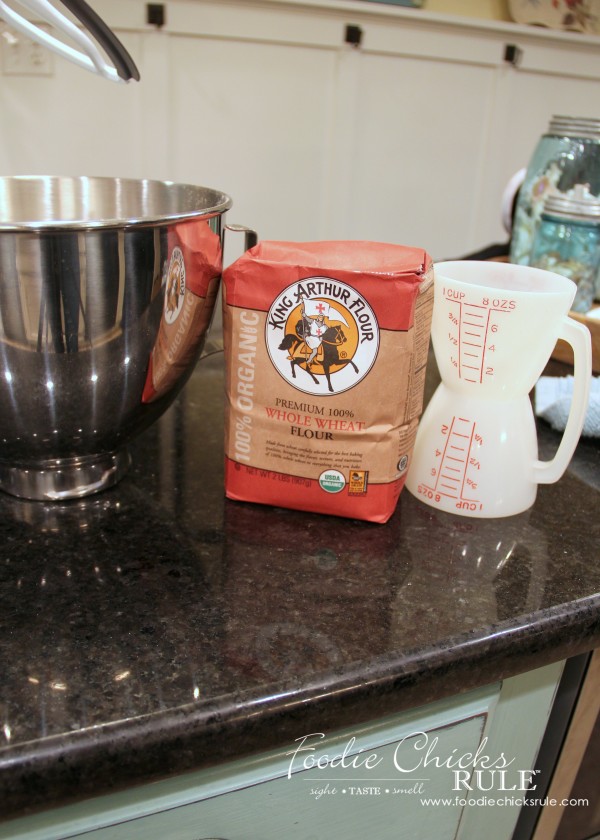 Add all of the ingredients for the loaf into the bowl…. (the other change I made…I used Cashew Milk instead of dairy milk)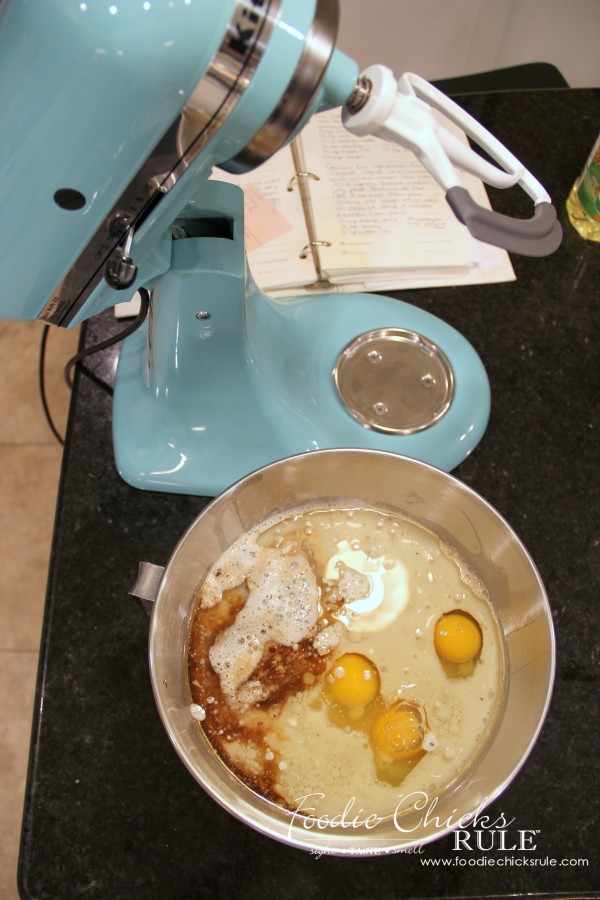 See my pretty teal mixer? I love her. :)
And mix for 1-2 minutes….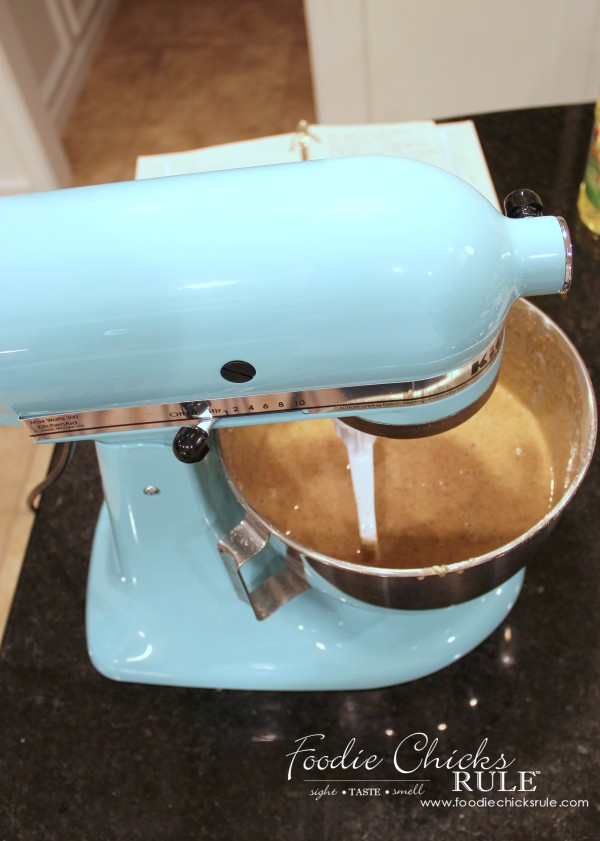 Then….pour into the loaf pans. (this recipe makes four miniature or 2 regular sized loaves)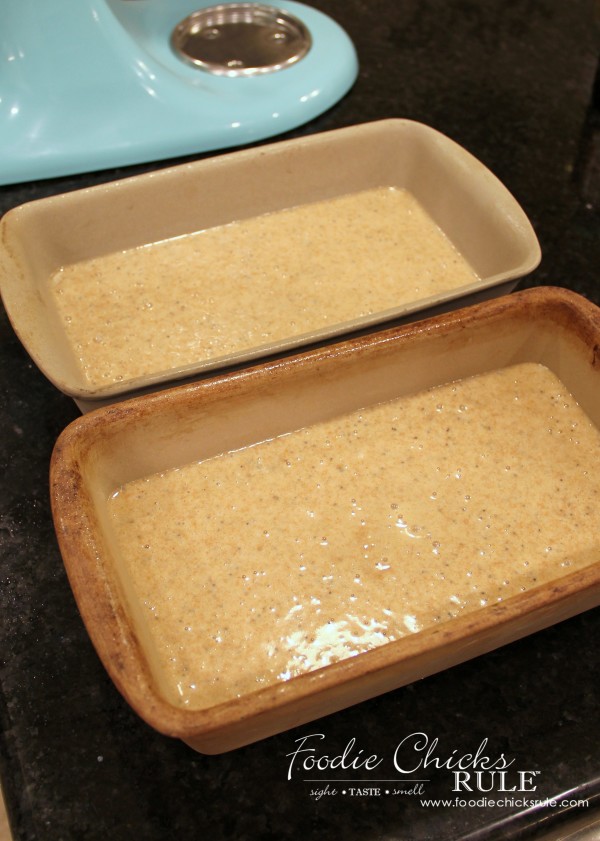 That's it!
Told you it was EASY.
Bake at 350 degrees for approximately 1 hour.
Then remove from the oven and cool for 5 minutes.
While it's cooling for 5 minutes, mix the orange glaze ingredients in a small bowl.
Pour the glaze over the tops of the loaves while still in the pan.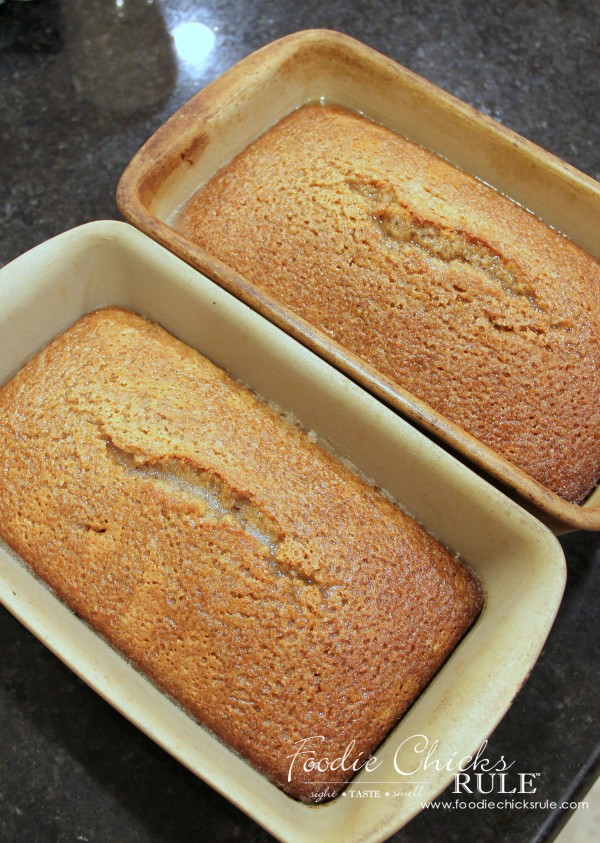 Let it soak in for about 5 more minutes and remove loaves from the pans to cool.
The glaze really makes it. This loaf is amazing and delicate and full of flavor.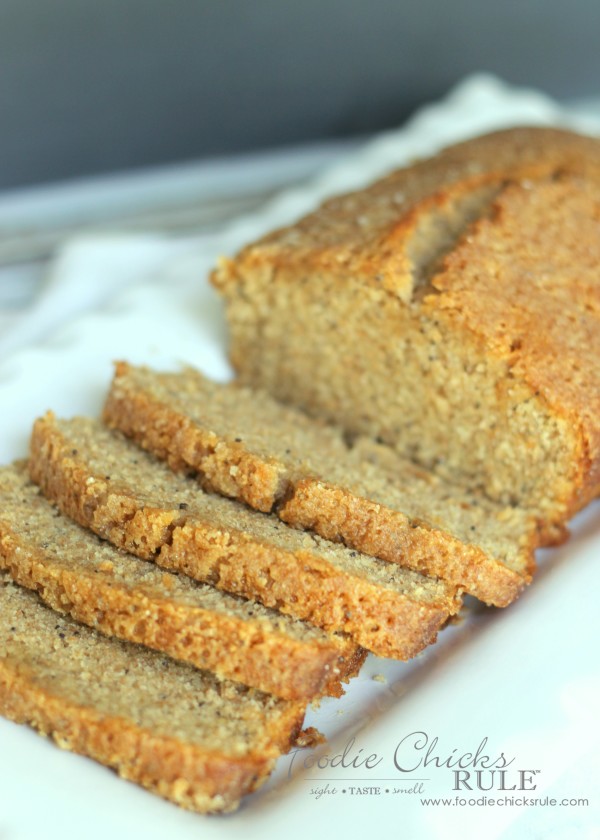 But truly, the glaze is literally the "icing on the cake".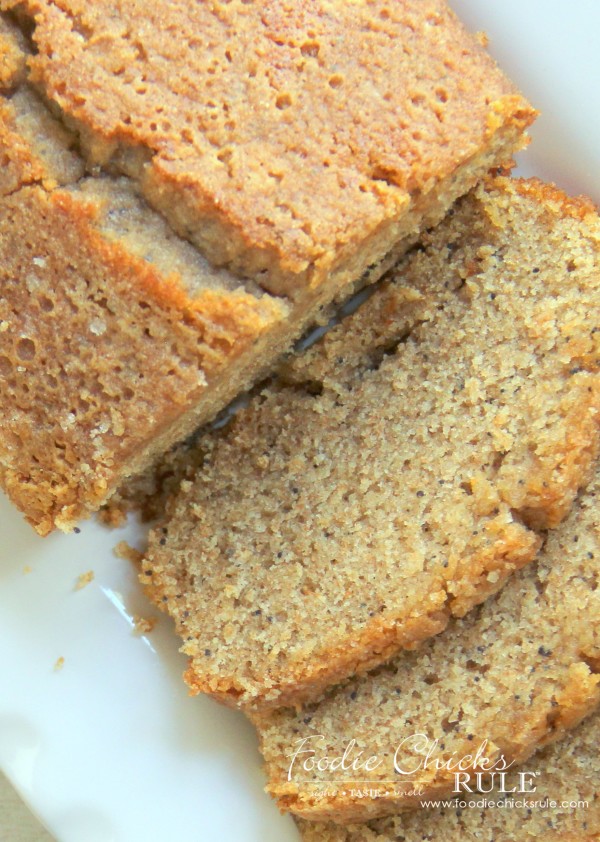 It creates a slightly crisp and very flavorful "crust".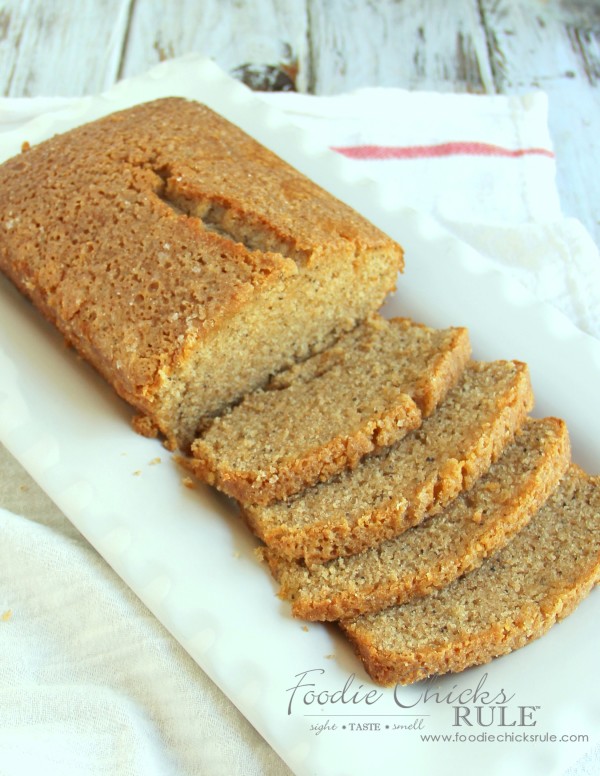 Typically the loaf is much lighter in color but the whole wheat flour darkens it a bit.
No effect on the flavor what so ever.
It is amazing with white or wheat.
Truly, you can not even tell and it's at least a tiny bit healthier for you.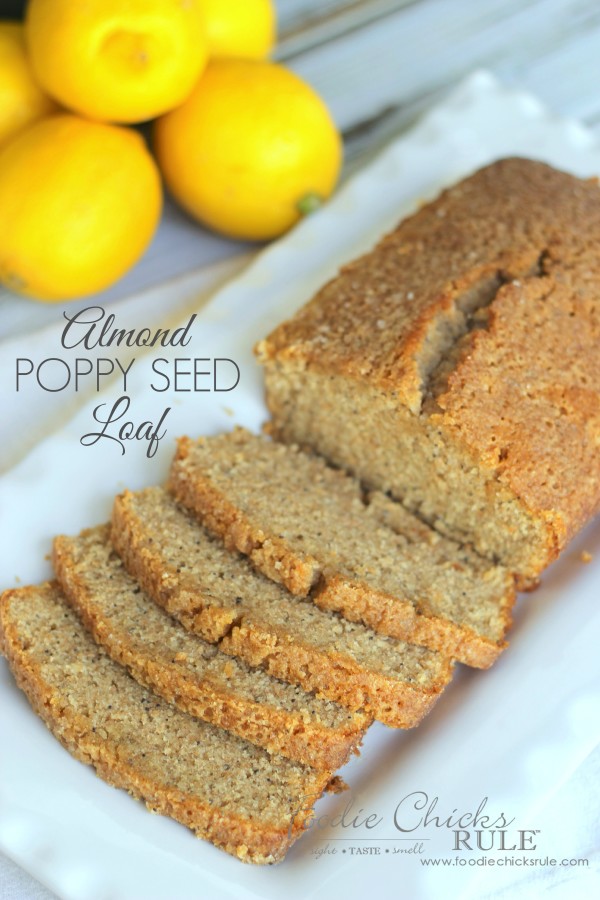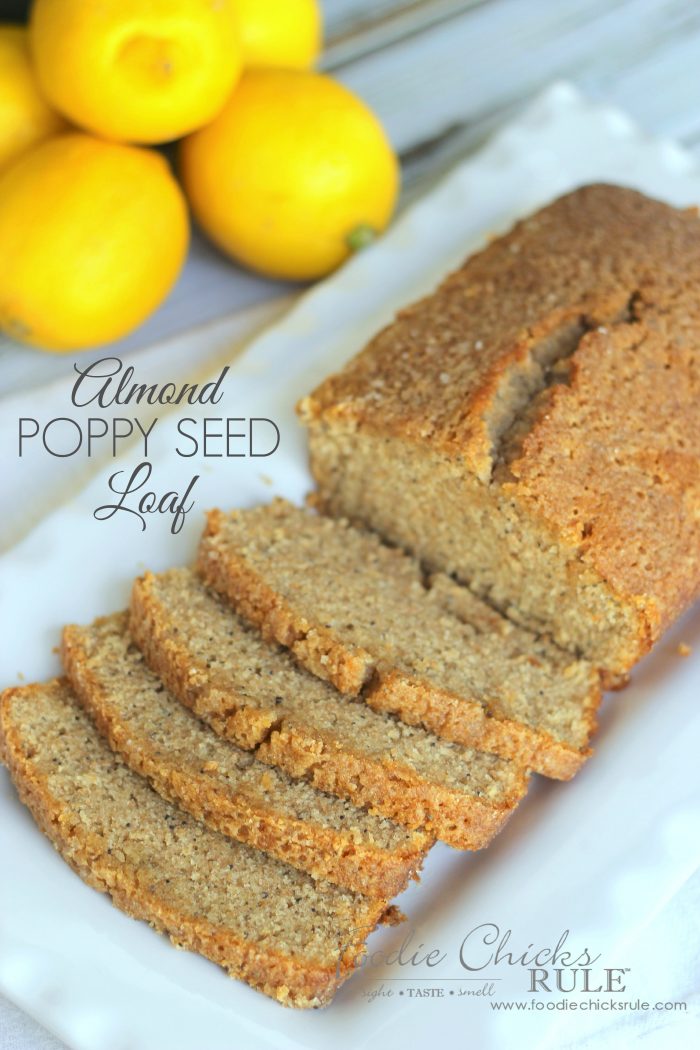 Again, ignore the lemons. You see I didn't say "w/orange glaze" on that photo. ;)
Here's the printable recipe…
Almond Poppy Seed Loaf w/Orange Glaze
Ingredients
3

cups

flour

I used Organic Whole Wheat

2-1/4

cups

sugar

I used a tad less

1-1/2

cup

milk

I used Cashew Milk

1-1/8

cup

oil

3

eggs

1-1/2

Tbsp

poppy seeds

1-1/2

tsp

salt

1-1/2

tsp

baking powder

1-1/2

tsp

Vanilla Extract

1-1/2

tsp

Butter Flavoring

1-1/2

tsp

Almond Extract

Orange Glaze

1/4

orange juice

3/4

cup

sugar

1/2

tsp

Vanilla Extract

1/2

tsp

Butter Flavoring

1/2

tsp

Almond Extract
Instructions
Combine all of the ingredients for the loaf in bowl.

Mix in electric mixer for 1-2 minutes.

Pour into stoneware loaf pans or lightly greased baking loaf pans.(2)

Bake at 350 for approximately 1 hour.

Cool for 5 minutes.

Pour glaze over the tops of the loaves and let stand another 5 minutes.

Remove from the pans.
Recipe Notes
I subbed organic whole wheat very successfully.
I also subbed cashew milk for the dairy milk without a problem.
I hope you enjoy! :)