Homemade Limoncello (easier than you think!)
Homemade Limoncello….how fabulous is that?
Pretty fabulous!
I had never made it but had wanted to try it for awhile.
I am always making something for gifting at Christmas. Usually it's things you can use or decorate with.
This past year I gave everyone things they can eat and drink. :)
Homemade Limoncello, Margarita Lime Fudge, Peppermint Fudge, Peanut Butter Fudge and Chocolate Fudge.
Yum. The Margarita Lime Fudge was my favorite and I'll be sharing the recipe here soon.
But first, let's talk Limoncello.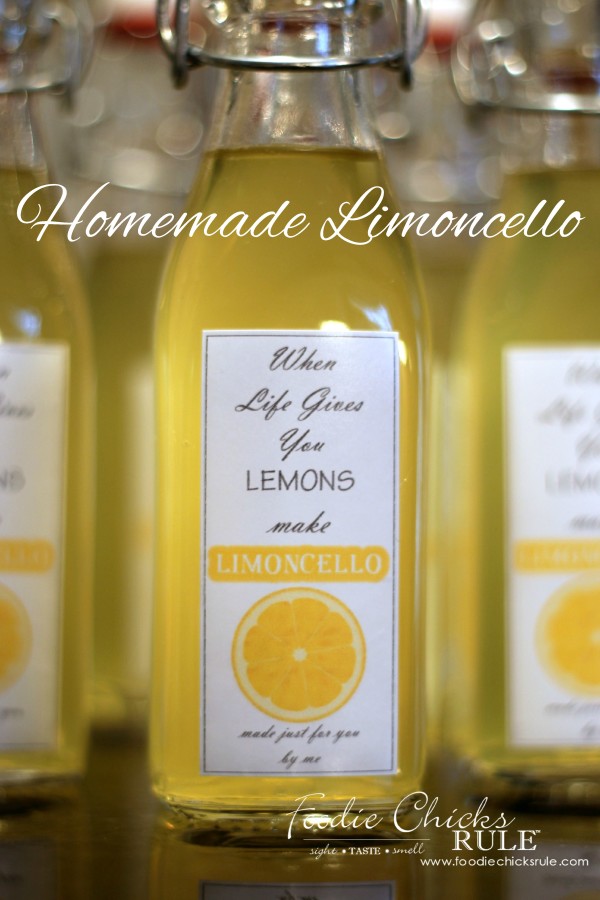 Have you ever had it? I had never had it before I watched the movie Under the Tuscan Sun.
Remember? Her cute Italian boyfriend served it on the beach and told her it was made by his family.
I just love that movie!
Now you can make your very own too!
It's actually incredibly easy to make.
First, be sure to use ORGANIC lemons. I try to buy organic anyway but you really need to for this recipe.
The alcohol will be sucking all of that wonderful flavor out of those rinds…and any pesticides that are there too.
Ick. So organic only.
Wash the lemons well.
Then get to peeling….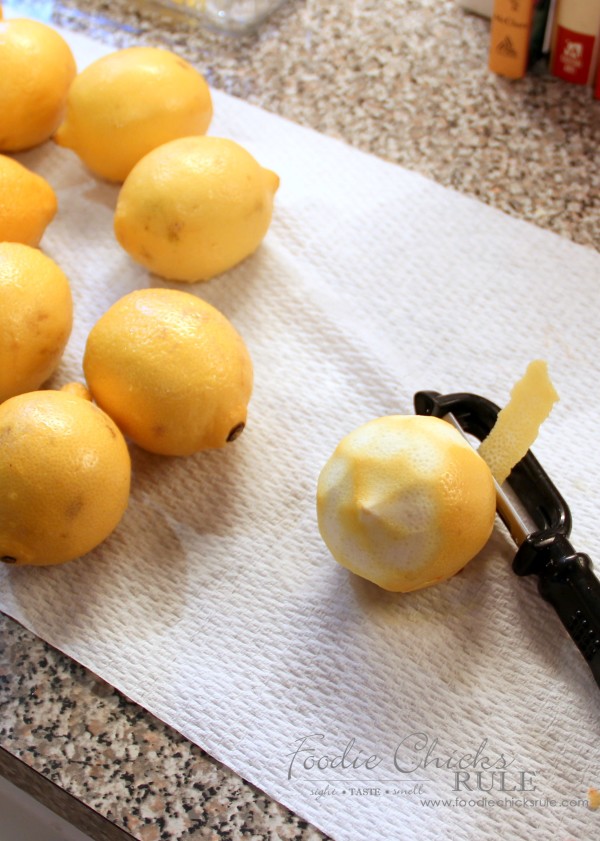 Try to very carefully peel only the rind….leave as much of the white behind as you can.
It is bitter and the bitterness will be transferred to your lovely Limoncello otherwise.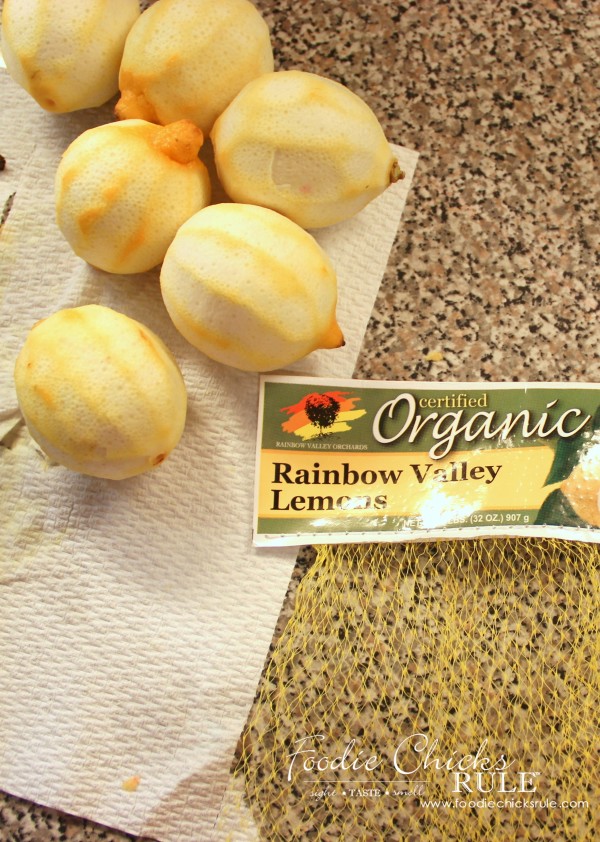 Gather them and put them into a glass jar that has a somewhat tight fitting lid.
Pour the bottle of Vodka over the top of the peels in the jar.
Try to use glass, like this juice jar. You don't want any flavor seeping in from plastic, etc.
I placed plastic wrap over the lid with a rubber band to keep it well sealed.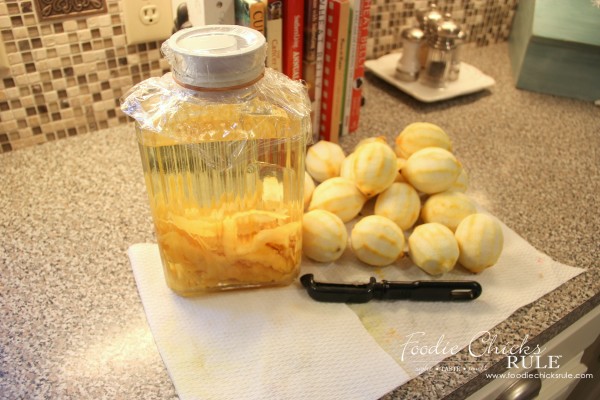 As you can see, the liquid is quite clear.
But it won't be for long! ;)
Now put it away in a dark cabinet and forget about it for a few weeks.
I only had 2 weeks until the holidays so that's all the time I had to soak mine.
Anything from 2 – 4 weeks would be good I would think.
At 2 weeks I had a very lemony, very yellow liquid.
After the 2 (or 4) weeks, you will need to strain the liquid.
I used a coffee filter and a strainer.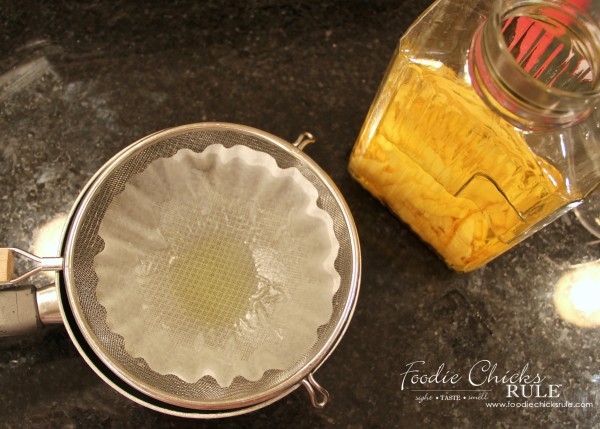 On your stove, heat up 3 cups of water and 3 cups of sugar.
(you can use more or less depending on how sweet you would like the final product to be — so taste and add more, if needed)
Heat just enough to dissolve the sugar crystals. You want this mixture to be smooth and clear.
Once dissolved and cooled, mix together with the lemon/vodka mixture and pour into your bottles.
These are the bottles I used for my yummy homemade limocello…
Bormioli Rocco Swing Top Glass Bottle, 8.5 Ounce (Set of 4)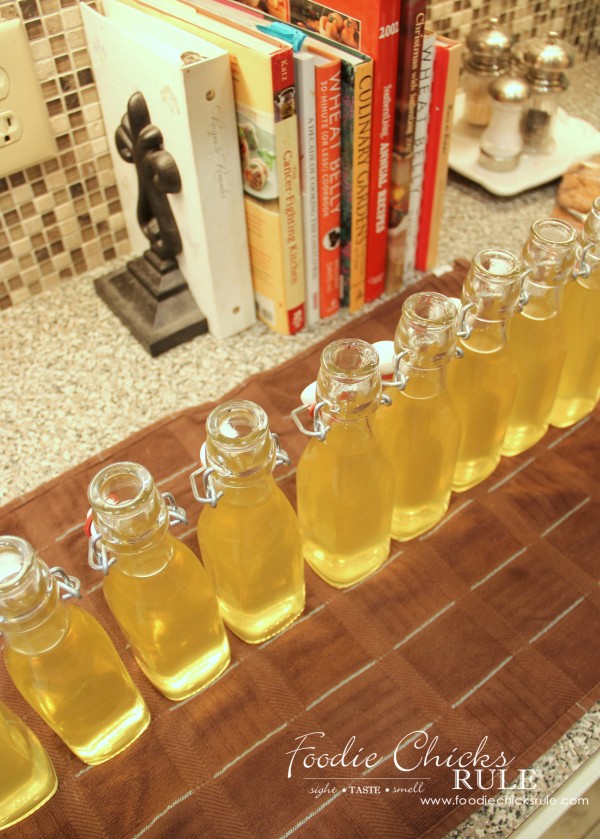 Then I created some cute labels on my computer.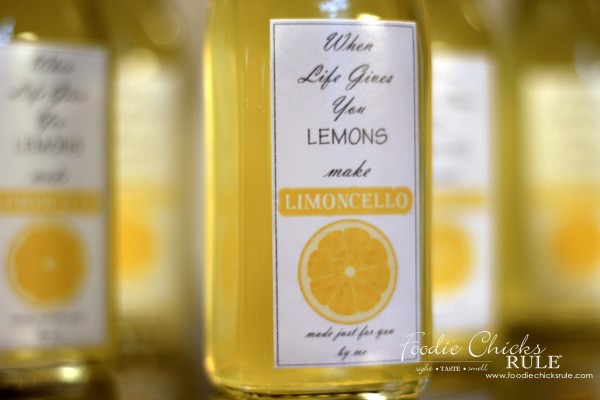 When life gives you lemons….make Limoncello. Yep!
(I didn't come up with that cute saying, by the way, it's all over the web so I have no idea who did!)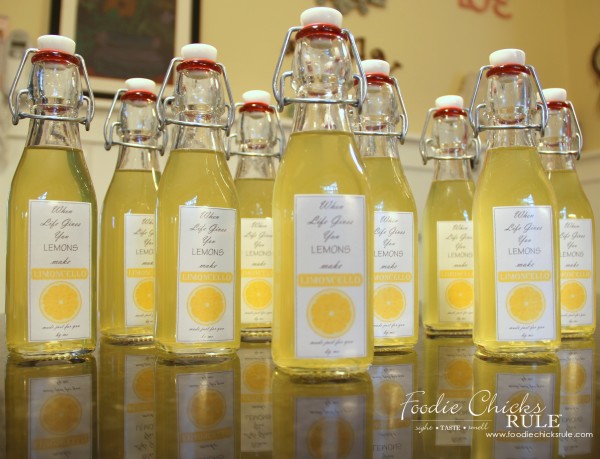 These bottles were perfect. Highly recommend.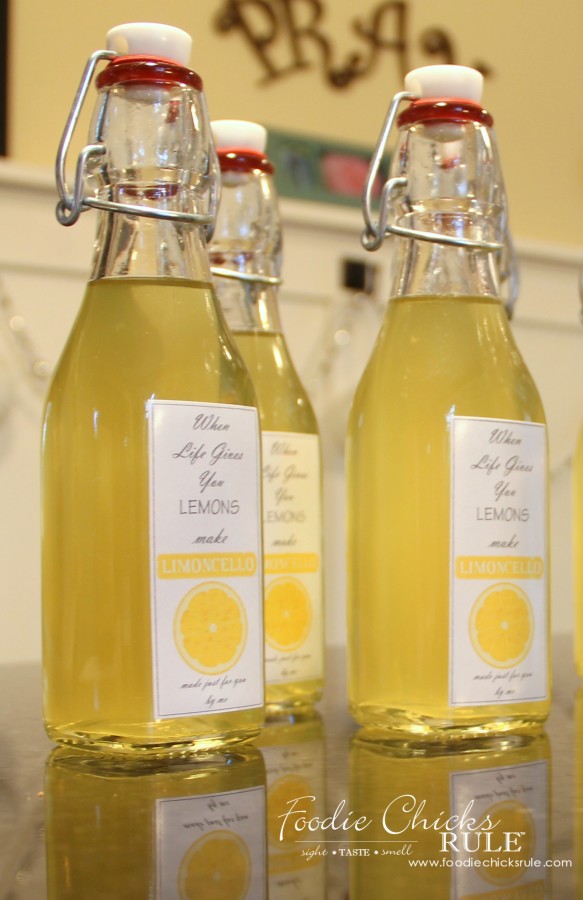 I did come across these much larger bottles on clearance at Kirkland's a few weeks later.
And I snatched them up since I also plan on making some Limecello, Grapefruitcello and Orangecello. (I have no idea if that's what they call it, but I'm making it ;) )
The Limoncello is great straight out of the freezer (it's a sipper ;) ) or used as in mixer in drinks.
I'm looking forward to getting the others made and trying them!
I'll be sure to share them here on the blog when I do.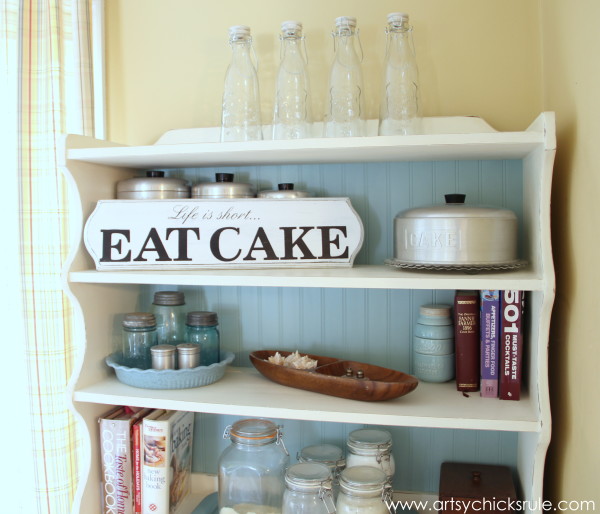 This photo is from my other blog … Artsy Chicks Rule.
But the larger bottles I bought on clearance are the ones up top there.
So there it is…Homemade Limoncello.
Easy and fun….and very tasty too!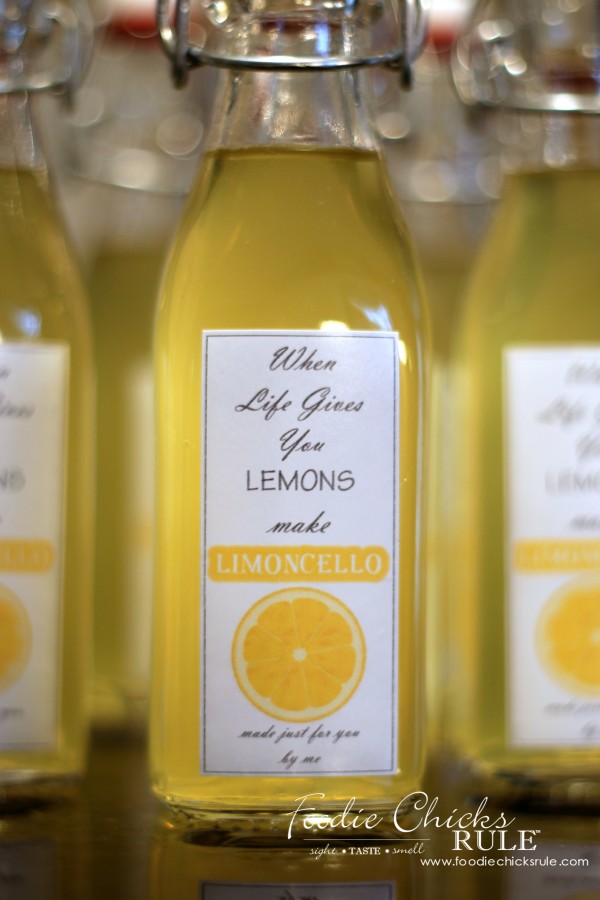 Hope you try it! It's much easier than you think.
PIN this for later so you can make some too! :)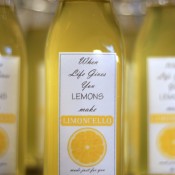 Homemade Limoncello
Servings
:
10
- 8 oz bottles
Ingredients
18

organic lemons

1 - 1.75

L

Vodka

100 proof

3

cups

of sugar

3

cups

of water
Instructions
Wash and dry the lemons.

Peel with a vegetable peeler (without the pith, rind only)

Place the peels in the bottom of a large glass jar or jug.

Pour the Vodka in over the peels.

Cover tightly and well.

Place in a dark cabinet for 2-4 weeks.

After 2-4 weeks remove from the cabinet and strain. (I used a coffee filter inside of a metal strainer, you can also use cheesecloth)

Heat the water and sugar on the stove top to dissolve the sugar crystals. Let cool.

Pour into the strained lemon vodka, mix well. (taste for sweetness now...if not sweet enough, repeat step 7 again with more sugar/water)

Pour into bottles and refrigerate (or preferably, place in freezer)
Recipe Notes
Add more or less sugar/water for desired sweetness.
Enjoy!!
You might also like this recipe: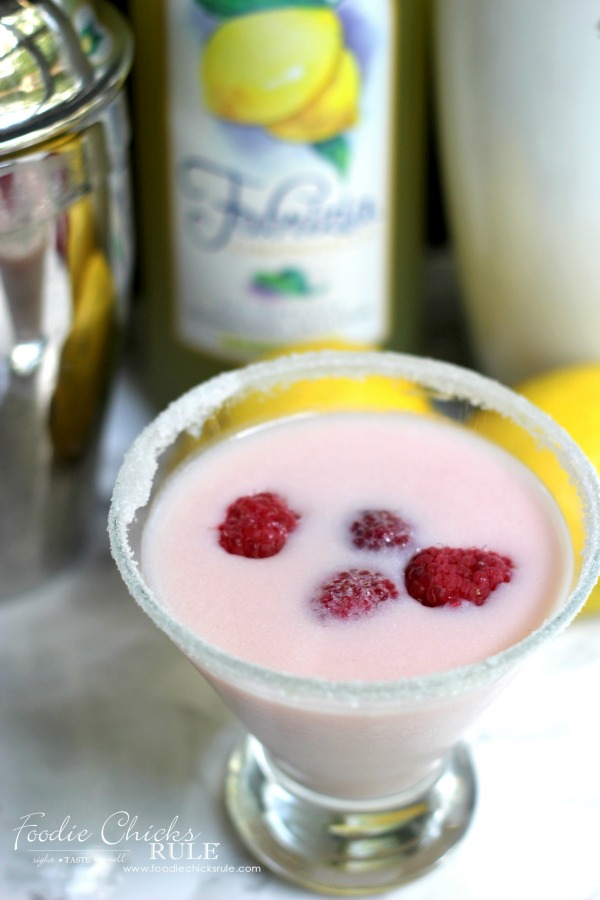 Get the recipe here >>> Raspberry Lemon Cake Cocktail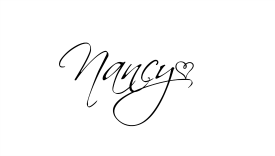 Save
Save
Save
Save
Save
Related affiliate links you may like: