Chocolate Chip Guinness Beer Bread Recipe
Hello Friends! I'm back with a yummy new recipe today. :) Chocolate Chip Guinness Beer Bread!
And it's SO easy to make.
What's not to love! ;)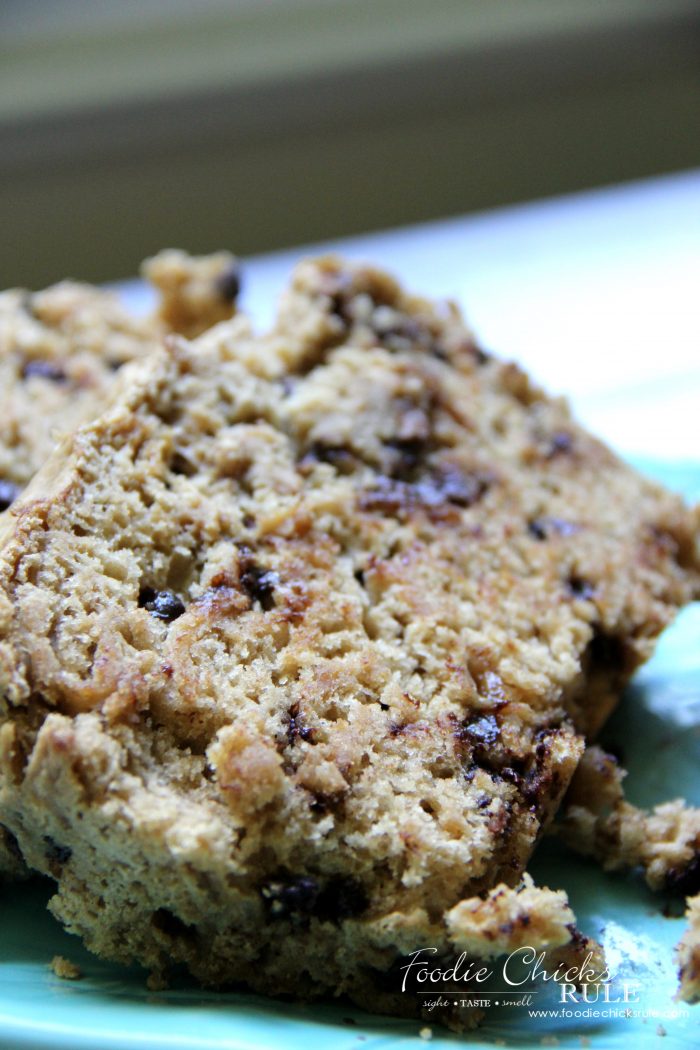 My daughter recently asked me for my beer bread recipe (which is basic) and it got my mind going.
I LOVE beer bread and I love rich flavors in food.
Now, I've made "beer" bread with regular, light colored beer and even soda water for a more mild flavor.
But I'd never used Guinness, which is a nice dark, very rich flavored beer.
I really do not care for beer all that much but I do enjoy the flavor of this one.
To me it has the flavor of coffee and chocolate. Yum.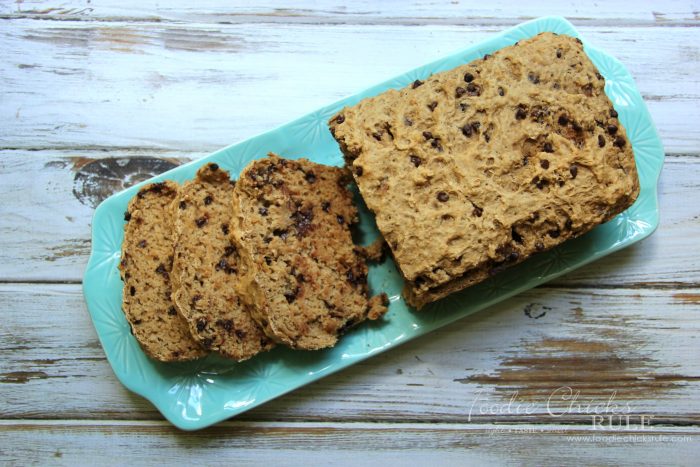 So, I decided to use Guinness in my beer bread recipe AND add chocolate!! Mmmm, mmm, good. :)
Not only that, instead of the usual white sugar my regular beer bread recipe calls for, I used dark brown sugar for even more rich flavoring.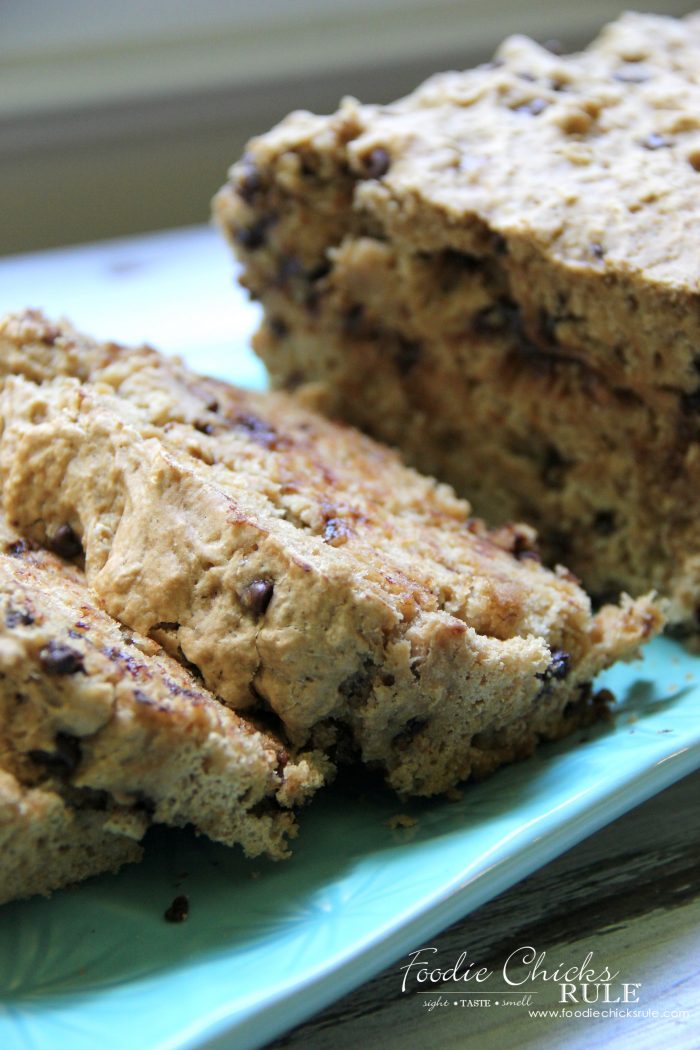 So if you love those rich flavors, then you will love this chocolate chip Guinness beer bread!
And for an even richer flavor, you could use whole wheat flour.
I may include an affiliate link or two for products I used below. You can see my disclosure, here.
This is basically all you need to make this simple bread.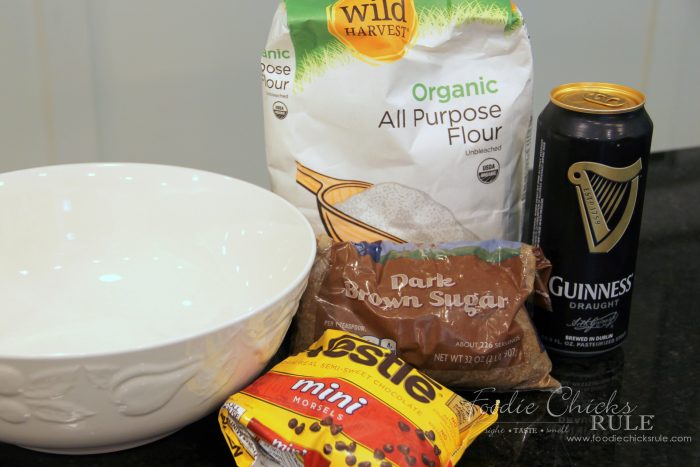 I love simple, easy recipes. Who has the time these days to make the complicated ones?
I surely don't! I haven't made homemade bread from scratch in ages. :(
I even have on old bread machine I used to make it in all the time. I may have to pull that old sucker out and make some.
But in the meantime, there's this…..
Here is what the Guinness beer bread looked like once mixed and in the baking loaf dish…..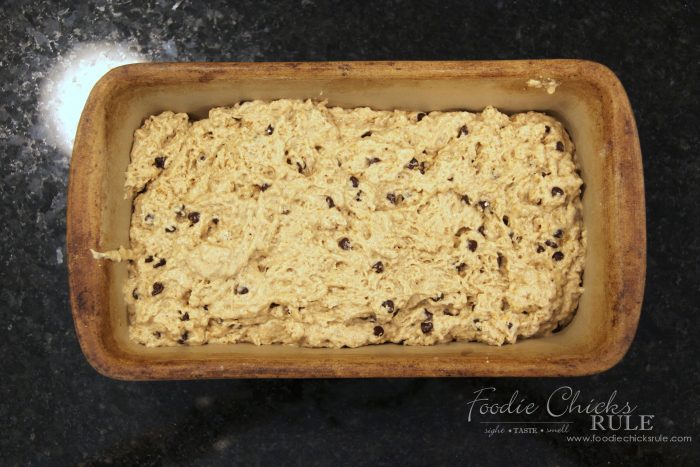 I love these baking stones and dishware. I love how easy they are to use, clean and the things I bake just come right out.
This one is similar.
I will usually let it sit for about 10 minutes so it will rise a bit before going into the oven…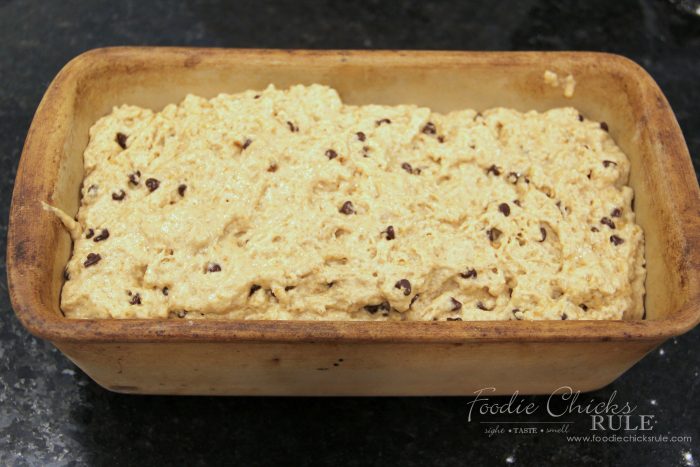 And here it is some 45 minutes or so later. :)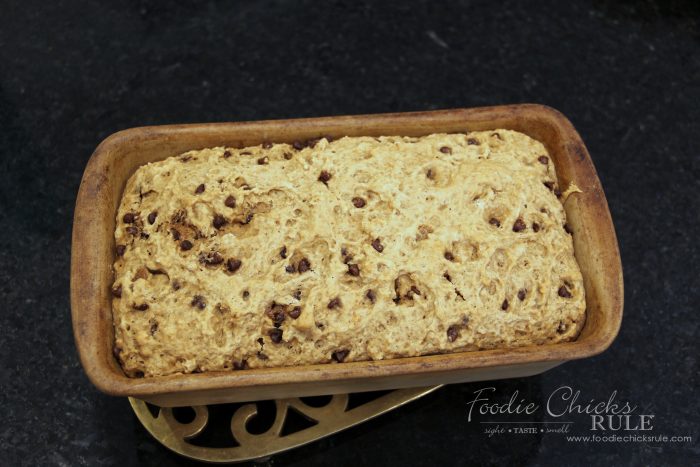 Begging for a little warm, melt-y butter….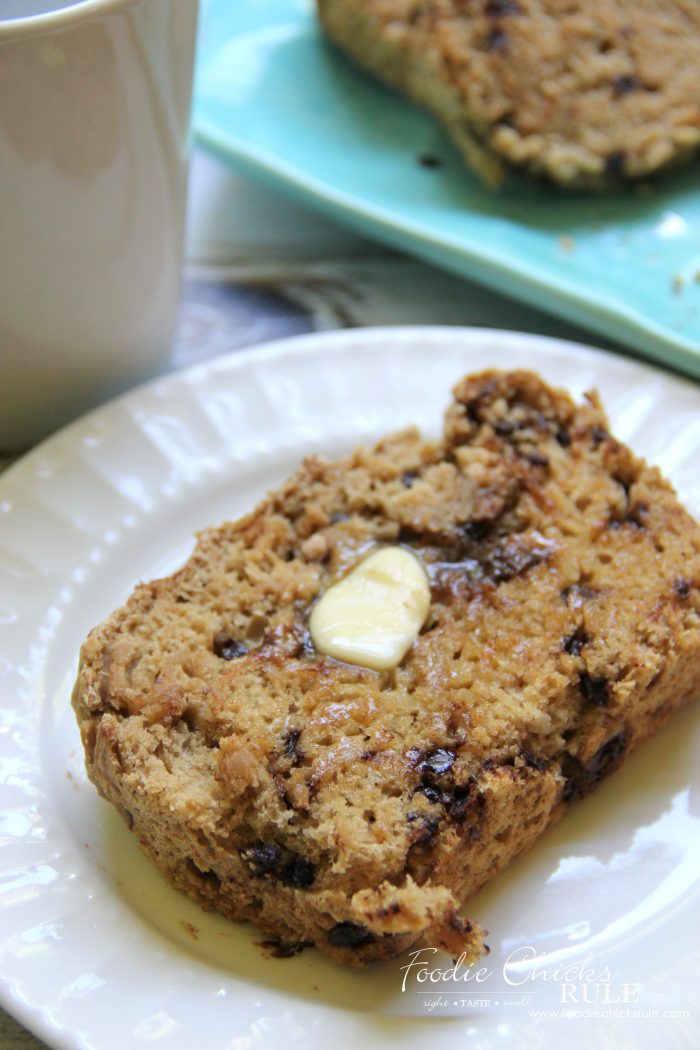 It's delish warm which is how I recommend eating it.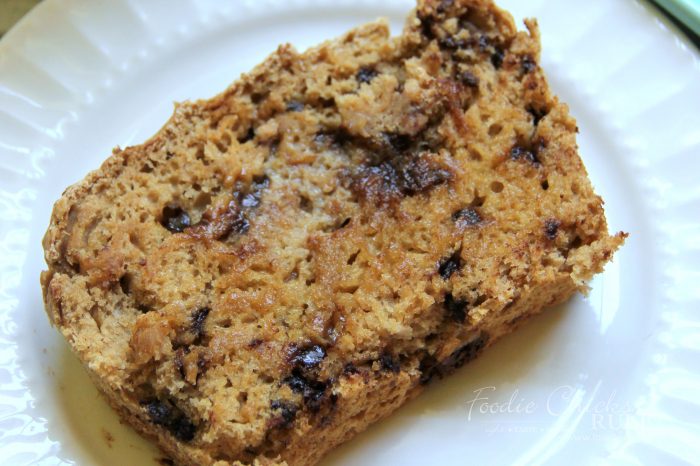 PIN this Chocolate Chip Guinness Beer Bread Recipe to save for later!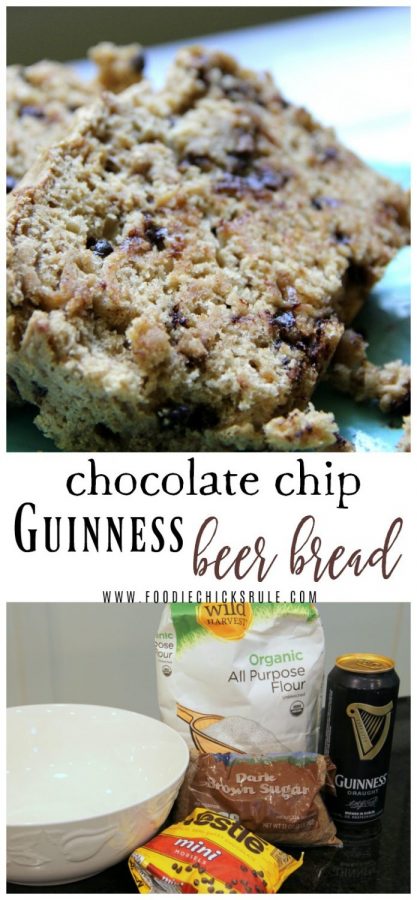 Here's the full recipe….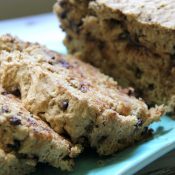 Chocolate Chip Guinness Beer Bread Recipe
Ingredients
3

cups

flour

1/2

cup

dark brown sugar

1

can of Guinness beer

it's around 14 oz

4-1/2

tsp

baking powder

1

tsp

salt

1/2

cup

mini chocolate chips

semi-sweet
Instructions
Mix the flour, baking powder and salt together. Add the sugar and mix well.

Add the chocolate chips.

Make a well in the center of the flour mixture and slowly pour in the beer.

Stir until mixed. (don't over stir)

Pour into a greased pan or (ungreased) stone baking loaf dish.

Let sit for 10-15 minutes to rise.

Bake in a 350 degree oven for 35-45 minutes, or until knife inserted in center comes out clean.
Recipe Notes
For an even richer,nuttier flavor, try whole wheat flour. (be aware you will probably need to add more beer since whole wheat tends to soak up liquids a bit more than white)
I hope you enjoy it as much as we do! :)
Stay tuned, I've got a healthy dinner recipe coming up next!
xo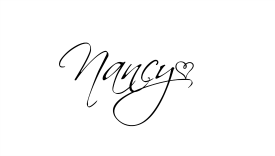 Save
Save
Save
Save
Save
Save
Related affiliate links you may like: