Honey Dijon Chicken with Rice (and mushrooms too)
I'm sharing a recipe with y'all today that I created…oh, I don't know…probably around 18-20 years ago.
I don't even think I've made it that often since I wrote it in my recipe book way back then.
I call it "Honey Dijon Chicken with Rice (and mushrooms)"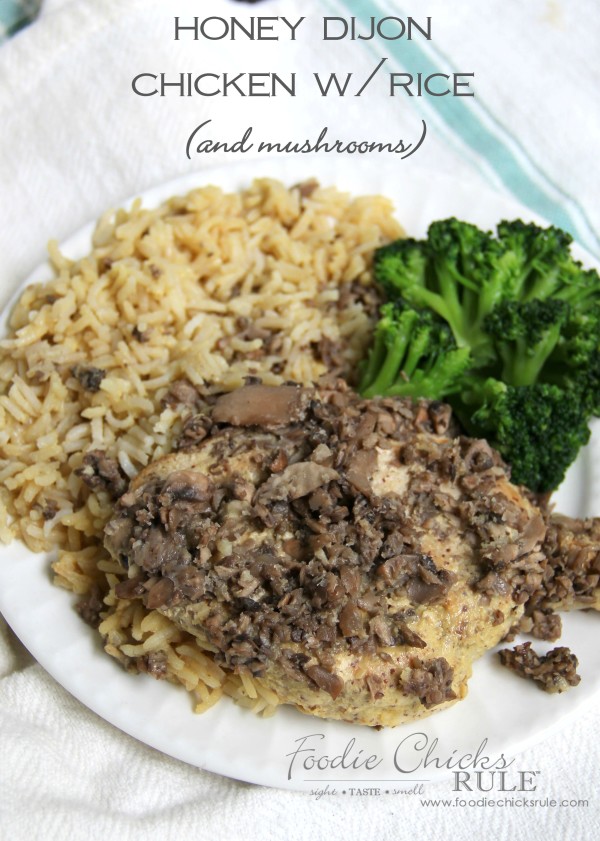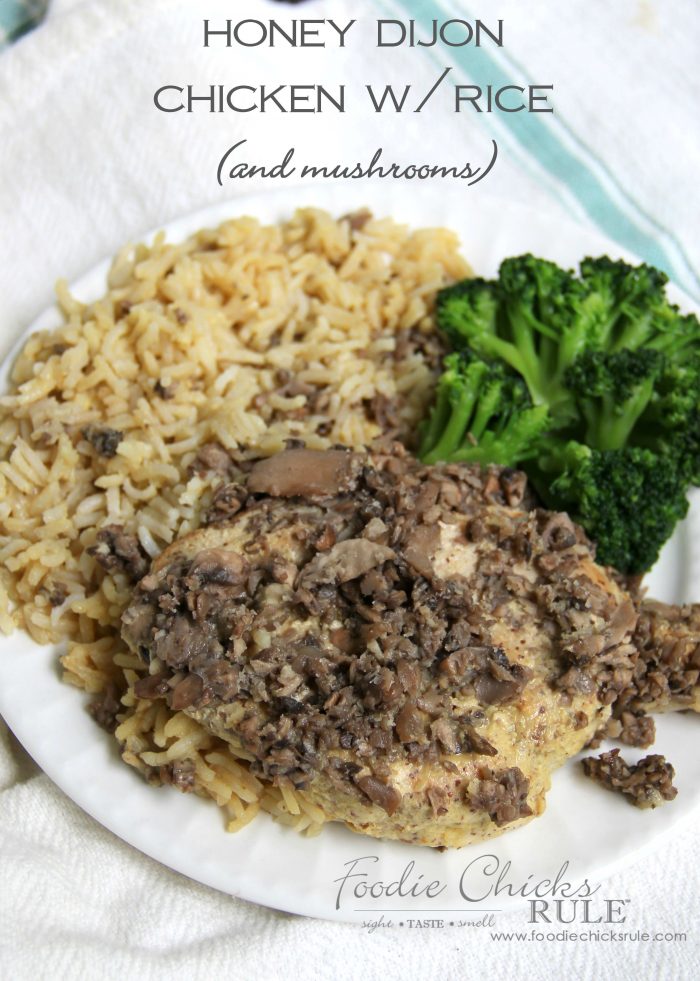 Because that's what's in it. ;) Pretty much.
I remember having a dish like this at a restaurant my husband used to go to many years ago.
It was a favorite of ours. They even served it with broccoli. (it's a good accompaniment to this dish)
I liked it so much that I came home and tried to recreate it.
I wrote what I did in my recipe book….but not so well! ;)
I would show you a photo of what I wrote but…let's not.
Let's just say, it's not much of a recipe I can follow.
BUT pretty much how I cook (and mix paint!).
I never measure.
That's fine and well if you never want to make the dish again.
OR write a food blog.

Anyway, I had to basically recreate the dish.
And it was a hit, yay! :)
I forgot to take the photo of ingredients this time, sorry.
It's basically this:
Dijon Mustard (I used Grey Poupon…do you remember those crazy commercials? lol I guess they worked because I can't think of anything else when I say OR hear the name. ;) )
Honey
Worstershire Sauce
Garlic
Mushrooms
Basmati Rice
I like Basmati but you can use any.
I had listed "Uncle Ben's Instant Wild Rice" in the recipe!!! haha I KNOW that was a long time ago.
And Chicken, of course.
Let me just say first off, you can make this dish without the mushrooms.
It would be good either way but I LOVE it with mushrooms.
Okay, get the rice going first so it'll be done and ready by the time you are finished cooking the chicken.
Then chop and saute the mushrooms in Olive Oil or Butter or both.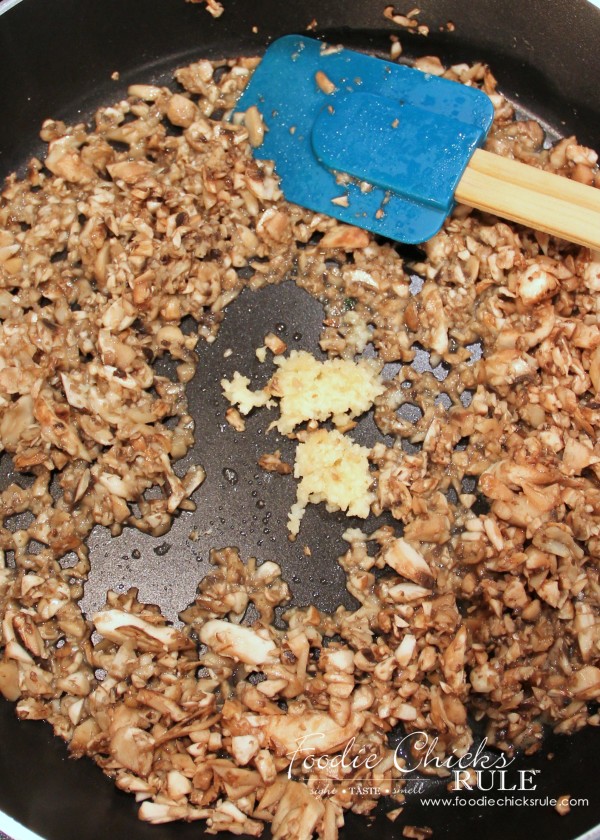 I bought and used a pack of three good sized chicken breasts.
I pounded them a bit (with a meat tenderizer) and marinated them about 24 hours beforehand.
I used Dijon Mustard, Red Wine Vinegar and Olive Oil. No, I did not measure. ;) Just mix a bit of each.
I hadn't planned to marinate but ended up not cooking this dish the night I bought the chicken so I threw them in some marinade for the next night.
It actually turned out to be a good plan because it really helped flavor the chicken.
You can see the marinade stuck to the chicken here….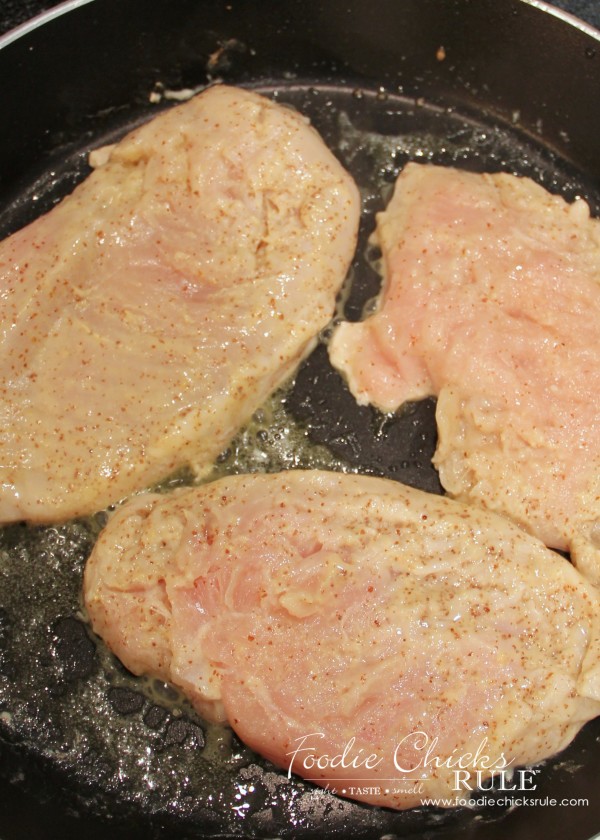 This is the same pan you cooked the mushrooms/garlic in. (don't rinse, just scoop the mushrooms into a bowl and set aside)
Saute them until golden and cooked.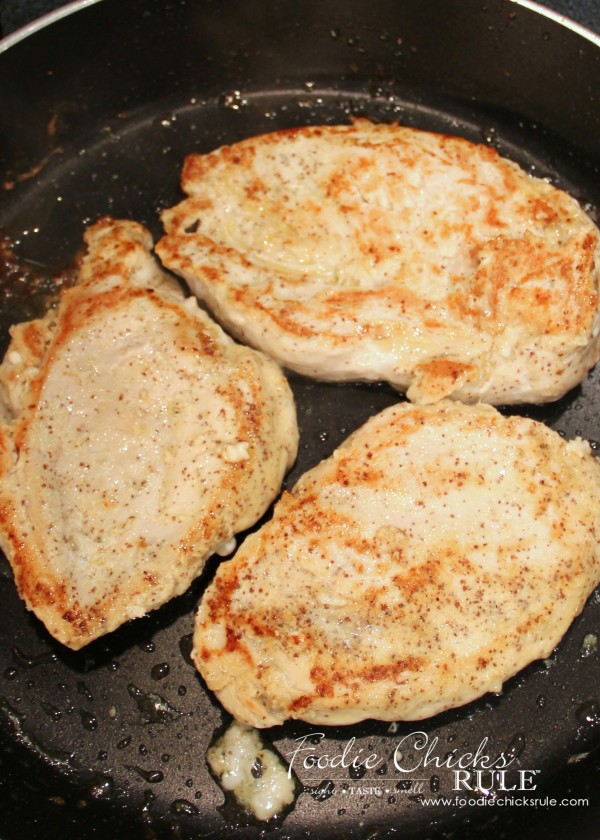 While that's cooking, mix up your sauce.
I love sauce. I'm definitely a sauce girl. :)
This is pretty simple. Mix the Dijon, honey, water, Worcestershire sauce in a dish.
Then pour it over the chicken as if finishes up cooking.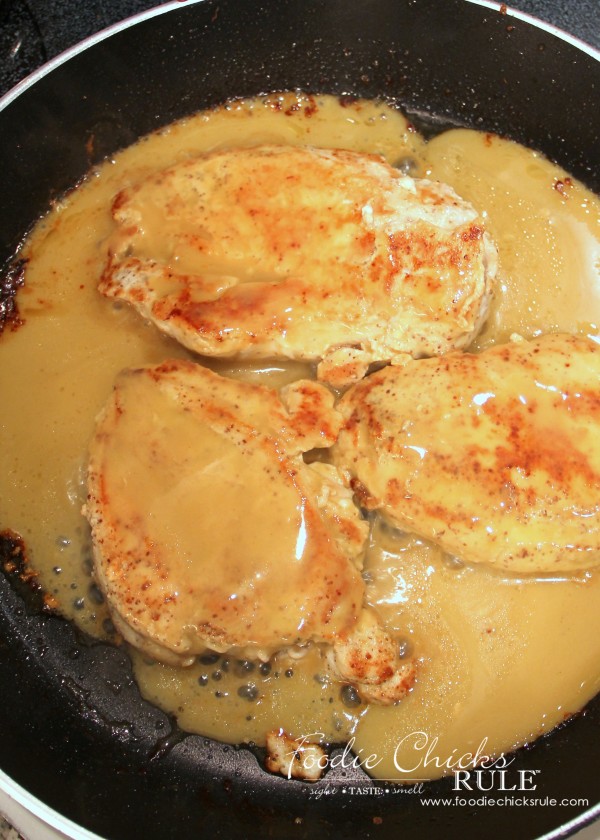 You sort of want to get some of that good flavor from the mushrooms, garlic and chicken that you previously cooked in this pan.
Mmmm, yum.
Layer your cooked rice into the bottom of a small casserole dish.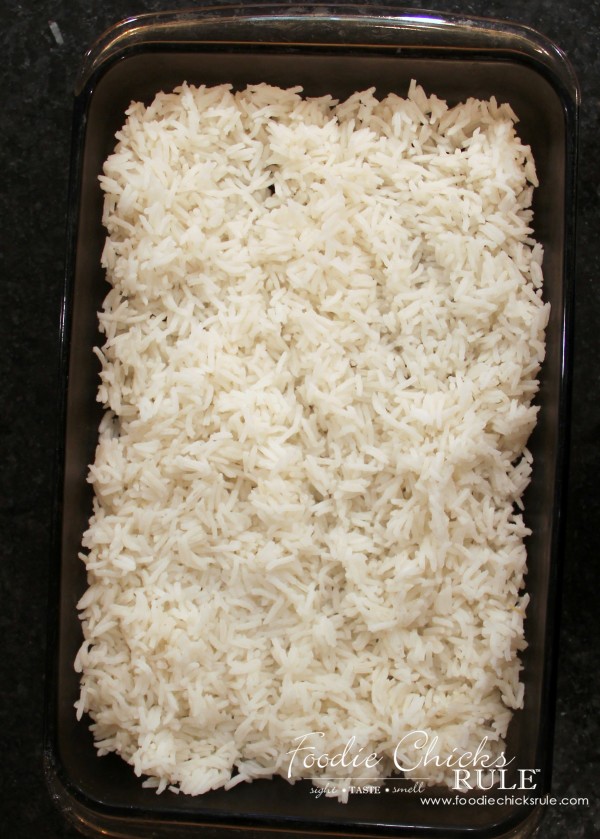 Layer the cooked chicken breasts evenly over the top.
Then pour the Dijon/Honey sauce over that.
Lastly, "sprinkle" the  mushroom/garlic over the very top.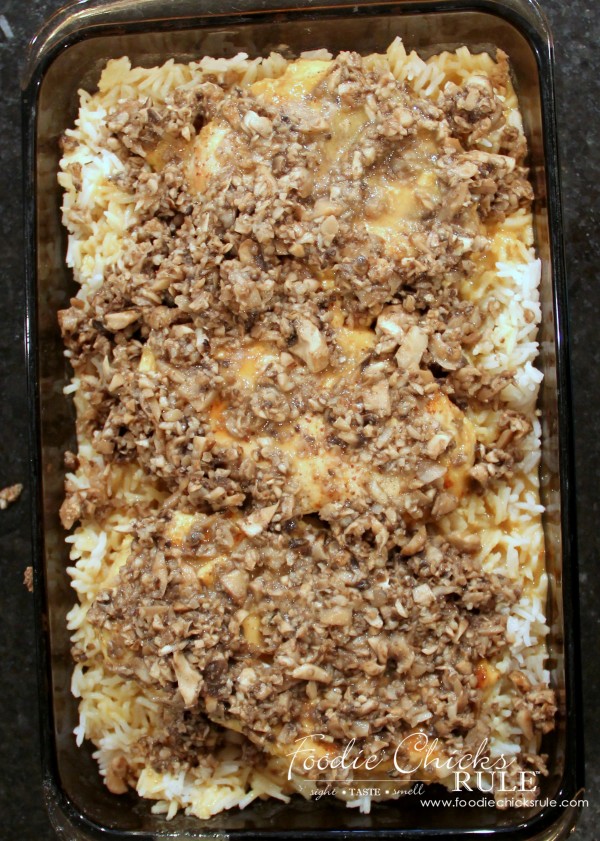 Cover with foil and place in the oven for about 15-20 minutes until heated through.
That's it!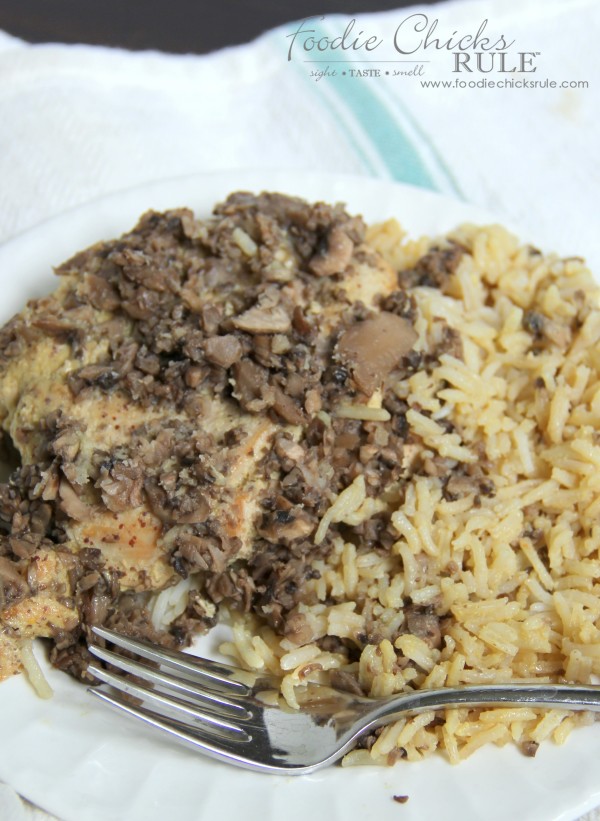 Then put it on a plate and enjoy.
I really love it with the broccoli….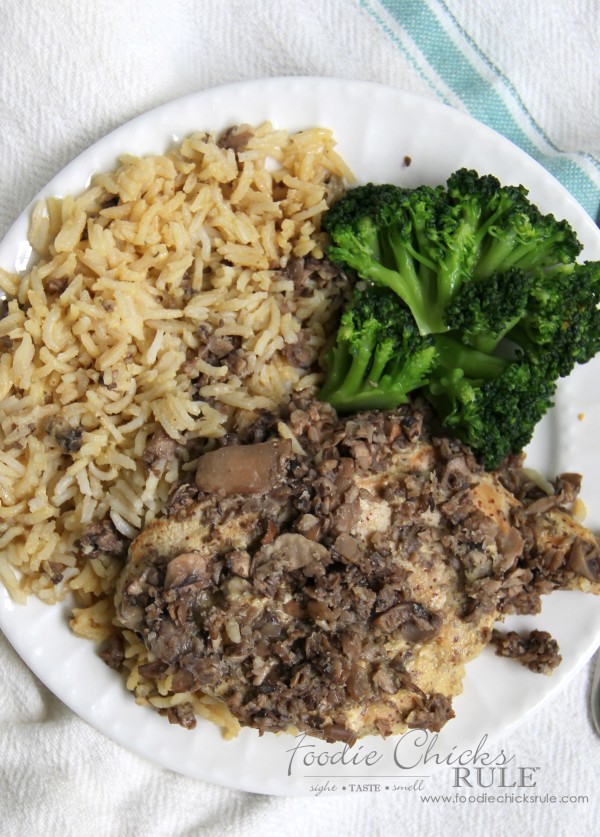 You need a little "green" with your meal anyway.
This is one of those recipes that has minimal ingredients AND is simple to make BUT is big on flavor!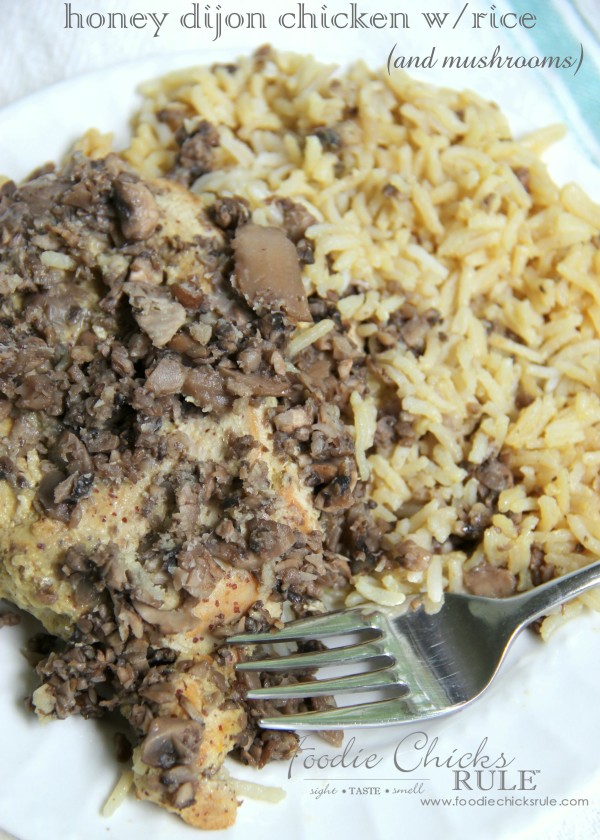 I was serious when I said I wouldn't be sharing (often anyway, I hate to say "never" ;) ) overly complicated recipes.
OR recipes with a long list of ingredients and directions.
Who has time for that? Oh I'm sure someone does but it's not me! :)
I hope you enjoy this dish as much as we do.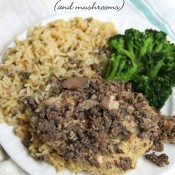 Honey Dijon Chicken with Rice (and Mushrooms!)
Ingredients
5

T

Dijon Mustard

I use and like Grey Poupon

3

T

Honey

I only use raw, unpasturized honey but you can use any

1/4

cup

of water

can add more if is too thick once cooking with the chicken

2

t

Worcestershire Sauce

1

pint

of Mushrooms

chopped well

2

large cloves of garlic

minced

Basmati Rice

1 cup before cooking

3

large chicken breasts
Instructions
Cook the rice according to the directions and set aside.

Chop the mushrooms and add to a pan with 1 T butter and 1 T olive oil (either/or or both)

Saute until almost cooked then add the minced garlic.

Saute all of that for about 2-3 min on medium.

Pour into a bowl and set aside.

Using the same pan, saute the chicken breasts until golden, on medium.

While they are cooking, mix the sauce ingredients listed above.

Pour the sauce over the chicken and cook for 1-3 min more.

Layer the rice evenly over the bottom of a casserole dish.

Place the cooked chicken breasts over top.

Pour the sauce from the pan evenly over the chicken and rice.

Finally, evenly spread the mushroom/garlic mixture over the top of the chicken/rice.

Top with foil and bake at 350 for about 15-20 minutes until warmed through.

Serve with broccoli.
Recipe Notes
You can omit the mushrooms, if desired.
You can marinate the chicken beforehand with a mixture of red wine vinegar, dijon mustard and olive oil.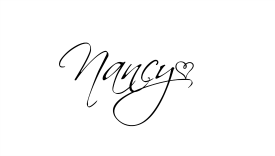 Related affiliate links you may like: