Best Homemade Salsa (so easy to make too!!)
It's easy to say you have the recipe for the best homemade salsa….but I really think I do. ;) It's pretty tasty either way!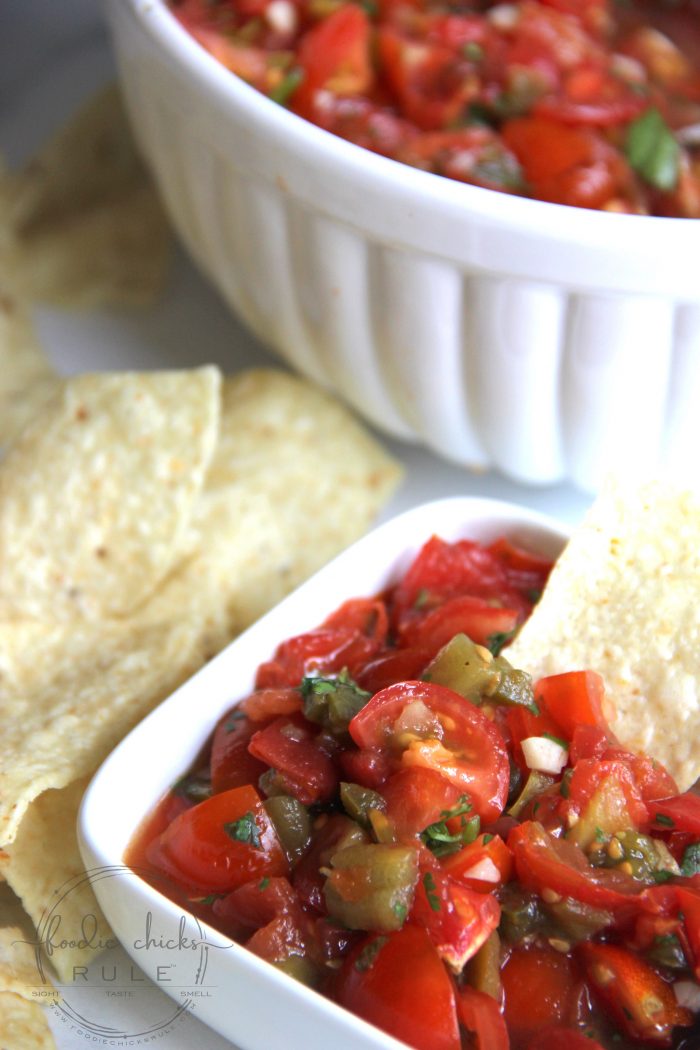 I don't know about you, but I have never been a fan of jarred ready made salsa. It just does not taste that great to me.
Definitely does not taste fresh!
So, when I really some good salsa and chips, I make my own. And why not?
It's super easy to do.
Here's how you make the best homemade salsa….evah!! Just go with me on this. ;)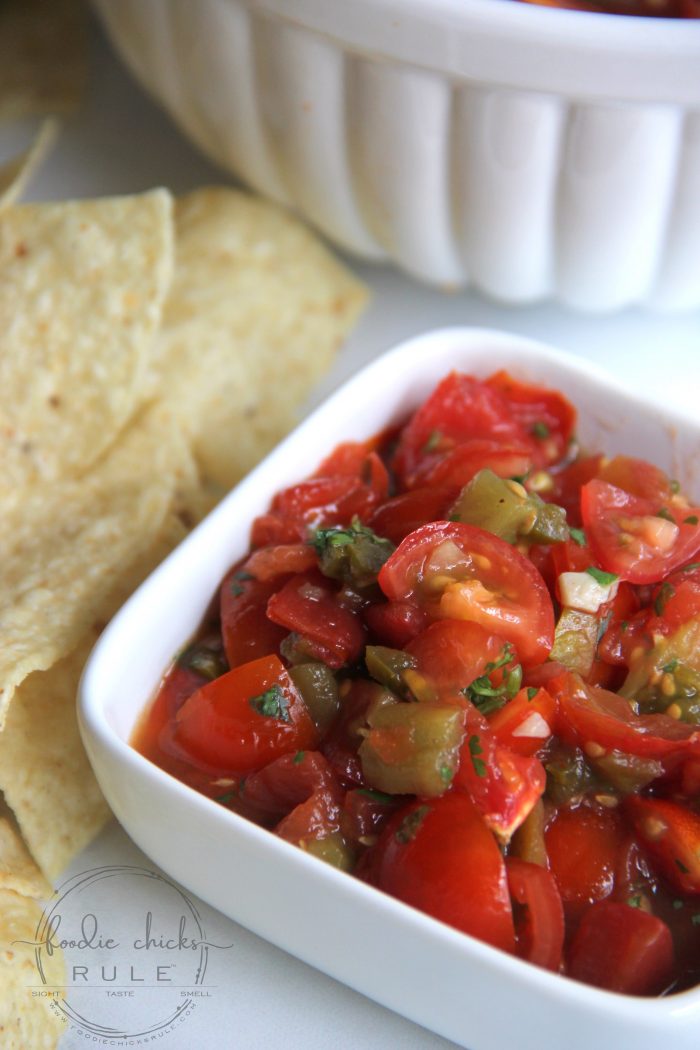 I mean look at the oh-so-fresh goodness there. How can you get better than that?
You might say, wait a minute, there's a can there, that's not fresh.
Well, yes, true but not only do I like yummy recipes, I also like super easy ones too.
I don't know about you, but I don't have tons of time to spend in the kitchen….but I like good food.
So, I improvise and work around those little things.
This does taste so very fresh, promise. There's a little secret that makes it so, you'll see.
So go get your little chopper dohickey, get to chopping and can be eating your homemade salsa in no time!
Gather your ingredients….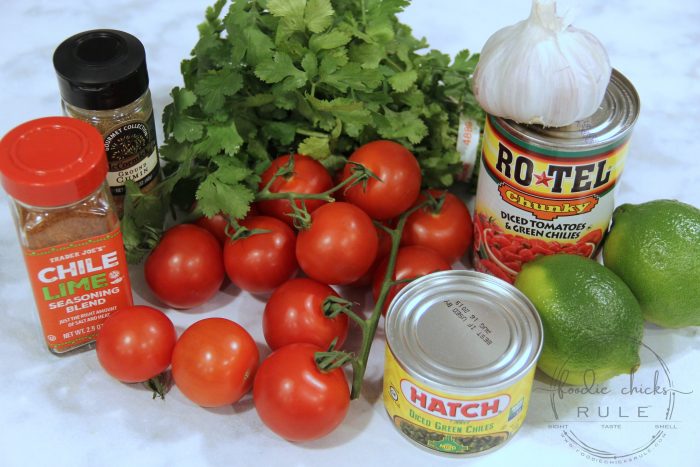 Then chop, chop!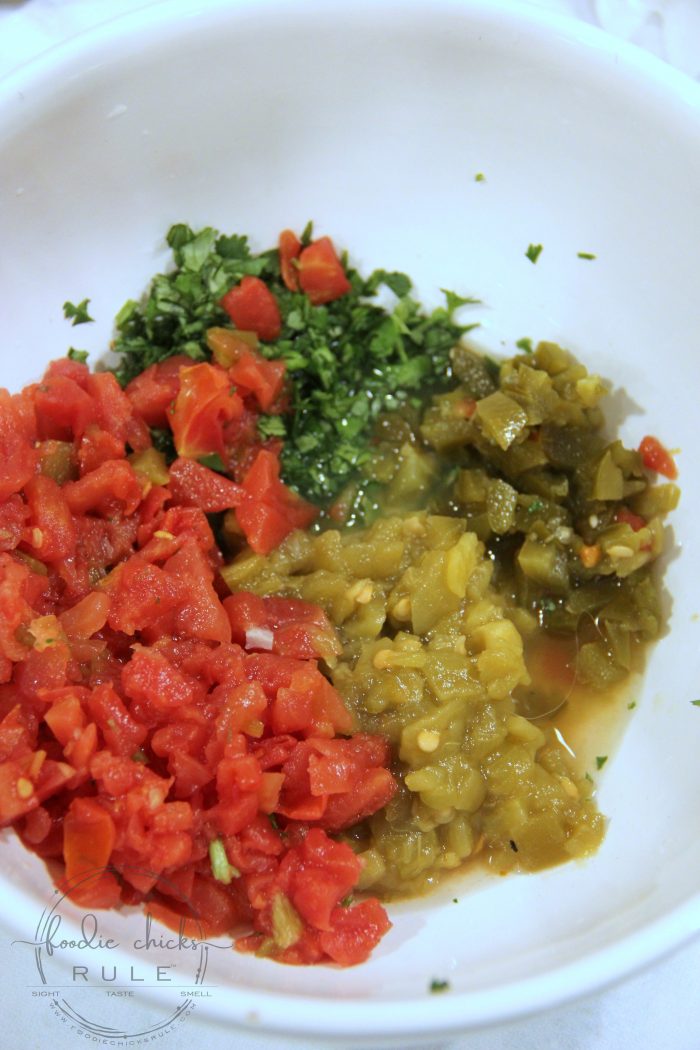 And mix. Done.
Well, remember that little secret I mentioned?

Here it is….roast the tomatoes for that delicious roast-y flavor. :)
And save 6 behind. Why? For even more fresh flavor.
You'll chop those and add those right in without being roasted. YUMMY.
Such a delicious mix of flavors.
Hope you enjoy as much as we do! And remember, stay tuned to see that wonderful recipe I use this and the colorful corn salsa in.
I'll be sharing that next week!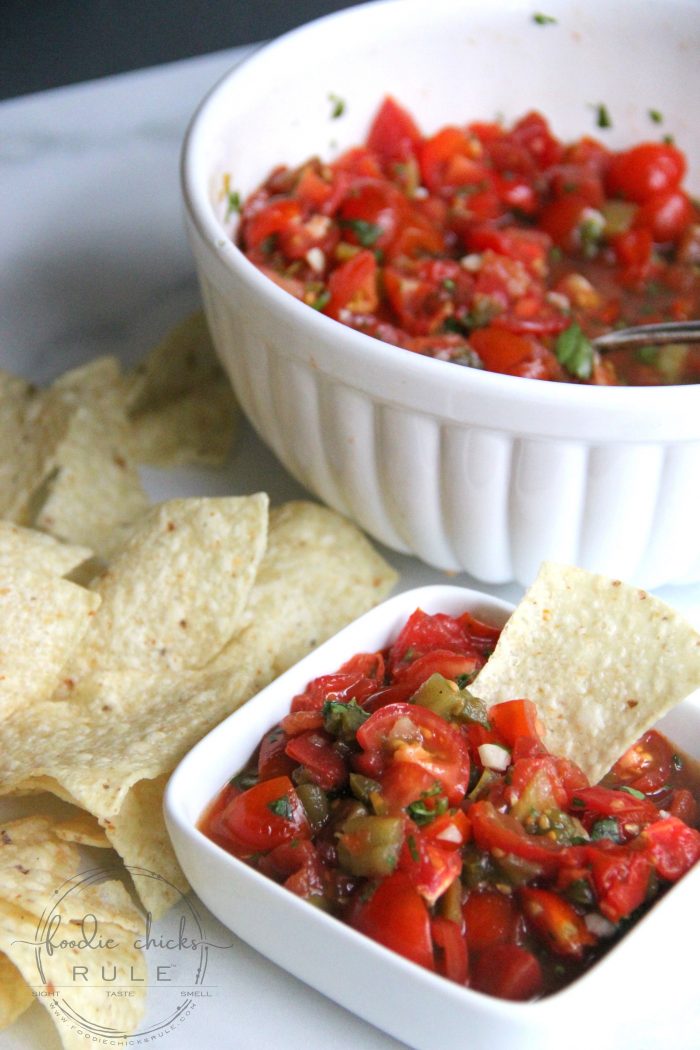 PIN it to save it!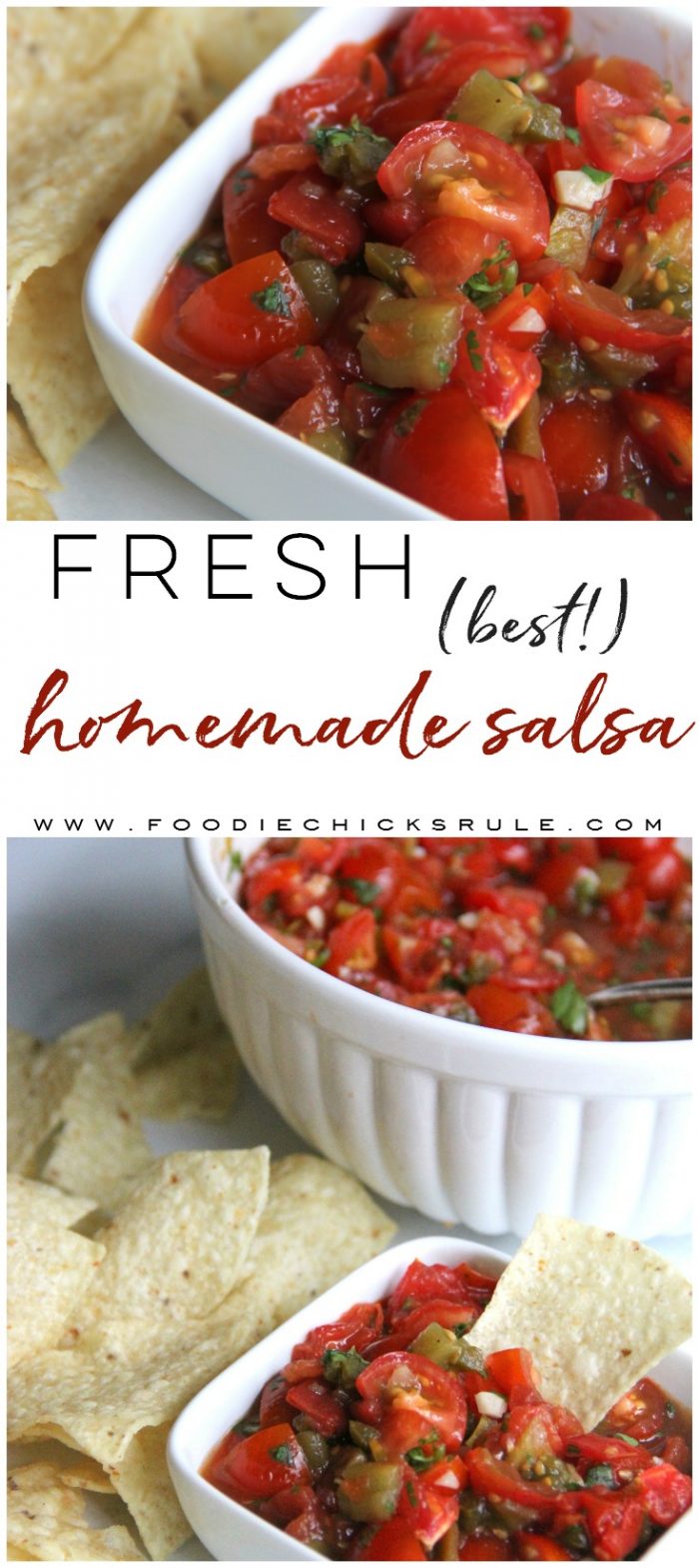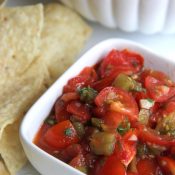 Best Homemade Salsa
Ingredients
1

lb

cocktail tomatoes (set aside 6)

1

10 oz can

Rotel Roasted Diced Tomatoes

1

large handful cilantro (add as much or as little as you like)

1

lg

garlic clove

1

lime

juice of 1 lime

1/2 4-oz can

2 oz

green chilis, chopped

2

T

jalapenos, chopped (to taste)

1/4

tsp

onion powder

1/8

tsp

Trader Joes Chili Lime seasoning or Cayenne pepper

Salt to taste
Instructions
Quarter the cocktail tomatoes (reserving 6) and mix with a dash of olive oil along with the garlic clove, also quartered. Bake on a baking pan for approx. 8 minutes in a 350 degree oven.

Followed by 3 minutes on broil. Keep an eye so they won't burn.


While that is baking, drain the Rotel tomatoes and pour into a bowl.


Chop the cilantro, jalapeno, green chilis and add to the bowl.


Chop the 6 reserved cocktail tomatoes and add to the bowl.




Remove the tomatoes & garlic from the oven and let cool. Then chop both and add to the bowl with the rest of the ingredients.


Add the seasonings and juice of 1 lime. Add salt to taste. Mix well.


Refrigerate for 1 hour before serving so that the flavors will mix. Enjoy!

Be on the lookout for the yummy dinner recipe I have planned with my 2 latest recipes.
Next week, right here! :)
In the meantime, enjoy a nice big bowl of salsa and chips!
xo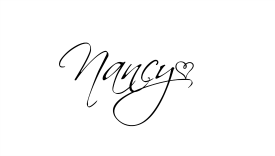 Related affiliate links you may like: