Sharing a delicious (I've made it twice this week! ;) ) soup with y'all today.
CHICKEN TACO SOUP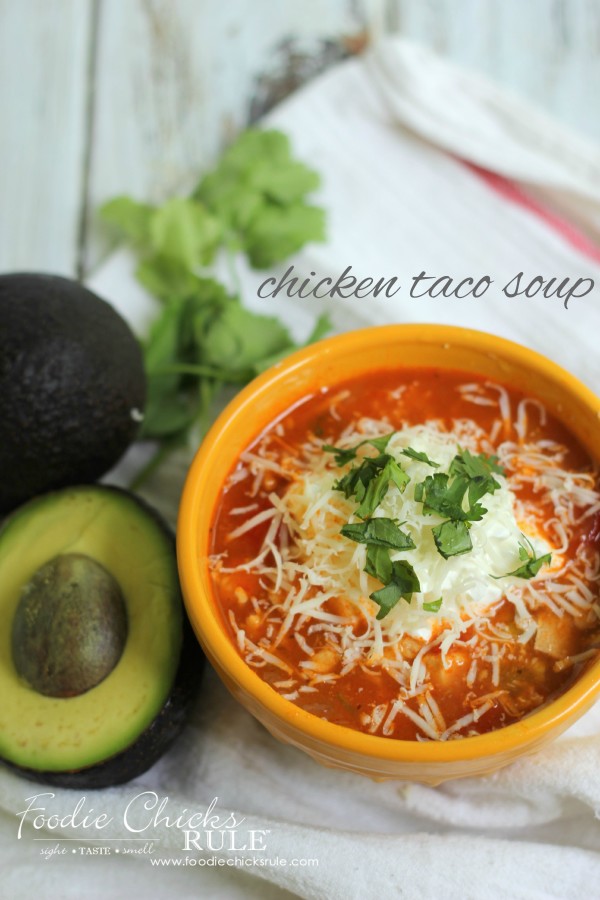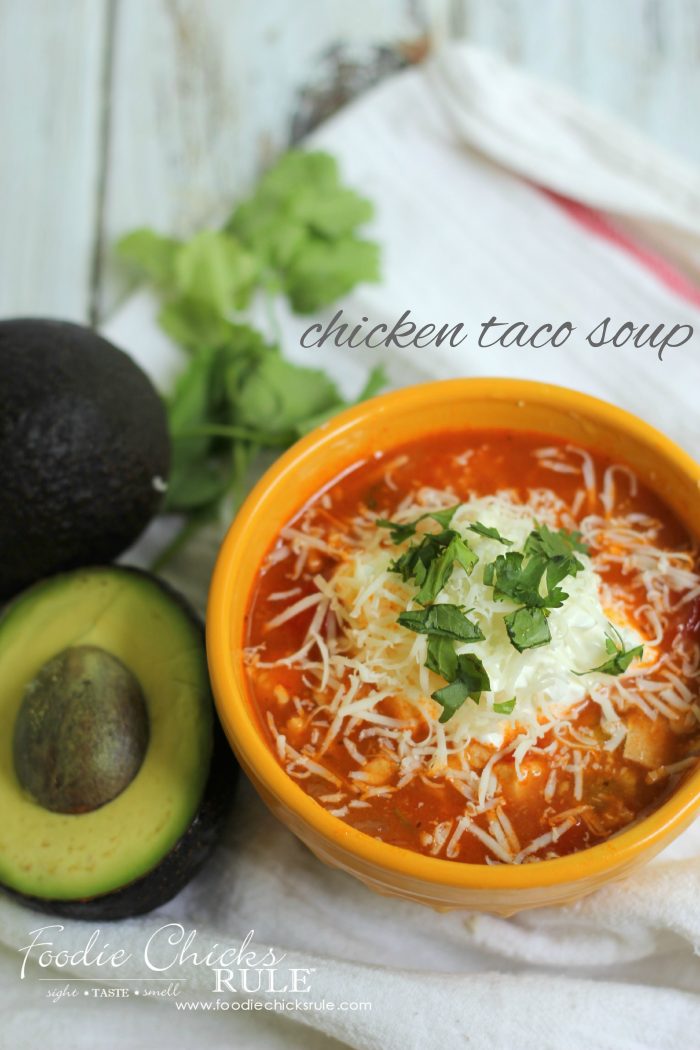 My husband wanted to know why I called it taco soup if it doesn't have tortilla shells in it.
Well, because it has basically every ingredient in it that goes in tacos…except the shells.
BUT…that's easily fixed. :)
Crunch some up on top!
Voila…Chicken Taco Soup, right?
He's such a smarty britches sometimes…but a keeper.
Here's the ingredients you'll need…. (well most of it anyway)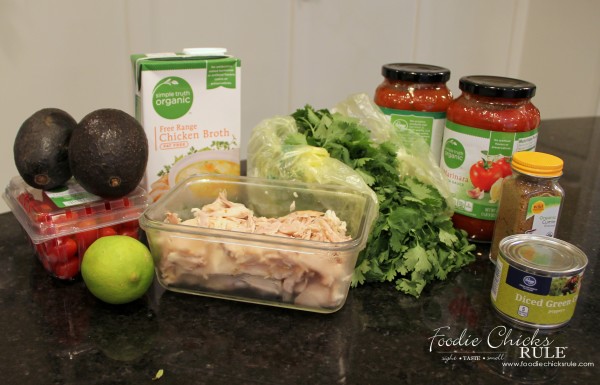 Chop up the onion, jalapenos and tomatoes.
Start sauteing the onion first for approximately 2-5 minutes on low.
Then add 2 large crushed cloves of garlic and continue to saute for about 30 seconds.
Add the chopped tomatoes and cook for another 5 minutes on medium.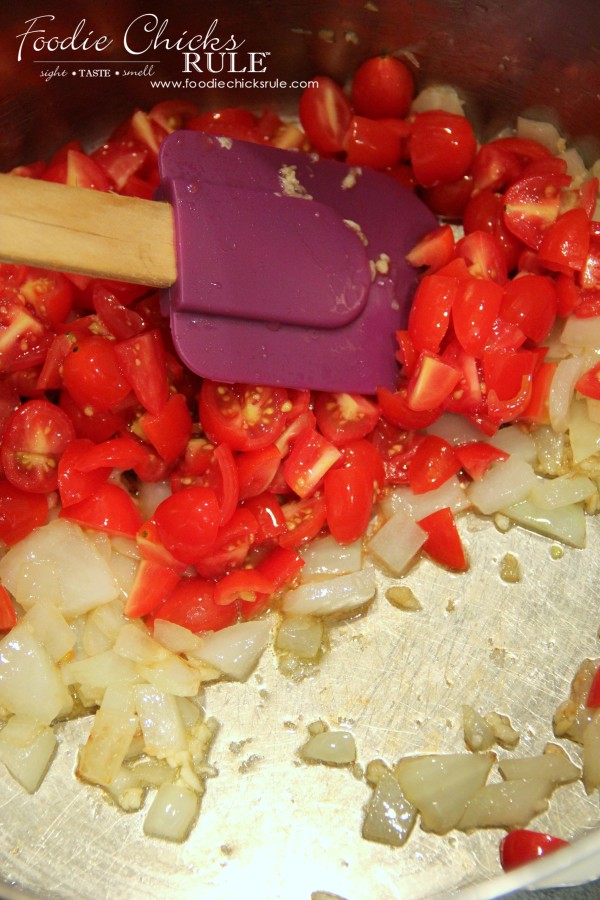 Finally, add the small can of diced green chilies and jalapenos and cook for 1 minute more.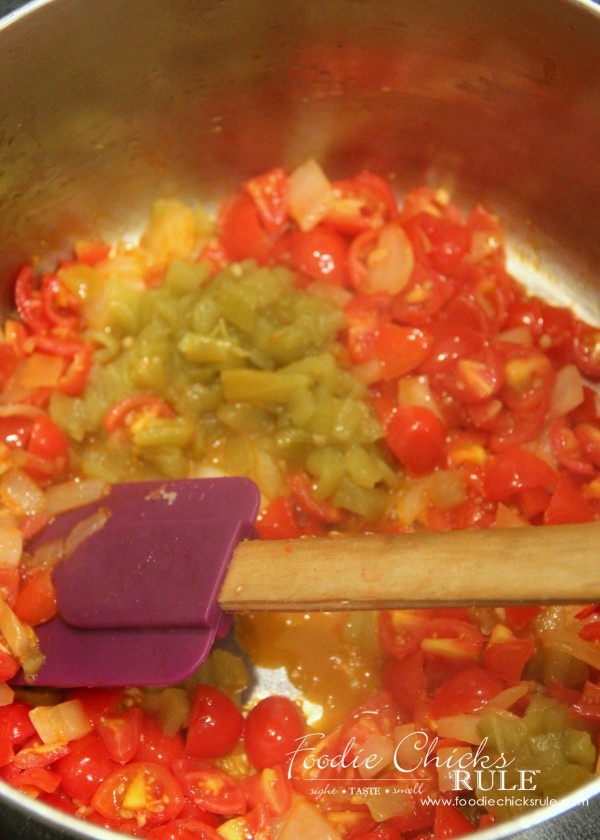 Add the chopped chicken (rotisseries from the grocery store make this dish EASY!), lime juice and seasonings along with the broth and red sauce (any will do) and simmer for about 20 minutes.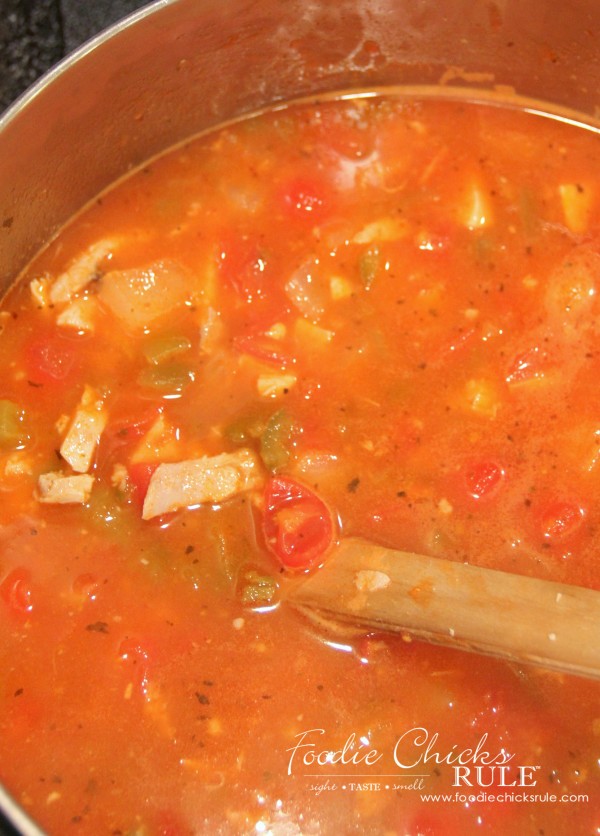 You can use canned tomato sauce but I try to stay away from cans as much as possible.
Especially with acidic foods such as tomatoes. (leach the harmful chemicals out of the lining of the can)
I actually used organic marinara sauce this time. You can use spaghetti sauce too as long as it's a "plain" version and isn't loaded with sugar or seasonings.
But on that note, you may find it's a bit twangy.
Add sugar (or a substitute) to reduce the twang a bit. (I used about a tsp of Agave sweetener)
Easier to add than remove!
Once done, spoon into bowls and top with sour cream (or plain Greek yogurt, yum!), chopped cilantro, avocado and shredded Monterrey Jack cheese.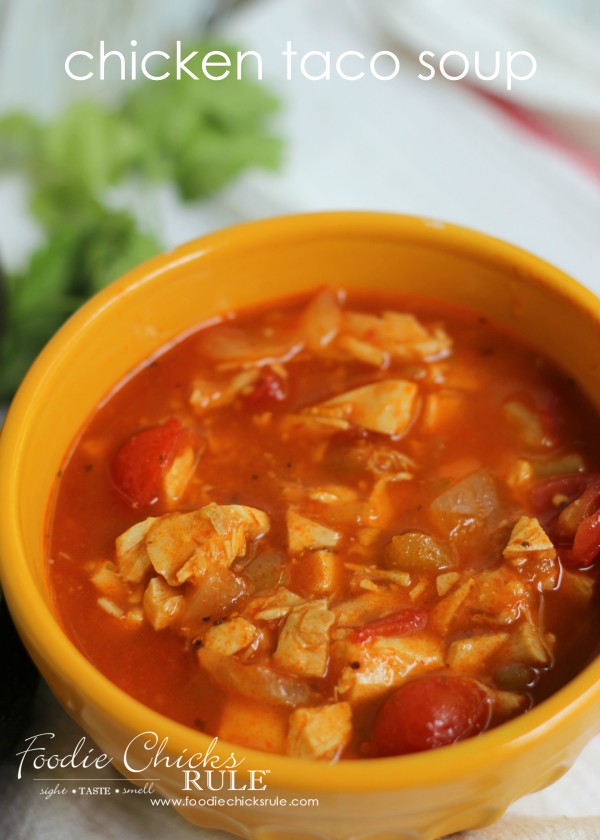 If you don't want all the toppings you can eat as is.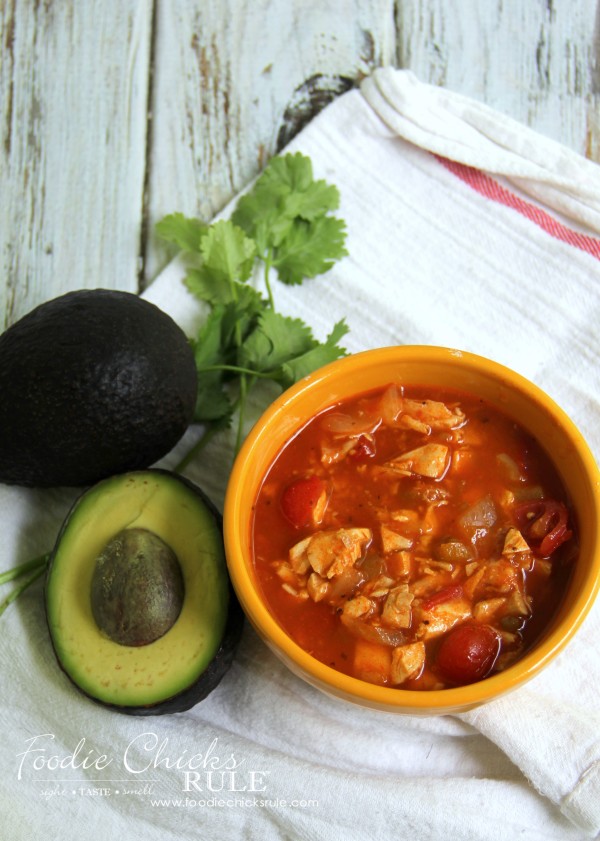 Or add all the yummy toppings because they really add a nice flavor punch!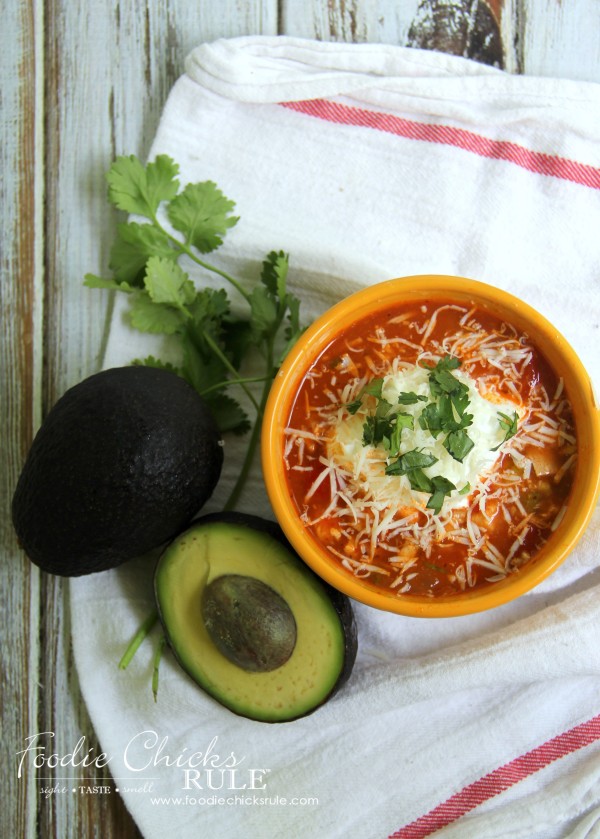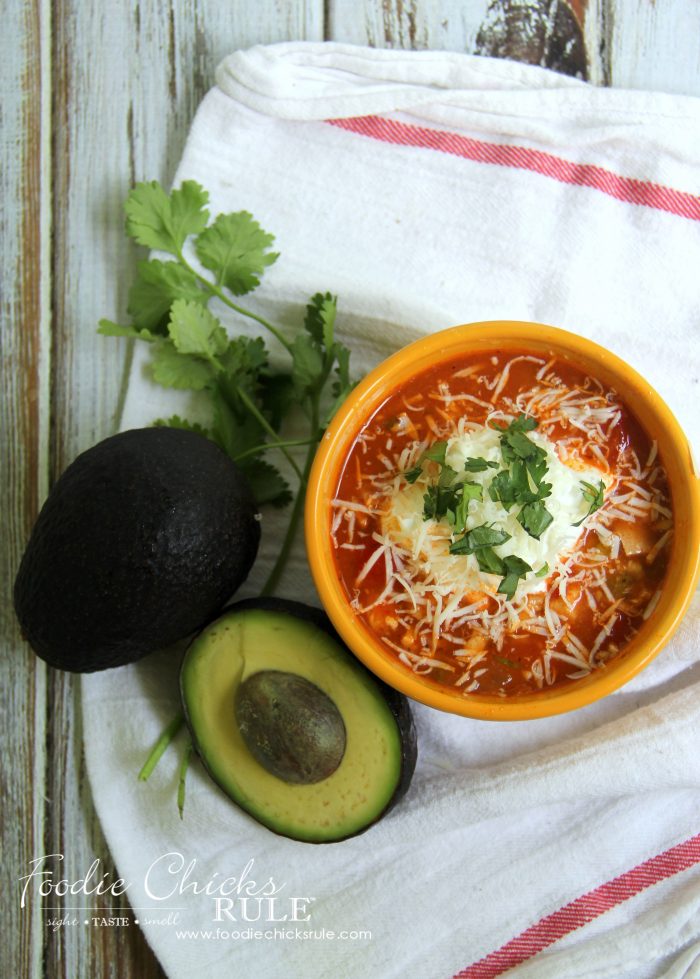 So good!
I can put almost an entire avocado in mine. I LOVE them.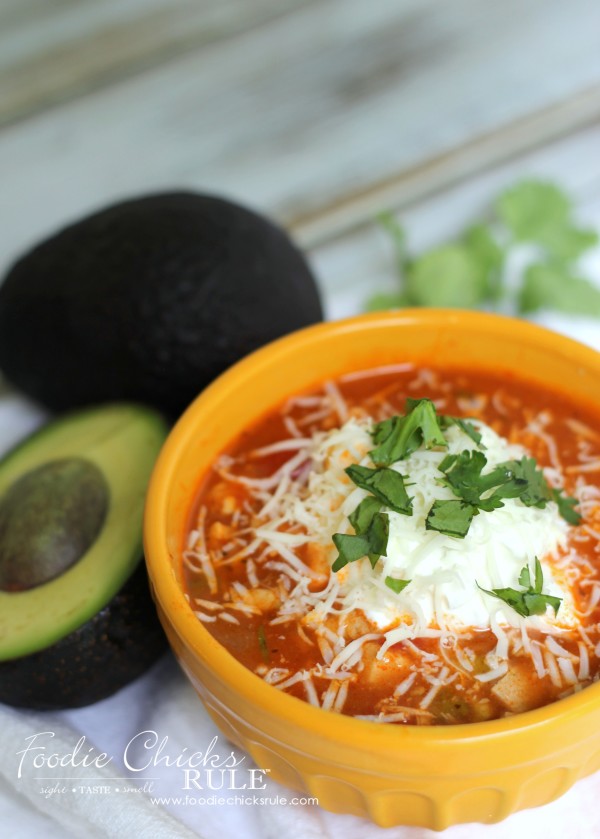 This has such a good flavor but will of course change a bit depending on the red sauce you go with.
It was fabulous with the one I used (it came from Kroger) this last time.
Hope you enjoy it!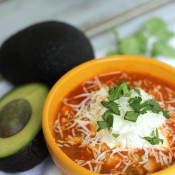 Chicken Taco Soup
Ingredients
1

pint

organic grape tomatoes

chopped

1/4

sweet onion

chopped

2

large garlic cloves

crushed or minced

1/4

cup

diced jalapenos

1

can diced green chilies

1

cup

of prepared marinara or other red sauce

1

rotisserie chicken

chopped

1 32

oz

organic chicken broth

juice of one small lime

1

tsp

cumin

1

tsp

marjoram

Salt and sugar to taste

if needed

Sour Cream or plain Greek Yogurt

chopped cilantro, avocado and Monterrey Jack for toppings.
Instructions
Chop the tomatoes, onions and jalapenos.

Saute the onions first for about 2-5 minutes on low.

Next, add the garlic and cook another 30 seconds.

Add the chopped tomatoes and cook for 5 min.

Add the diced green chillies, jalapenos and cook another minute.

Add the chopped chicken, broth, red sauce, lime juice, cumin and simmer for 20 minutes.

Spoon into serving bowls and add sour cream (or plain Greek yogurt), diced avocados, shredded Monterrey Jack cheese and cilantro to the top and serve.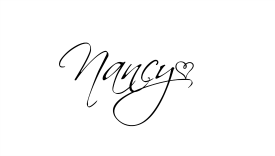 Related affiliate links you may like: