Best Muesli Recipe (and easiest too!)
I am so excited to be sharing one of my favorite recipes with y'all today.
It is the best Muesli recipe ever…and so easy too!  I think so anyway. ;)
Muesli is so healthy and it's one of my very favorite things to eat.
It's so good, I sometimes eat it as a snack when I'm craving something not so healthy! ;)
It does the trick every time…and keeps me healthy.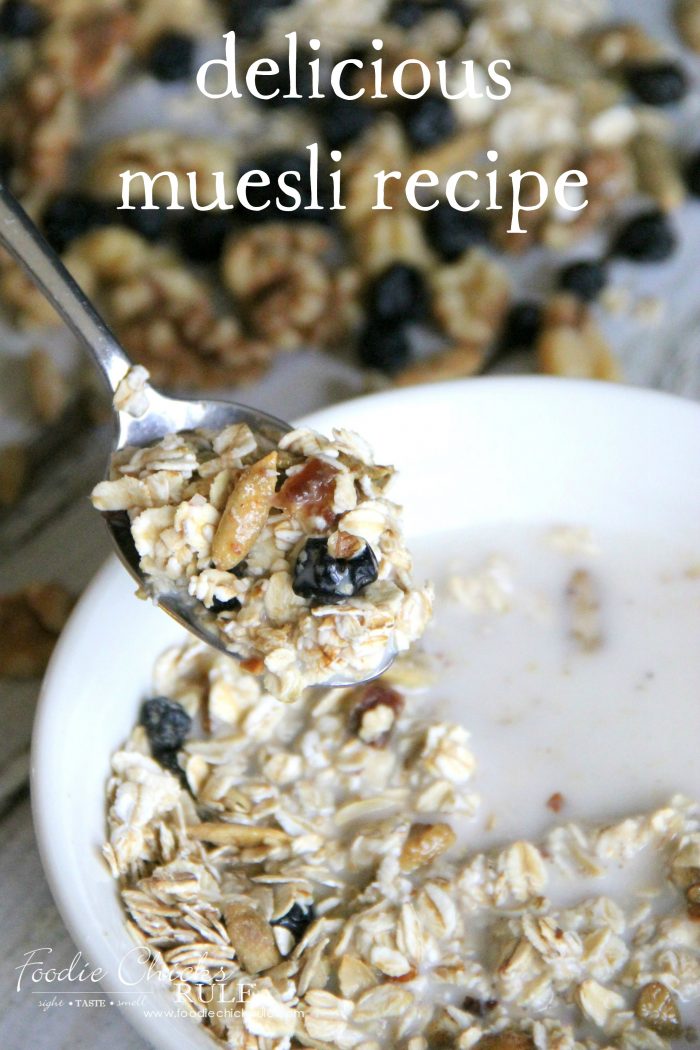 I mean, look at all that goodness.
What could be better than nuts and berries? Both are so delicious and also so good for you.
I use dried berries but you can even add fresh also when you get ready to eat it.
I do that sometimes too….bananas, fresh blueberries or strawberries, etc.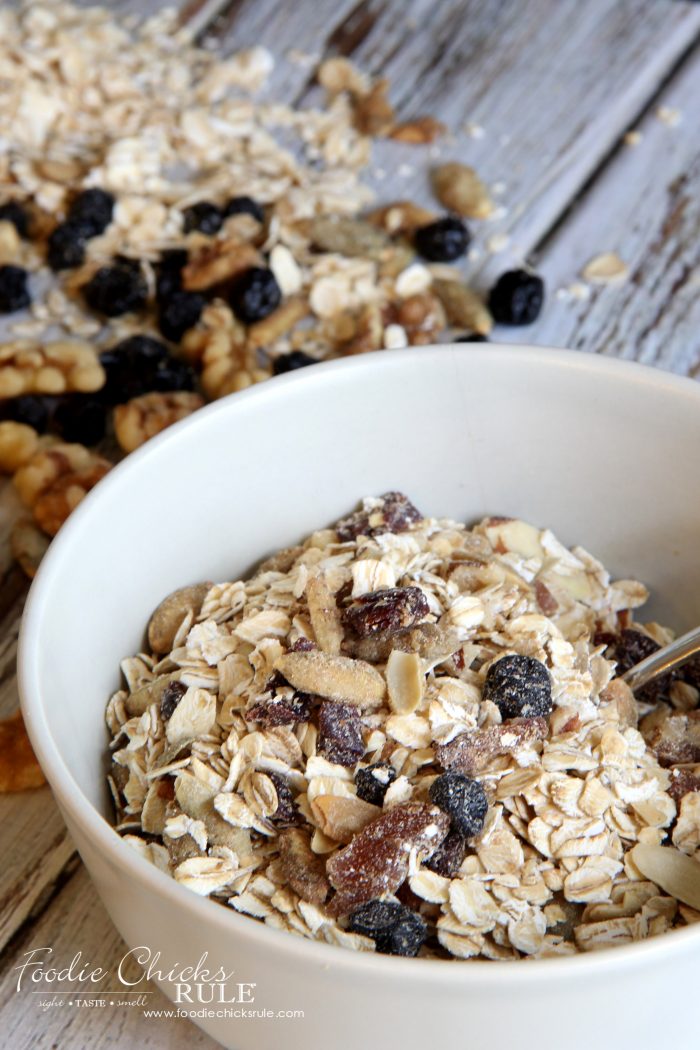 Just add a bit of almond milk (or dairy milk) and you are good to go!
It's very filling too, a little goes a long way. :)
I'll share a few affiliate links for the items I used below. You can see my disclosure here.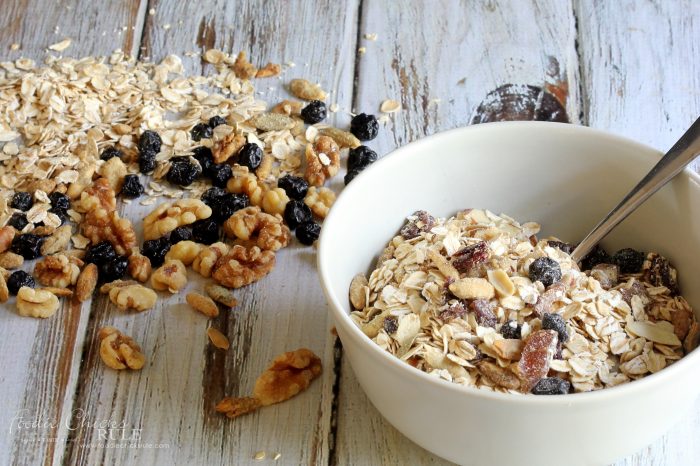 And did I mention it was ridiculously easy to make too?
Well, it is.
Here's the ingredients I used but the sky is the limit.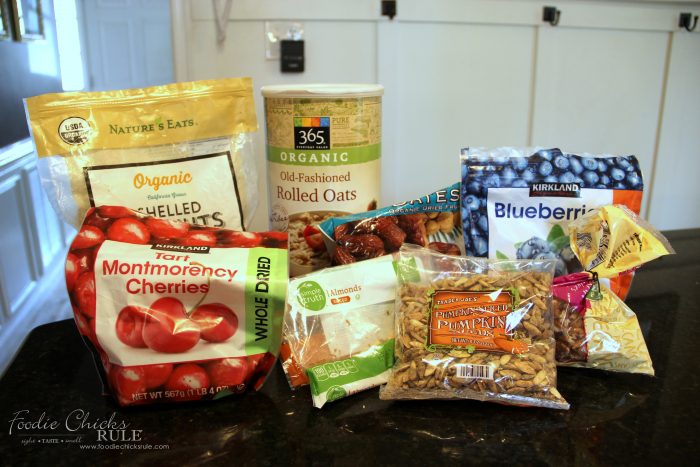 You can omit and/or add whatever you like.
I do try to get organic, whenever possible, though.
Just chop and add to a large bowl….and mix…..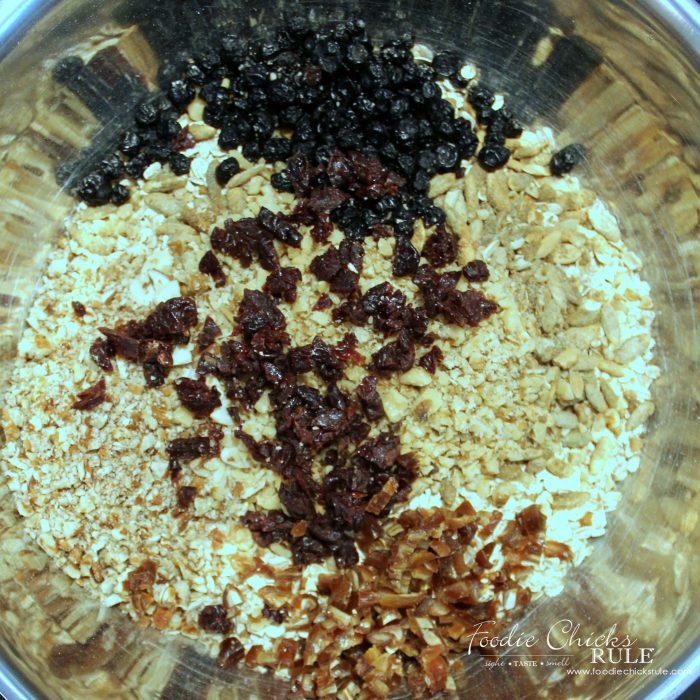 And this little chopper does a great job (and quick job!) of chopping for me.
There are other, cheaper choppers but this is the exact one I have and have had for years.
Mix it up and put into a airtight container, like this cereal container to store.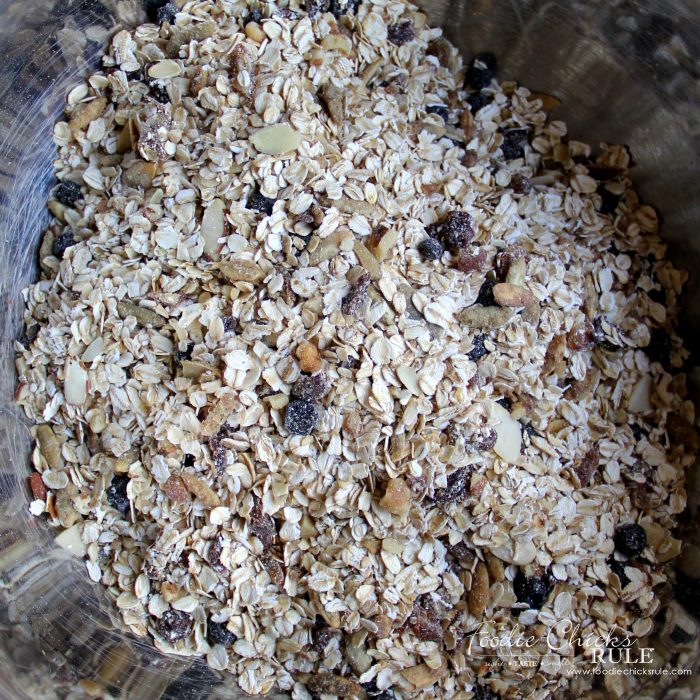 I keep it (and all those ingredients shown above) in the refrigerator to keep them fresh.
You'll notice when you get to the ingredients that I don't add sugar.
I really want to keep this healthy for me and my family, so I don't.
BUT….you can.
If you are used to sweet cereal, you may want to sprinkle a bit of sugar, or whatever, on before eating.
Or you could add it directly to the mix.
I use chopped dates in my muesli recipe which adds enough natural sweetness for me.
The pumpkin seeds I used this particular time are from Trader Joe's.
They are "pumpkin spice" pumpkin seeds and they are DELICIOUS!
I *think* they are seasonal so don't get too excited. ;)
BUT definitely look them up next year and stock up!
I stocked up but only have 2 bags left ….and it's only January. ;)
They are really good on salads too.
I may just have to come up with a recipe similar if I crave them the rest of the year.
If I do, I'll be sure to share with you all here.
I hope you love this recipe as much as we do! It really is the yummiest, best muesli recipe.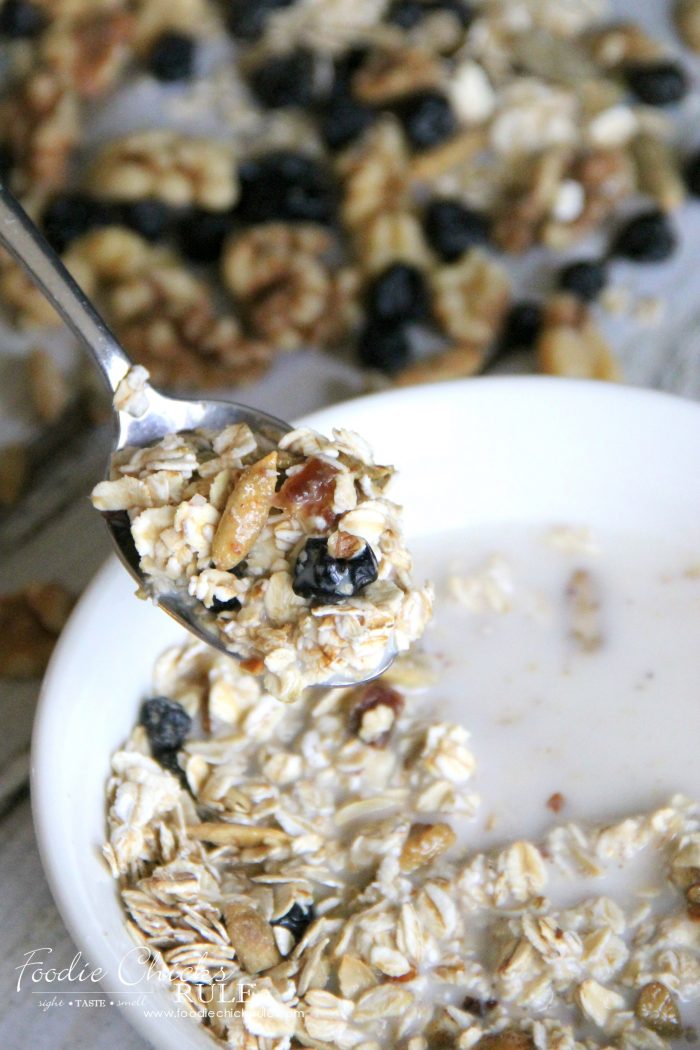 PIN this "Best Muesli Recipe" for later so you can make some too! :)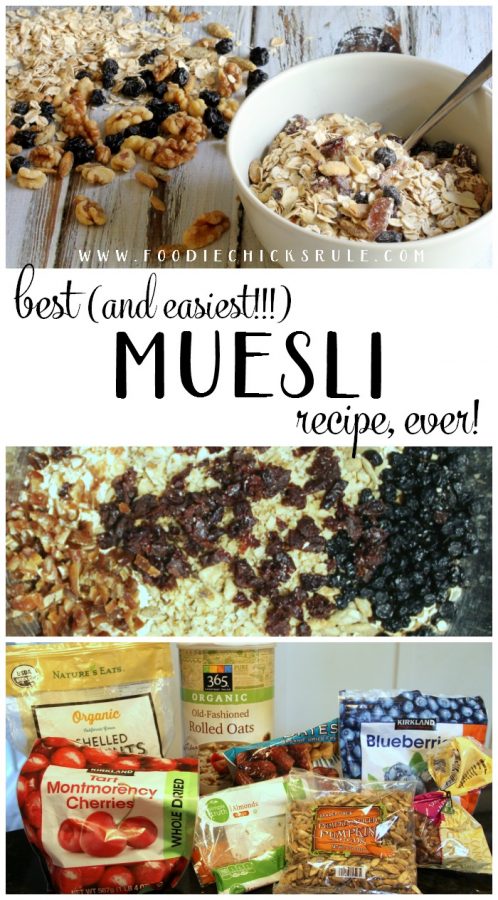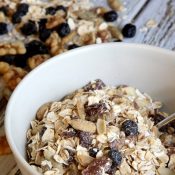 Best Muesli Recipe (and easiest too!)
Ingredients
6

cups

organic rolled oats

1

cup

pumpkin seeds

I like roasted

1/2

cup

slivered almonds

1/2

cup

walnuts

chopped

1/2

cup

pecans

chopped

1/2

cup

dried blueberries

1/4 to 1/2

cup

dried cherries

or cranberries, chopped

6-8

large dates

chopped
Instructions
Mix into a large bowl and store in airtight cereal container in the refrigerator.

Add almond or diary milk and enjoy!
Recipe Notes
This recipe has no added sugar. You can add sugar, however, if you want a sweeter muesli.
I would recommend coconut palm sugar.
You can add any kind of dried fruits and/or nuts, seeds etc. Don't limit to what I've listed, there are many variations you can try.
You can also add spices such as cinnamon and ginger, etc. for additional flavor.
Additional mix in ideas, sunflower seeds, flax seeds, chia seeds, chocolate chips, cashews, hemp seeds, dried apricots, dried bananas and so on!
ENJOY!
xoxo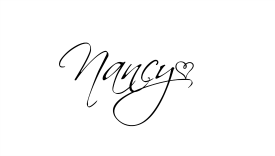 Here are many of the things and ingredients I used.
(And I even found some of those pumpkin seeds for you! Not sure how long they will last…7 in stock as of today…get 'em while you can!)
Save
Save
Save
Save
Save
Save
Save
Save
Save
Save
Save
Save
Save
Save
Save
Related affiliate links you may like: